Kids Gazette Cooking Series: March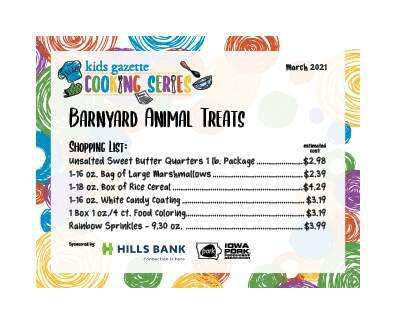 Welcome to Kids Gazette Cooking Series! For the month of March, we bring you Barnyard Animal Treats in celebration of National Agriculture Month. Check out our how-to video with host Chelsea Grieder and guests Everly, Cody and Taylor Schminke.
Try the recipe while you watch! Click below on the recipe card (left) and shopping list (right) to enlarge or print.
Kids Gazette Cooking Series is produced with health and safety as top priority. Participants in this episode are a quarantined family, with off-camera support roles following social distancing and mask protocols.
Scroll down for more activities and recipes from the Iowa Pork Producers Association!
Presenting Sponsors:
Location Partner:
Videographer Partner:
Try another recipe from Iowa Pork Producers Association
Here's a recipe for BBQ Pork Tater Tot Casserole. Click the image to enlarge the recipe.