Home / Kids Gazette / Kids Articles
Meet the women who could be the first on the moon
NASA's Artemis program aims to put humans back on the moon this decade
In the next few years, we could see people stepping foot on the moon again.
For those born after 1969, it will be the first time they see such a feat.
NASA's Artemis program, which launched in 2017, aims to put humans, including the first woman, back on the moon this decade.
The mission could happen as early as 2024.
These are the women who have the chance to become the first woman on the moon.
Kayla Barron
Age: 33
Birthplace: Pocatello, Idaho
Barron attended school in the U.S. Naval Academy and was a member of the Midshipmen track and cross-country teams. After graduating the academy, she went on to earn a master's degree in nuclear engineering at the University of Cambridge in England.
Christina Koch
Age: 42
Birthplace: Grand Rapids, Michigan
A graduate of North Carolina State, Koch earned a Master of Science degree in electrical engineering. She was previously launched to the International Space Station in 2019. She was also a part of the first all-female spacewalk.
Nicole Aunapu Mann
Age: 43
Birthplace: Petaluma, California
Mann, a graduate of the U.S. Naval Academy, received a Master's Degree in mechanical engineering from Stanford University. For NASA, she has previously worked on development of the Orion Spacecraft, Space Launch System and the Exploration Ground Systems.
Anne McClain
Age: 41
Birthplace: Spokane, Washington
McClain attended West Point and later earned master's degrees from the University of Bath and the University of Bristol. She has also played rugby in the Women's Premiership, the top level of the sport in England and she was on the U.S. Women's National Rugby union. Her decade of playing rugby was interrupted only by her deployment to Iraq, where she flew 216 combat missions over 15 months. In 2018 she was launched to the International Space Station where she stayed for six months.
Jessica Meir
Age: 43
Birthplace: Caribou, Maine
Meir is a graduate of the International Space University in Strasbourg, France, earning her Master's in Space Studies. She is a marine biologist and physiologist who previously studied the diving and behavior of emperor penguins in Antarctica. Meir has served as an aquanaut for NASA and also was one of the first women to participate in the all-female spacewalk.
Jasmin Moghbeli
Age: 37
Birthplace: Bad Nauheim, West Germany
Moghbeli was born in West Germany in 1983 after her parents fled Iran during the 1979 Islamic Revolution. The family moved to New York and Moghbeli earned a bachelor's degree at the Massachusetts Institute of Technology where she played volleyball and basketball. As a member of the Marine Corps, she has deployed overseas three times and completed 150 combat missions, later receiving her master's in aerospace engineering from the U.S. Naval Postgraduate School in California. Afterward, she became a helicopter test pilot.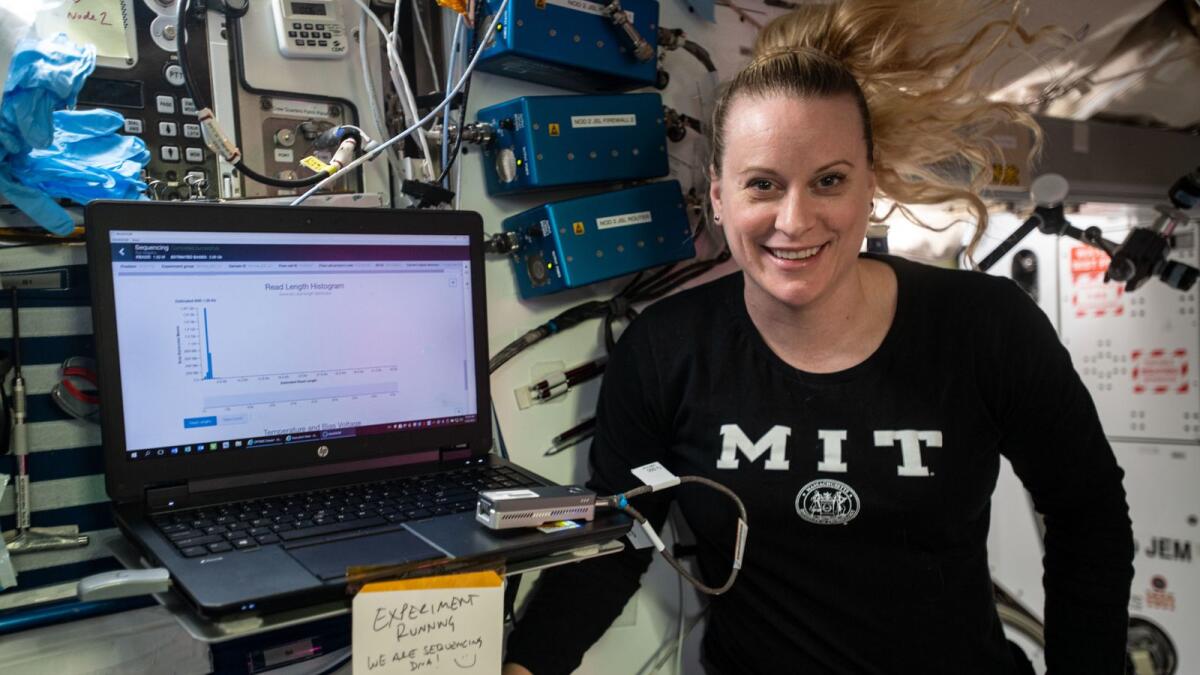 Kate Rubins
Age: 42
Birthplace: Farmington, Connecticut
A microbiologist, Rubins became the 60th woman ever to fly in space in 2016, when she launched to the International Space Station. She has spent a total of 300 days in space. Rubins has a Ph.D in cancer biology from Stanford University, where she was also a member of the triathlon team.
Jessica Watkins
Age: 32
Birthplace: Gaithersburg, Maryland
Watkins, a graduate of Stanford, earned her Ph.D. from UCLA in Geology. During her time at Stanford, she was a member of the National Championship rugby team and later went on to play in the World Cup for the U.S. For NASA, Watkins has previously served as a chief geologist and as a planner for Mars rover missions. If chosen to walk the moon, Watkins would be the first woman and the first Black person to step foot on its surface.
Stephanie Wilson
Age: 54
Birthplace: Boston, Massachusetts
Wilson has flown aboard three Space Shuttle missions and is the second Black woman to go to space, after Mae Jemison. Wilson has spent a total of 42 days in space. She earned her master's degree in aerospace engineering at the University of Texas. She was also the ground controller for the first all-female spacewalk. If selected to walk the moon, she would not only be the first woman to do so, but also the first Black person to do so.
Comments: (319) 398-8255; gage.miskimen@thegazette.com