Home / Kids Gazette / Kids Articles
Meet the celebrities of the 1880s
Sep. 6, 2021 11:00 am, Updated: Sep. 6, 2021 12:40 pm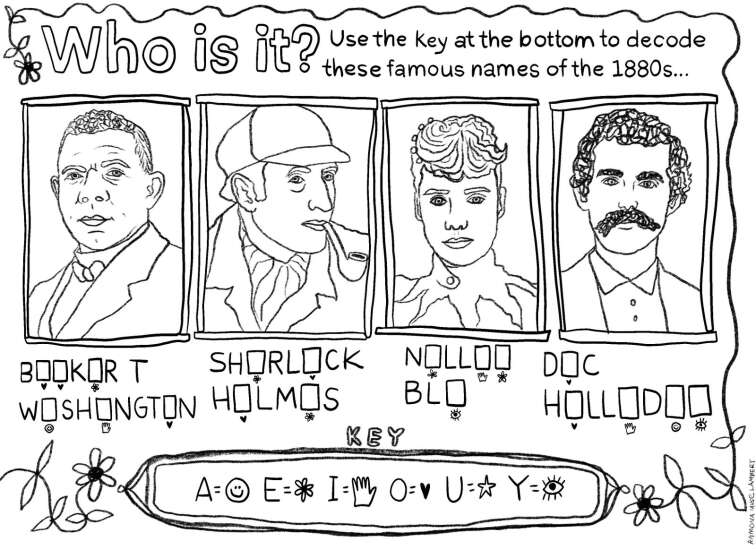 Learn more about some celebrities of the 1880s. But before you read on, you can print this page and decipher the names.
Click the Download button to get started. When the image opens in a new window, right click on it and select "Save image" to save it to your computer.
Nellie Bly
Nellie Bly was a journalist who, for years, was expected to write stories her editors thought only other women would want to read.
So Bly moved to New York City in 1886 looking for a newspaper that would let her write more serious articles, according to the National Women's History Museum. She then went undercover for the New York World, pretending to be mentally ill to gain access to an asylum that was rumored to be abusing its patients.
"Ten Days in a Mad-House" was a six-part series that instantly made Bly famous. Her approach also helped create the practice of investigative journalism, which many journalists still practice today — though undercover reporting is more rare.
Bly, who was just 22 when she reported her groundbreaking series, went on to be inspired by the book, "Around the World in 80 Days." She set off on her own journey circumnavigating the world — and did it better, in 72 days, a world record at the time.
Booker T. Washington
Booker T. Washington, the most influential African American speaker of his time, was enslaved until he was 9. When the Civil War ended, he and his mother and siblings started a life of freedom in West Virginia.
Washington had to go to work at 4 a.m. every morning before school, clocking five hours before he went to class, according to the History Channel. At his second job, he heard about a school for formerly enslaved people, Hampton Institute in Virginia, and he walked 500 miles to get to it.
In 1881, Washington became the first principal of Tuskegee University, then called The Tuskegee Normal and Industrial Institute, a new school in Alabama that accepted African American students. Washington even hired George Washington Carver, the first Black student at Iowa State University, to teach agriculture.
Washington was principal of the institute until his death in 1915. During that period, he became the first African American person invited to the White House and was a leading voice of people who had been born into slavery.
Doc Holliday
The legendary dentist turned gunslinger Doc Holliday headed West from his Georgia hometown when he was 23. In Dallas, Texas, he started gambling and built a reputation for playing cards and being violent — he eventually fled Dallas after being charged with murder.
Holliday moved around the Old West and landed in Dodge City, Kansas. There, he became friends with Wyatt Earp, who he followed to Tombstone, Arizona.
In October 1881, Holliday and Earp were a part of "the most legendary gunfight ever fought in the American West," according to Biography.com. Thirty shots were fired in 30 seconds at the O.K. Corral. Three men died and several were wounded, including Holliday.
A few years later, in 1887, Holliday died of a disease called tuberculosis. The outlaw has since been immortalized in several movies.
Sherlock Holmes
OK, this iconic detective wasn't a real person. But the fictional character, from the mind of author Sir Arthur Conan Doyle, made his first appearance in an 1887 novel.
Conan Doyle wrote Holmes as a cunning, smart and logical detective who could solve nearly any mystery. The character was a hit — according to Guinness World Records, Holmes has been portrayed on TV and in movies more than any other literary human character in history. In the 134 years since his debut, more than 75 actors have played the detective.