Home / Kids Gazette / Kids Articles
Make your own map for a sculpture scavenger hunt
Let's find local works of art and create our own miniature sculptures. Can you complete the scavenger hunt?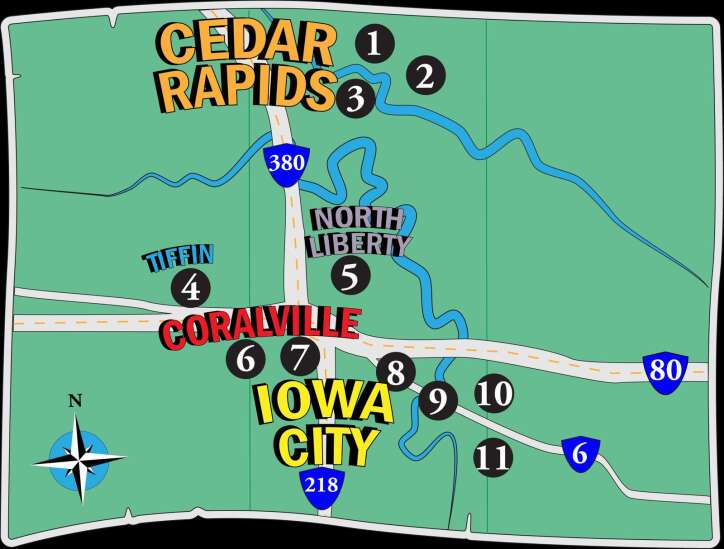 Public art can be found all over the Cedar Rapids-Iowa City area. Sculpture is a form of art that can be really fun to see in-person. With this guide, you can learn about where these local works of art are located, what they look like and even create your own miniature version of each one.
What you need:
Download and print the Scavenger Hunt pdf. Click the download button below.
Crayons or markers
Scissors
A smartphone, tablet or computer
What you do:
1. Print the Savenger Hunt pdf then color your map.
2. Color then cut out the miniature sculptures.
3. Place your works of art on the map. (Tip: Bend the gray tabs for mini sculpture stands!)
4. Create a plan with your grown-up to see the real sculptures in person.
Sculpture Scavenger Printable by Gazetteonline on Scribd
Where to go:
1. Tree of Five Seasons
First Ave. E., Cedar Rapids, 52401
2. Crystal Impression
McGrath Amphitheatre, 475 First St. SW., Cedar Rapids, 52401
3. Giant Ceramic Heads
Cedar Rapids Museum of Art, 410 Third Ave. SE., Cedar Rapids, 52401
4. Tiffin Splash Pad
809 E. Marengo Road, Tiffin, 52340
5. Eye See 'Em
North Liberty Library, 520 W Cherry St., North Liberty, 52317
6. Guest Welcome Center
Coral Ridge Mall, 1451 Coral Ridge Ave., Coralville, 52241
7. Iowa Blue: The Urbane Chicken
Iowa River Landing Sculpture Walk, 209 E. 10th St., Coralville, 52241
8. Wellspring
Hancher Auditorium, 141 E. Park Road, Iowa City, 52242
9. Midday
Stead Family Children's Hospital, 200 Hawkins Drive, Iowa City, 52254
10. Sitting Man
Near 1645 N. Scott Blvd., Iowa City, 52245
11. Wood Grain Herky
Terry Trueblood Recreation Area, 579 McCollister Blvd., Iowa City, 52240
Become a Member of The Iowa Children's Museum!
A family or grandparent membership to The Iowa Children's Museum is your ticket to year-round learning and fun! Members enjoy unlimited play in our exhibits, exclusive members-only hours, a variety of discounts and half-price admission at hundreds of other children's museums across the country.
More on the Web: Visit theicm.org/memberships to learn more.
Special offer: Sign up for your membership online and enter code GAZETTE5 at checkout for $5 off your membership! Valid through 9/31/21.