Home / Kids Gazette / Kids Articles
Experiment: How many drops of water fit on a tiny penny?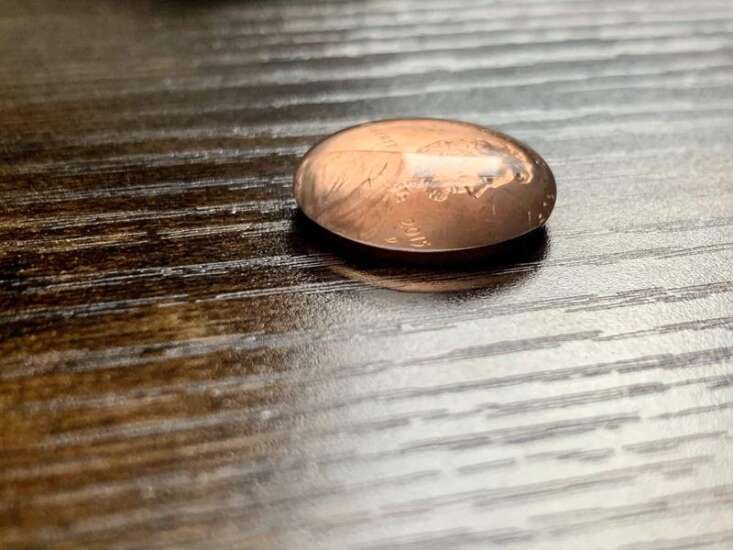 How many drops of water do you think could fit on a penny?
Five? Fifteen? Fifty? Write down your guess.
You have your hypothesis, so let's experiment.
What you need:
•
Water
•
A penny
•
An eyedropper or pipette
•
A paper towel
•
Other kinds of coins (optional)
1. Wash your coins with soap and water.
2. Lay your coins on a flat surface, and keep a paper towel nearby.
3. Fill your pipette with water. Starting squeezing drops onto a coin, counting each one.
4. Get at eye level with your coins and observe the water domes that form on top of them. Why do you think the water doesn't roll off the coin? When the dome breaks, grab your paper towel quickly to clean up.
My penny held way more drops of water than I expected — I fit 31 drops onto mine! Maybe you were surprised by how many drops seemed to be able to balance on top of your penny, too.
How and why does that happen? It has to do with cohesiveness and surface tension.
Water molecules, because they have a positive hydrogen end and a negative oxygen end, are very cohesive — basically, they like to stick together with other water molecules. All that stickiness creates surface tension as the molecules exert force inward to stay together, according to Bowling Green State University.
On your penny, the water drops are sticking together and pressing down against the surface of the coin. As more and more drops fall, the water molecules create a rounded dome as they hang onto the penny. If you tap the dome very very lightly, it will even bend or bounce a little, demonstrating just how cohesive the molecules are.
What makes the dome break? Eventually, cohesion and surface tension are no match for the force of gravity.
Try this same experiment with nickels, dimes and quarters and see how your results change. What do you think will happen if you put a different liquid in your pipette? Try it with soapy water or vegetable oil.
Comments: molly.duffy@thegazette.com