Home / Kids Gazette / Kids Articles
Discovering Japan: 6 things you might not know
The oldest man ever spent his life in Japan.
Jiroemon Kimura was born in 1897. When he died in 2013, he was 116 years and 54 days old — the longest period of time anyone has ever lived.
His home country might have had something to do with Kimura's long life span. The people of Japan live, on average, longer than the people of nearly every other country.
What is special about Japan and Japanese culture? Here are six things you might not know about Japan — including a couple that might have led to Kimura's especially long life.
1. Grown-ups in Japan work and are active for much longer.
People in Japan never really "retire" from working the way that older adults in the United States do.
The nonprofit AARP wrote this might be part of the reason why people there live so long. Instead of lounging on the couch watching TV, Japanese people are active and working for most of their lives — Kimura himself, who lived to 116, worked at post offices for 45 years and farmed for another 45 years after retiring from the postal service.
2. Japan is famous for its beautiful cherry blossoms, or "sakura."
The pink and white blossoms on a Japanese flowering cherry tree are beautiful and fleeting — meaning they don't last long. The trees bloom every spring for only a few weeks, meaning crowds often rush to see the burst of color while it lasts.
The trees' peak bloom was on March 26 this year, the earliest its been in 1,200 years, according to NBC News. Environmental scientists think that was due to climate change.
3. People eat lots of fish, veggies and rice.
Japan is a group of more than 6,000 islands in the Pacific Ocean, so people there eat a lot of fish. They also eat rice and lots of colorful vegetables (this is likely another reason Japanese people live so long, according to National Geographic).
In addition to eating foods that are good for the body, many Japanese children aren't taught to "clean their plates" like many American children. According to the BBC, children in Japan are often taught the saying "hara hachi bu," which means eating until they are 80 percent full.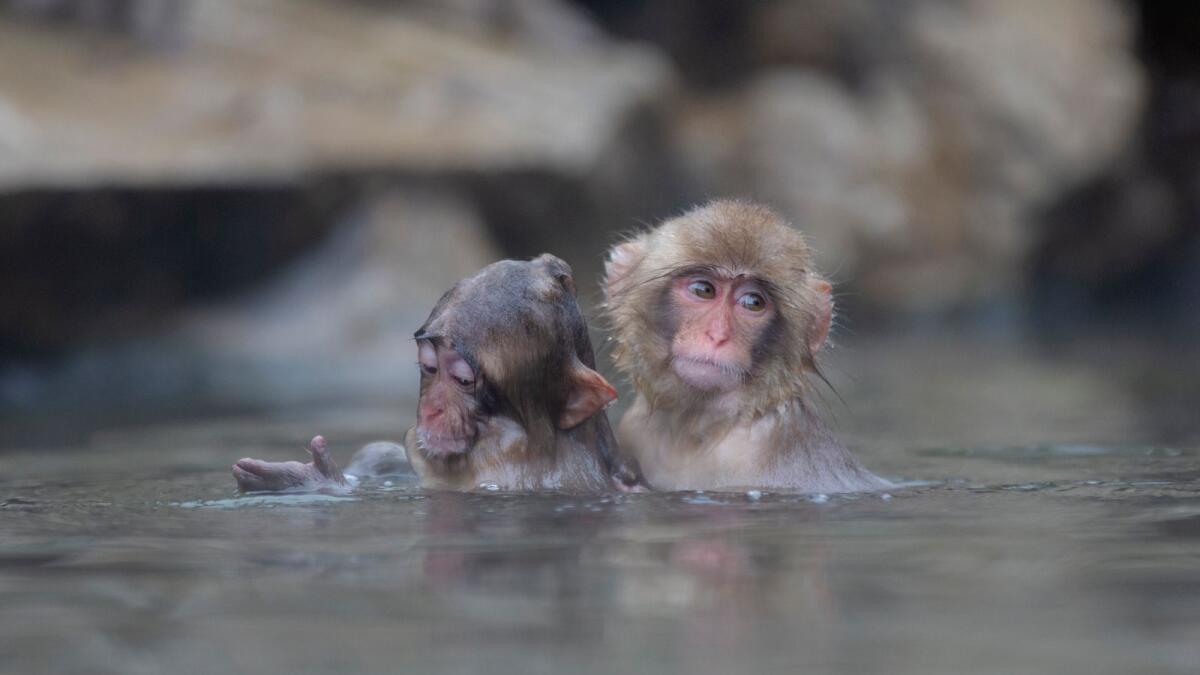 4. Japan's snow monkeys love a hot tub.
On three of the four main islands of Japan, you can find Japanese macaques, aka snow monkeys. According to the New England Primate Conservancy, this species live farther north than any other kind of macaque and thrive in temperatures as cold as -5 degrees Fahrenheit and in more than 3 feet of snow.
In the Nagano Mountains, the macaques love to warm up in hot springs made by Japan's volcanoes. The Japanese government even built these snow monkeys their own hot springs so they would stop sneaking into humans' hot tubs and spas!
5. The country has an emperor who lives in a palace.
Emperor Naruhito grew up in the Imperial Palace, which is surrounded by a protective moat, in Tokyo. According to Time magazine, he became emperor in 2019 after his father Emperor Akihito abdicated, or gave up, the throne.
Japan is thought to have the oldest hereditary monarchy in the world. The emperor used to have political power over Japan, but that changed after World War II. Now the country has a prime minister who is the head of government, while the emperor is more symbolic, similar to the Queen of England.
6. Mount Fuji is a huge, active volcano close to Tokyo.
Mount Fuji is the tallest mountain in Japan and is only 62 miles from Tokyo, the country's largest city. The last time it erupted, in 1707, volcanic ash rained down on the capital city.
The mountain is a sacred site to Shinto practicers. According to National Geographic, Shinto is the Indigenous faith of Japan, and there are many Shinto shrines on and around Mount Fuji.
Comments: molly.duffy@thegazette.com