Home / Kids Gazette / Kids Articles
Capturing U.S. history
Gazette photojournalists share what it's like to cover the nation's presidents
When the President of the United States is signing a bill into law, surveying the site of a national disaster, or campaigning for reelection, photojournalists are almost always there to document it.
Their photos often tell a better story than words ever could. But we wanted the back story to a few Gazette photos — so we asked the newspaper's photojournalists to share what it's really like to cover the politicians who run the country.
Soon-to-be President Joe Biden in 2020
I was covering this event at the National Motorcycle museum in Anamosa and was surprised when Biden, instead of standing next to his wife as she spoke, instead sat down in the audience.
It was interesting to see him trying to connect with people around him, but I noticed one neighbor wasn't engaging as much. I later spent a day with her, Janelle Lutgen (right), and found out that she wasn't a Biden supporter but was there to ask him about his position on insulin prices and access. That's a medicine people with diabetes need to help them stay alive.
It was a good reminder that you can disagree with someone politically while also having a constructive conversation about an issue that's important to you.
— Rebecca F. Miller, Photojournalist
President Donald Trump in 2020
A lot of the time, the hardest part of photographing a president is just figuring out where you're allowed to be and how to make a good photo in that spot.
Because of the pandemic and regular security concerns, there was only a small space I could stand when President Donald Trump visited The Eastern Iowa Airport on Aug. 18, 2020, to attend a disaster recovery briefing after the derecho. The best I figured I could do was to try and show the president talking to local leaders, even if I could only see those leaders' backs.
Sometimes, like in this case, the important photo isn't the most exciting photo, and that is just fine.
— Andy Abeyta, Photojournalist
Soon-to-be President Barack Obama in 2007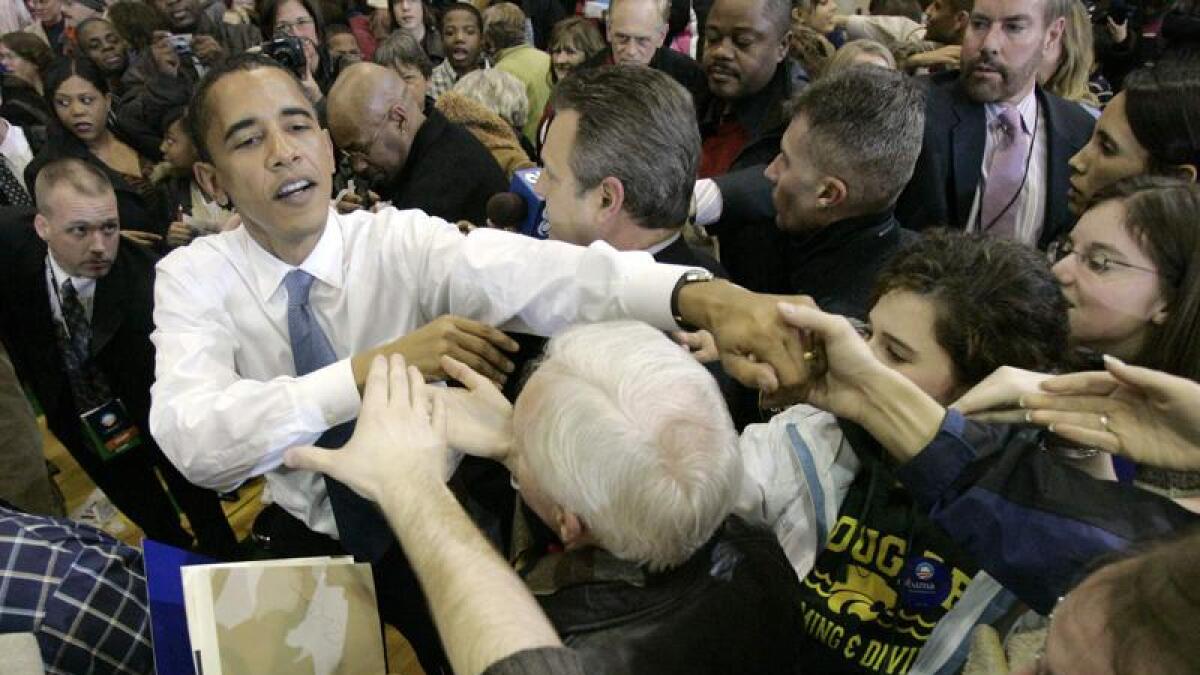 This was the first visit to Iowa for then-Senator from Illinois, Barack Obama, after he declared his presidential candidacy in 2007.
You could feel the energy through the crowd packed into the gymnasium at Kennedy High School as Obama greeted members of the audience during an appearance on Feb. 10, 2007.
I had to straddle atop two chairs to get the position and elevation from the crowd I needed to take this photo.
— Jim Slosiarek, Photojournalist
President George W. Bush in 2008
A group of reporters and photojournalists travels with the president in what is called the "press pool." When President George W. Bush was in town to view damage from the flooding in 2008, The Gazette was able to embed one photographer with the traveling press pool.
We met at the airport, then boarded a helicopter that would follow Marine One. The photographers all crowded around a window that overlooked Marine One as it flew over flooded areas of Johnson County on June 19, 2008.
— Liz Martin, Senior Photojournalist
President Bill Clinton in 1995
Three presidents from three different nations — U.S. President Bill Clinton, center, Czech President Václav Havel, right, and Slovak President Michal Kovac — visited Cedar Rapids on Oct. 21, 1995.
Marie-Susanne Landille covered the trio's visit, which was for the dedication ceremony of the National Czech & Slovak Museum & Library.
President Clinton visited Iowa nine times during his years in office, touring schools and visiting farms, doling out hugs and words of comfort to flood victims, and even swapping jokes about hogs.
— Photo by Marie-Susanne Landille, text by Liz Martin