Home / News / Education / K-12 Education
More families turn to home schooling in pandemic
Eastern Iowa home-school assistance programs see drastic increase in enrollment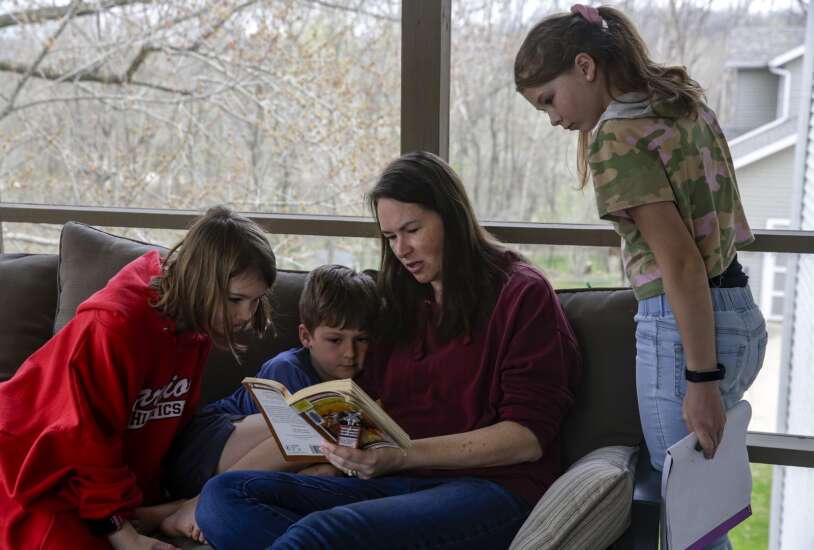 CORALVILLE — After home schooling their five children for almost a decade, Michelle and Joshua Haveman fielded a lot of questions at the start of the COVID-19 pandemic from friends who were deciding whether to turn to home schooling for their kids also.
The Havemans were asked about how they manage as both teacher and parent and how they find a routine that fits school and work — and the rest of their lives.
"It was one of those times where you're looking at what's going on in public schools and we were very thankful we didn't have to overhaul and completely change our lives and education approach," Michelle said.
Iowa schools closed in March 2020 as cases of COVID-19 began to rise. As the 2020-2021 academic year approached, families had several schooling options including in-person learning, hybrid learning where students learned part time in-person and part time remotely, temporary online learning, virtual academies or home schooling.
Although the Havemans didn't have to overhaul their education plan because of the pandemic, they still had some adjusting to do. Before the pandemic, Michelle said, they frequently met with other families in their home-school program, the Mid Prairie Home School Assistance Program in Kalona. They also took field trips, and the kids were involved in extracurricular activities outside the house. The pandemic put those group activities on pause.
But Michelle said home schooling is "probably much easier" than online learning, where students learn virtually from home with the guidance from a classroom teacher. With home schooling, Michelle gets to "call the shots," she said. She gets to say, "'Let's keep going because it's going really well,' or 'Let's stop here for the day.'"
The COVID-19 pandemic sparked new interest in home schooling, which had remained steady at 3.3 percent of U.S. households since 2012, according to the Census Bureau. But the number of households home schooling in the United States at the start of the 2020-2021 school year almost doubled compared to with year before, the bureau reported last month.
The Mid Prairie Home School Assistance Program in Kalona, where the Havemans are enrolled, has grown about 30 percent over the last academic year, increasing from 409 students in October 2019 to 534 currently.
The Cedar Rapids Home School Assistance Program also saw about a 30 percent increase in students this year, going from 240 to 315 families.
Jeannie Johnson, Cedar Rapids home-school lead teacher, said the district received an exemption from the state for resource teachers to each have up to 27 families they touch base with throughout the year.
Resource teachers meet with home-school families eight times throughout the school year. Typically these meetings are face-to-face, but because of the pandemic they have been held virtually this year.
State law allows a home-school resource teacher to have up to 20 families. The program is hiring another staff member for the 2021-2022 school year to manage the growth, Johnson said.
Half of the families who enrolled in the Cedar Rapids home-school program for the first time this year have already re-enrolled for the 2021-2022 school year, Johnson said.
"We have families who have gone above and beyond, loved it and seen the benefits of it," she said. "Some are planning on going back to the school (building) next year, but home schooling was what their families needed this school year."
Home schooling is a "big sacrifice," Johnson said. Some parents are trying to balance working from home because of the pandemic with teaching their students.
Some parents teach three times a week, others five times a week, and still others only in the evenings, Johnson said.
"They want to do what's best for their kids and families."
The Iowa City Home School Assistance Program went from 72 students to more than 240 students enrolled for the 2020-2021 school year, program administrator Chris Pisarik said in an email.
Pisarik said families new to home schooling this year have said that the flexibility of a home-school schedule is what drew them to the program.
"We've had families who have indicated this approach really works well for them, and they plan on continuing home-school or dual enrollment for the foreseeable future," Pisarik said.
Next year, "we anticipate we will definitely have more than the 72 students we had enrolled with us pre-pandemic," Pisarik said.
The Haveman family turned to home schooling eight years ago after moving from Missouri to Iowa.
Joshua Haveman, Michelle's husband, was an administrator at a small school in Missouri, and when the family relocated it was a perfect opportunity to give home schooling a try.
As a former school administrator, Joshua said he saw how much of a school day is "eaten up by logistics," such as transitioning between class periods, lunch or recess and getting a classroom of students on the same page "literally."
"A lot of people have a strong conviction about home schooling," Joshua said. "That was not us when we started. We wanted to try it for a year, and just kept trying it every year for the past eight years."
Comments: (319) 398-8411; grace.king@thegazette.com