Home / News / Education / K-12 Education
Fields of Fun child care center opening in southwest Cedar Rapids, former Kids Inc. location
New center has capacity for 275 children, from infants to 7th-graders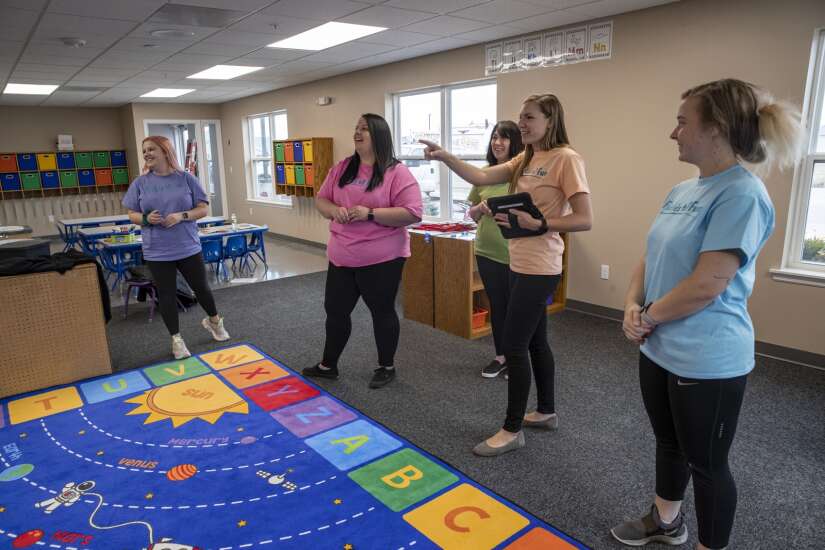 CEDAR RAPIDS — With the help of a grant meant to address a severe shortage of child care, a new center with capacity for 275 children is opening Monday in Cedar Rapids.
Fields of Fun, 6340 Muirfield Dr. SW, is being opened by Taryn Krahmer, of Cedar Rapids, who saw a "once in a lifetime opportunity" to meet a need in her community.
"It can be super scary trying to find child care," said Krahmer, a mother to a 2-year-old and 9-month-old, adding she wants to alleviate some worries of parents like her.
Fields of Fun is hosting two open houses, from 3 to 7 p.m. Friday and from 11 a.m. to 3 p.m. Saturday. The facility will offer child care from 6:30 a.m. to 6 p.m. for infants to seventh-graders beginning Monday, April 4. Parents may talk with the staff at the open houses about tuition.
Fields of Fun was awarded $749,044 from Iowa's Child Care Grants Project earlier this year. Nearly $37 million was awarded in Child Care Grants to create nearly 5,200 additional child care openings in Iowa. The money — $27 million in federal funds to the Iowa Department of Human Services, $6.7 million in federal American Rescue Plan Act funds and $3 million from the Iowa Legislature — is helping to finance new construction and renovations and maintenance to existing centers.
Over the past five years, Iowa has lost 33 percent of its child care businesses and the state is short 350,000 child care slots for children younger than 12 years old, according to the Iowa Governor's Office. Twenty-three percent of Iowans live in child care "deserts" — areas with shortages of licensed providers.
"The building needed some TLC" — tender loving care — Krahmer said. It was deep-cleaned, every room repainted, cabinets added for storage space, maintenance done on restrooms and the heating and cooling system, air ducts cleaned and UV lighting installed to aid in disinfection and repairs made to the playground.
Veronica Castro, center director, said it's exciting to be a part of something new.
Castro is passionate about helping kids "get a jump on learning," she said. "I like to see the first steps, the first time eating solid foods, all the milestones."
"It takes a village to raise a kid, so we're part of that village," Castro said.
There is a non-mobile and mobile infant room. To move to the mobile infant room, an infant must be scooting, crawling, pulling up on objects and other similar mobile behaviors.
Two-year-olds will be placed in a stimulating classroom environment to explore and start to develop their fine motor skills. Three-year-olds will begin to build daily routines and develop self-sufficiency skills.
Pre-K is an interactive learning community where children can build skills to be successful in kindergarten including problem-solving, responsive listening, handwriting, using language to learn, social and collaborative skills and science, technology engineering and math.
Children in the school-age program can get help with their homework, play games, puzzles or other activities, a "balance of independence and structure" for K-seventh graders.
A summer program will offer activities for kids including taking field trips to pools, museums and outdoor and activity parks.
There are about 20 children enrolled so far in the center, a chance to "get our feet wet," Krahmer said, and build from there. She would love to see the center reach full capacity some day.
"I don't see us having an issue expanding quickly. I know there is a great need for child care in the area," Krahmer said.
The center was formerly the location of Kids Inc. Cedar Rapids, which abruptly closed permanently in July 2021. Kids Inc. served about 60 families. It provided before- and after-school child care programs for all College Community elementary schools and Grant Elementary in Cedar Rapids.
"My first born was at (Kids Inc.) when it closed abruptly, and it was a pretty big hit for the community," Krahmer said.
For more information, visit fofcr.com.
Comments: (319) 398-8411; grace.king@thegazette.com