Home / News / Education / K-12 Education
Cedar Rapids schools' nurse practitioners help kids stay healthy so they can learn
Metro Care Connection, Cedar Rapids school-based health centers, serves students in the district regardless of their ability to pay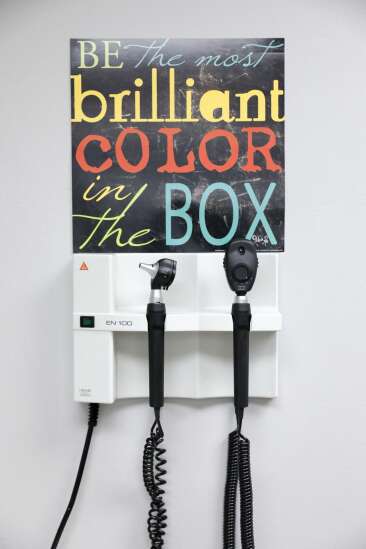 CEDAR RAPIDS — As a school nurse practitioner at Metro High School, Sara Gordon feels responsible for more than the health of the students she serves.
She wants to build relationships with students in the Cedar Rapids Community School District to ensure they have access to health care as well as to adequate housing and food.
"It's not just treating medical needs," she said. "It's treating basic needs, so they can be healthy and learn."
Cedar Rapids is the only school district in the state that hires its own nurse practitioners, said Sandy Byard, the district's health services coordinator. Other districts have nurse practitioners available by contracting with their local health care centers.
A nurse practitioner can write prescriptions and diagnose illnesses, which a school nurse cannot, Byard said.
Cedar Rapids' school-based health centers — Metro Care Connection — provide primary health care services to the district's students. The centers are located at Kennedy, Jefferson and Metro high schools but serve students PK-12. Services are provided to students regardless of a family's ability to pay.
The service was started at Metro High School in 1989, Byard said.
At Metro Care Connection, students can access services like routine physical examinations, which are required for students to participate in sports through their schools.
"We know there's a lot of kids who want to play sports, but they can't until they get a sports physical," Byard said. "If they have a parent who doesn't have a car or can't get off work, where can they go?"
Other services provided includes:
Immunizations
Treatment of minor illness such as an ear infection or strep throat
Basic laboratory tests like throat cultures or a urine test
Prescriptions for medications like antibiotics
Health education and counseling
Referral for complex medical conditions
And referral for counseling services.
The COVID-19 vaccine is not included in the types of immunizations that can be provided through Metro Care Connection. Metro Care Connection staff and school nurses also cannot test students for COVID-19.
COVID-19 testing kits provided to the district by Test Iowa are available at schools for students or staff who are experiencing symptoms of the virus. The kits can be taken home and administered to students by a parent or guardian.
Through Metro Care Connection, students also are able to get a pregnancy test and get tested for sexually transmitted infections.
To receive medical care at one of the school-based health clinics, students under 18 must have a completed consent form signed by a parent or guardian.
Byard said she wants all children to have a "medical home" — a primary care physician they can see routinely and if they are ill — but there are barriers that prevent a lot of families from being able to access that kind of medical care.
During the 2019-20 school year, Metro Care Connection served 354 students for a total of 566 primary care visits, and gave 502 immunizations, Byard said.
Gordon, nurse practitioner at Metro, has worked in health care since 1998 and began working for Cedar Rapids schools over a decade ago.
"One of my favorite things is meeting kids where they're at," Gordon said. "My goal is to have them in school healthy and learning."
Since Metro Care Connection is part of Cedar Rapids Community School District health services, referrals are facilitated through a school nurse whenever possible.
If you would like to make an appointment with a Metro Care Connection nurse practitioner or counselor, please contact your child's school nurse for more information and appropriate paperwork. Metro Care Connection can be contacted directly at 319-558-2481.
Comments: (319) 398-8411; grace.king@thegazette.com