Home / Sports / Iowa State Cyclones
No. 25 TCU crushes Iowa State, 96-73
Field Level Media
Jan. 17, 2018 10:58 pm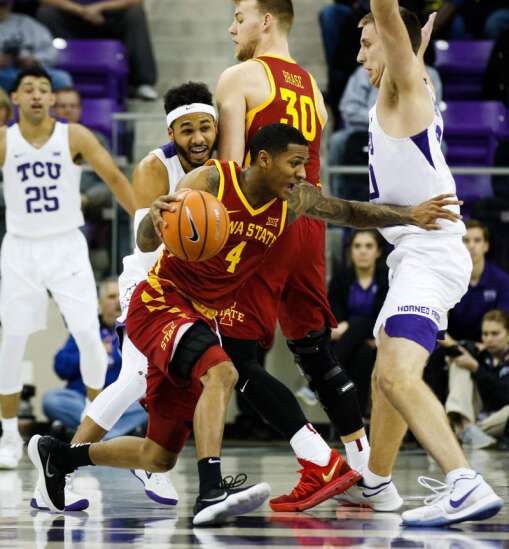 Needing a good game in the worst way, No. 25 TCU got it Wednesday night.
Playing its first game after learning of a potential season-ending knee injury to guard Jaylen Fisher, the Horned Frogs never trailed and shot better than 60 percent from the field in a 96-73 Big 12 Conference whipping of Iowa State at Schollmaier Arena in Fort Worth, Texas.
Center Vladimir Brodziansky led four players in double figures for TCU (14-4, 2-4) with a game-high 26 points, converting 11 of 13 field-goal attempts. J.D. Miller added a career-high 21, going 5-of-6 from the 3-point line. Kouat Noi came off the bench to score 16 points in only 15 minutes, and Kenrich Williams chipped in an 11-point, 11-rebound double-double.
But the Horned Frogs' star might have been point guard Alex Robinson, who scored only eight points in 37 minutes. However, Robinson set a school record with 17 assists, the last one coming in the final minute when he teed up Brodziansky's final bucket.
Donovan Jackson led the Cyclones (10-7, 1-5) with 19 points, while Cameron Lard and freshman Lindell Wigginton each scored 16. Iowa State canned nearly 51 percent of its field goal tries but simply couldn't piece together stops against TCU.
The Horned Frogs wasted little time putting their stamp on the game, establishing a 14-4 lead 4:53 into the contest when Noi hit a jumper. Desmond Bane converted a 3-pointer just over nine minutes into the game to make it 28-10.
Ahead 47-35 at the half, TCU gradually pulled away from the Cyclones in the second half. Brodziansky made a jumper for a 72-53 advantage with 11:01 remaining in the game and Iowa State posed no threat after that.