Home / Sports / Iowa State Cyclones
Iowa State softball player Sami Williams is a 'generational talent'
Senior shortstop has led Cyclones back to NCAA tournament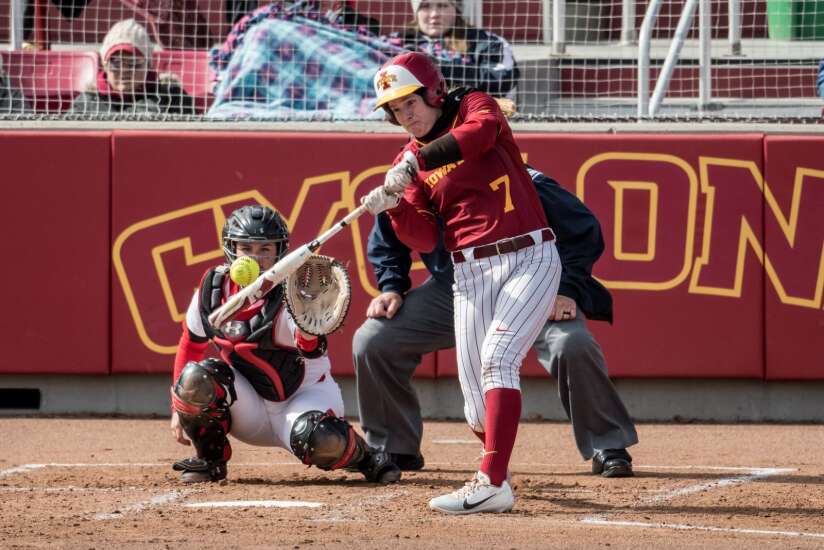 AMES — Iowa State softball coach Jamie Pinkerton has never been around a player like Sami Williams in his 23 years of coaching.
He's coached in the ACC, SEC and the Big 12, among other conferences.
"I've never had a player that's the total package and is the epitome of a student-athlete," Pinkerton said. "I know this probably puts undue pressure on Sami, but she's a generational talent.
"I've had three or four players similar to her. One was an All-American and a great player but not a good teammate. I had another that was an All-American, a great player, a good teammate but not a good student. Then you get to Sami ..."
Williams is a three-time academic All American (2018-2020). She has her degree in software engineering and just earned her master's degree in data analytics.
On the field, she has set pretty much every Iowa State batting record in the book. Williams appears four times in the season hits list, including in the No. 1 spot when she recorded 82 in 2019 and the No. 2 spot when she recorded 79 hits this season.
And this season isn't over yet. Iowa State will make its first NCAA tournament appearance since 1988, thanks in large part to Williams. The Cyclones (32-21) will face Northern Iowa (31-18) in Columbia, Mo., at 1 p.m. Friday (ESPN3).
Williams is batting .457 this year — 30 points higher than the second best in Iowa State history. Williams has 21 home runs, which is the most in Iowa State history, beating her record of 17 in 2019.
The senior has 67 career homers. Second place is Tori Torrescano, who hit 42.
In the field, she's been Iowa State's anchor at shortstop. She has 571 career assists, the most at Iowa State. Missy Miller in the early 1990s is now in second with 454.
Last weekend at the Big 12 tournament, Williams became the Big 12's all-time hits leader.
"For the first 3 1/2 years, I'd tell anyone who would listen, 'Sami is the best player you've never heard of,'" Pinkerton said. "A lot of people know her now."
While Williams' numbers have jumped off the page since she was a freshman — she hit .363 her first season — she hasn't always had the confidence to go with her production.
That was something she developed throughout her time as a Cyclone.
"Something that separates me now from the beginning part of my career is the mental game," Williams said. "Early in my career, I'd get so nervous on the field and I'd let those nerves get to me. I'd feel so disappointed and feel like I let down my teammates if I didn't succeed. Through the years, I was able to talk through that with my teammates and coaches.
"What I learned works for me with the nerves is just interpreting them as excitement. It's the same feeling you get when you're excited for something."
That was important for Williams to do because softball is a game where if you fail seven out of 10 times, you're still successful.
"When I first started doing that, I'd get nervous and then I'd just start laughing on the field because I was like, 'Wow, I can just turn these nerves a different way and turn them into something positive,'" Williams said. "I'd just feel comfortable out there. Now, I just don't even have to really think about it."
"You have to learn how to handle the failures and not think of them as failures so you can get the most out of them, move on and keep growing."
Off the field, Williams is just as impressive. She already has a job lined up with Boeing, working on their data management team.
And Pinkerton's favorite part about Williams — she's an excellent teammate on and off the field.
"She's a servant leader, and I know that's a coaching cliche but she is," Pinkerton said. "On road trips when we have to cater in food, she makes sure everyone else eats before she does, and then she'll be the one to voluntarily clean it all up.
"Just the other day, she was walking into the practice facility and I was walking in with a couple of freshmen and we were probably 10 paces back of her. There was some garbage laying on the sidewalk and I whispered to the freshmen, 'Watch Sami, she's going to pick that garbage up and put it in the trash can.' Two steps later she picks it up and puts it in the trash can. That's the kind of person and player she is. She's very selfless."
Williams, a Laguna Niguel, Calif., native, came to Iowa State when the softball program wasn't much of anything. In her first two years, she endured two coaching changes.
She hasn't single-handedly turned things around — she's too humble to admit that — but she played a large role in getting the Cyclones back to the NCAA tournament for the second time in school history.
"This program has changed because of her leadership and at times, quite frankly, because she put this team on her back," Pinkerton said.
"I came here thinking I could be a program changer and a culture changer and that was kind of my goal," Williams said. "I feel like I've accomplished that goal with some potential extra fun on the way.
"To end on this note — finally reaching your ultimate goal — has been really special."
Comments: benv43@gmail.com