Home / Sports / Iowa State Cyclones
Iowa State spring football: 3 final thoughts from Matt Campbell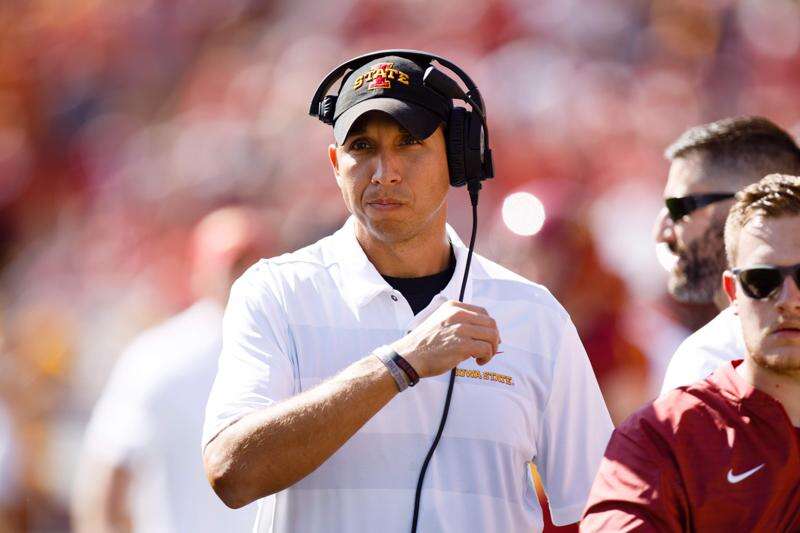 AMES — Iowa State coach Matt Campbell is really good at coachspeak. He says a lot without saying much of anything.
He loves the words 'culture' and 'process,' and he uses plenty of clichés like 'moving the needle' and 'pushing the envelope.'
Last Thursday, after Iowa State's 14th spring practice, Campbell provided some of the best quotes he's ever given.
Pizza Hut
Running back Breece Hall, one of Iowa State's early enrollees, has already established himself. Campbell said Hall made some of the biggest strides on the team from the first practice to the 14th.
'You should be going on a date to Pizza Hut with your girlfriend and instead you're out on a collegiate football field, and all of the sudden you have Ray Lima at nose tackle, JaQuan Bailey at one end and Enyi Uwazurike at the other end and they're running at you,' Campbell said. 'And all of the sudden you're like, 'Holy smokes.' And that's just the first day of practice.'
Let's break this quote down. First of all, did Campbell really take girls on dates to Pizza Hut? If so, more power to him for finding a wife — nothing against Pizza Hut (best breadsticks on the planet) but it doesn't quite seem like a hot spot for dates.
Second, having two All-Big 12 defensive linemen and a third that's 6-foot-6 and 285 pounds running at you would make any person reconsider at least a few of their life decisions, let alone a person who should be in high school.
But to Hall's credit, he survived and began to thrive. Hall was a 4-star recruit out of Wichita, Kan. — which has 18 Pizza Huts (!!!), so maybe he did take his dates there — who has the ability run the ball as well as catch the ball out of the backfield.
'He's gained confidence and poise as well as feel of the game,' Campbell said. 'That's a position where if you can run the ball, you can run the ball. You saw him gain that confidence midway through the spring and have an understanding that the offenses aren't that different but learning the different terminology from high school to college and realizing it's just the same thing said differently.'
Purdy special
Brock Purdy had a sensational season last year as Iowa State's quarterback. The true freshman went 7-2 as the primary quarterback and was the Big 12's Freshman of the Year.
'There are some guys who were put on this earth to play quarterback and Brock is that,' Campbell said. 'He shows up when it matters most. He has the ability to see the field. He's like David (Montgomery) in a way, he had elite vision and Brock is the same way. He has a great feel for what's going on.'
Purdy did a lot of good things as a freshman, keeping plays alive with is feet, making good decisions with the ball and being unafraid of taking a shot down field to 6-foot-6 receiver Hakeem Butler.
Now, Purdy is starting to take ownership of the offense.
'He's special,' Campbell said. 'He's one of those guys — it's really fun to watch great quarterbacks start to take ownership of their craft. Brock is beginning to do that in a lot of ways. He's getting a complete understanding of what we're doing and he's continuing to develop with some of the things coach (Tom) Manning was able to bring from Indianapolis. Is he a finished product? He's not. But here's a young guy that had success and he decided he wanted to get better.
'What's fun now is giving him command of what's going on. You have to be a pretty special young man to be able to handle quarterback and everything that comes with it. And he's done that.'
Scheme changer
Iowa State's philosophy is players-formations-plays. They look at what players they have, decide what formations would fit them best and then design plays that work with that personnel and package.
That's how Iowa State ended up in its revolutionary 3-3-3-2 defense (three down linemen, three linebackers, three safeties and two cornerbacks) that many Big 12 teams have copied since Iowa State made the change two seasons ago.
Now, linebacker Will McDonald might put a wrinkle in that. He's the front-runner to replace Willie Harvey.
McDonald played in four games last season as a true freshman at defensive end and recorded three tackles, a sack and a forced fumble.
He started playing football in high school and was raw coming into Iowa State. He's 6-foot-4 and 220 pounds, and Campbell said last season that he could play basketball for the Cyclones if he wanted to, as he's that good of an athlete (McDonald averaged 18.3 points and 12.8 rebounds his senior year of high school).
The staff decided to switch him to linebacker to better use his athleticism and they like what they've seen so much that they're willing add a few wrinkles to Jon Heacock's defense.
'Will McDonald is a special football player,' Campbell said. 'He's a difference maker in a lot of ways and we're trying to find a proper fit for him and shaping our defense to what he can do. That's been really fun to watch develop and grow.'
Defensive line coach Eli Rasheed said Iowa State could use McDonald as a hybrid defensive end/outside linebacker. He could line up in a two-point stance near the line of scrimmage and come off the edge in a rush, giving the defense another pass rusher.
l Comments: benv43@gmail.com