Home / Sports / Iowa State Cyclones / Iowa State Football
ESPN College GameDay returning to Ames for Cy-Hawk Game
Cyclones had solid special teams play during a Week 1 win over Northern Iowa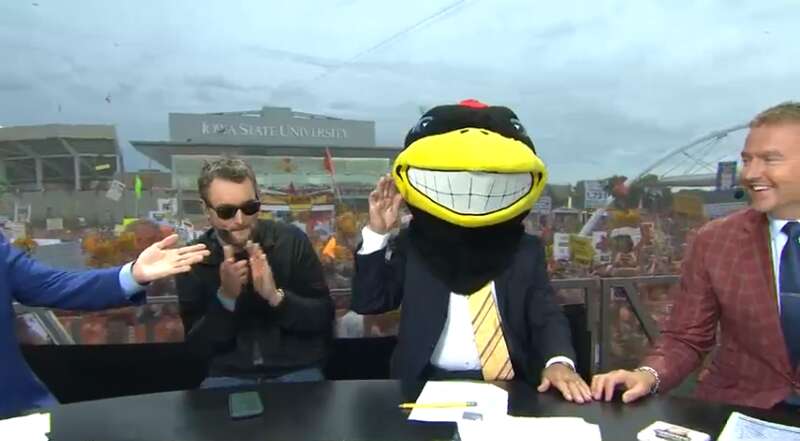 AMES — Iowa State's 16-10 win over Northern Iowa wasn't pretty but wins are wins.
And since No. 7 Iowa State won and No. 17 Iowa won, ESPN's College GameDay announced it's returning to Ames.
This will be the second-straight CyHawk matchup that GameDay will be at. The game is set to kick off at 3:30 p.m. on ABC.
"It is a tremendous privilege to host GameDay twice in three years and a testament to the incredible job Matt Campbell, his staff and student-athletes are doing on and off the football field," Iowa State athletics director Jamie Pollard said in a statement released by Iowa State. "This will be a tremendous opportunity to showcase Iowa State University, our football program and fans to a national audience. I am confident that our fans will again show out for this special event, just as they did two years ago."
In 2019, GameDay set up shop near Jack Trice Stadium's south end zone, just outside the Reiman Gardens. ESPN could return to that spot since it seemed to work well, but Iowa State just completed a $90 million project on the north side of the stadium that includes Albaugh Family Plaza — a large green space just outside the new north entrances and just outside the new Sports Performance facility.
Pollard said in his original introduction of the project that he envisioned something like a College GameDay being set up in the area.
"Iowa State fans gathering in centralized locations has a big impact," Pollard said in 2019 when he announced the project. "Tailgating and the environment in and around Jack Trice Stadium is phenomenal. We are clearly in the upper echelon of unique fan bases that are able to do that. It doesn't take much either, you offer it and the fans come calling.
"We've continued to grow while other fan bases shrink. We have a huge, huge opportunity because of what our football staff has done for us."
Special teams step up against UNI
Iowa State's special teams have been hit or miss in recent years.
And by that I mean returner Kene Nwangwu was elite and everything else was mediocre.
Now, with Nwangwu in the NFL, the Cyclones special teams unit needed to step up. And it did.
Place kicker Andrew Mevis kicked three of his four kickoffs for touchbacks against UNI. Iowa State had two touchbacks all of last season.
Mevis, a Fordham transfer, also made a 42-yard field goal and Connor Assalley made both of his field goal attempts — 21- and 35-yarders.
"Just in general for Andrew, he's a young man that's got really high end talent," Campbell said. "You've got to remember, he hasn't played in a football game in over a year in a half, so he's still working through some things. But in general, really, a huge lift for our football team.
"If they get a kick return when we go up 16-10, that is dangerous however you slice it. Remember Kene? He had one of those (big returns) late in the Oklahoma game in a similar situation. So if that ball is returnable, now you've got to play kick coverage with those guys. It's a huge touchback. It's almost out of the back of the end zone.
"I just think Andrew gives us a chance to have a real weapon and he's also able to score points across the 50."
Iowa State punter Corey Dunn also showed off his leg returning from an Achilles injury two seasons ago.
Dunn bombed a 57-yarder and had four punts downed inside the 20 yard line.
New faces for Iowa State
Iowa State junior safety Kym-Mani King and redshirt freshman nose guard J.R. Singleton started their first game as Cyclones. Campbell was happy with how both played.
"Man, I'm really proud of (King)," Campbell said. "In my mind, he's a guy that had a really good game and from what I saw on the field, he had some big hits. Really, I thought he did a good job in coverage most of the game. Kym-Mani played like he's practiced since January. He's had a great offseason. I'm really proud of him. I'm really excited for him."
King beat out Villinova transfer Jaquan Amos for the starting field safety spot. Defensive coordinator Jon Heacock said on Wednesday that Amos was still learning some of the details and intricacies of the defense, which gave King a leg up since he had been in the system for a few years.
As for Singleton, Iowa State nose guards historically haven't put up big numbers in the three-man front. Their role is to eat a double team and let the linebackers have lanes to make the play. Singleton did that while recording two tackles.