Home / Sports / Iowa State Cyclones
Departures of Texas, Oklahoma from Big 12 to come at steep economic cost for Iowa State
New report suggests region could lose more than $100 million annually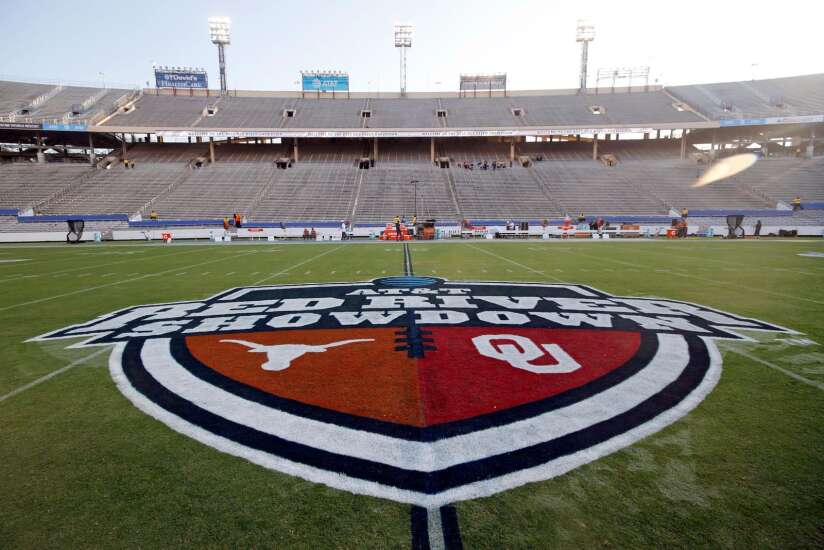 Texas and Oklahoma's departures from the Big 12 could result in a hefty economic toll for the Iowa State community, according to a new report.
The Waco, Texas-based Perryman Group released a report estimating the Iowa State community will lose more than $100 million in annual economic output and 1,400 jobs when Texas and Oklahoma leave the conference.
"Without Texas and OU, the rest of the conference is undoubtedly facing smaller television deals, lower attendance and other negative consequences," said Ray Perryman, the chief executive officer of The Perryman Group, in a column in The Dallas Morning News and in the report.
The exact level of economic losses from the two departures, which are currently slated for 2025 when the Big 12 media rights expire, depend on which of Perryman's two scenarios happen.
In one scenario, the Big 12 remains "largely in tact" and possibly expands, likely with schools from the American Athletic Conference.
The region would lose $104.6 million in annual economic output and 1,411 jobs under these circumstances, according to the report. Communities from all eight Big 12 communities would lose a combined $938.9 million and 12,623 jobs annually.
In Perryman's other scenario, the Big 12 dissolves and its eight remaining members seek membership in conferences outside of the Power Five.
That would come at an even steeper economic cost for the Iowa State community. The region would lose $149.7 million in annual economic output and 2,019 jobs, according to Perryman's estimates. Conference wide, that number balloons to $1.3 billion and 18,063 jobs.
However, Perryman said the numbers "likely understate the actual losses to the affected communities for a variety of reasons," ranging from less media visibility to reduced donor engagement.
There's a chance neither scenario happens for Iowa State, though.
If Iowa State joins Iowa in the Big Ten, the Cyclones would benefit from a lucrative media rights deal and tourism from high-profile fan bases like Ohio State, Michigan or Penn State.
The Big Ten, ESPN's Adam Rittenberg reported, would only consider adding schools that are part of the American Association of Universities. Iowa State is an AAU member.
Rumors also have circulated on social media about Big 12 schools trying to join the Pac-12, which has a geographic footprint spanning from Colorado to California and from Arizona to Washington.
Iowa State athletics director Jamie Pollard asked fans in a July 26 video "to take a step back and have patience" although it's fun "to get caught up in all of the rumors."
"I think it's really important, though, that all Cyclones fans understand that this is not a time to panic," Pollard said. "Our industry is in a complete state of flux and quite frankly, every institution should be evaluating where they are and how things are going to look as the landscape continues to change."
Comments: (319) 398-8394; john.steppe@thegazette.com