Home / Sports / Iowa Prep Sports
Cedar Rapids Xavier doubles team will defend girls' state tennis title
Courtney Carstensen and Ally Burger roll to regional title on Wednesday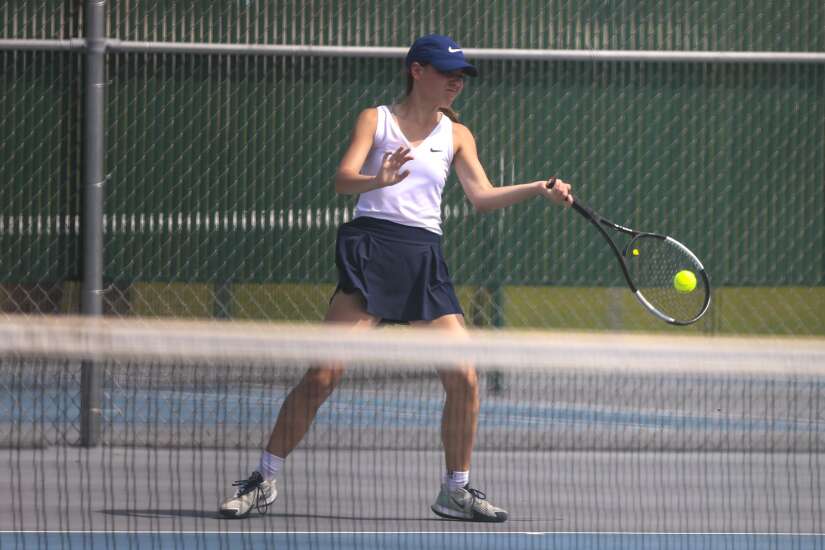 CEDAR RAPIDS — Courtney Carstensen didn't want to miss one last chance to play with her longtime doubles partner.
The Xavier senior could have opted to play singles in the postseason, as could her partner, Ally Burger.
"I really just wanted to go double again because our connection is so good," said Carstensen about playing again with Burger. "I was really excited to go out and try and have a two-peat with her."
The duo won the Class 1A state doubles title in 2021 and took the first step toward repeating on Wednesday, rolling to the regional championship at Xavier.
All winners and runners-up from regional play advance to the state tournament May 27-28. Class 1A will play at the University of Iowa's Hawkeye Recreation and Tennis Complex. The Class 2A state meet will be at Waukee Northwest High School.
Carstensen and Burger dropped just the two games in the finals to Marion's Natalee Hartman and Gracie Goad in the four matches they played on Wednesday.
"They came out and did what they have done all year," Xavier head coach Matt Foxhoven said. "They just took care of business. They know what they have to do at the end of the day to be successful.
"They did a really good job of getting off the court fast when they could. They put points away they should win and that is what makes them a successful team."
Burger admitted it was different playing in conditions that saw temperatures rise above 90 degrees after a season where nearly all the meets were played in cold, windy conditions.
"It was warm, but it was something we definitely both appreciated," Burger said. "It was nice not having to worry about the wind. I mean, the heat can make you more tired, but overall, I think we prefer it."
Xavier also had the singles champion. Senior Ella Tallett was the No. 1 seed and rolled through to the finals, where she won the first set 6-0 and built a 5-0 lead over Elsie Davison of Camanche. Davison rallied to tie the set at 5-5 before Tallett recovered to win 7-5.
In Class 2A play at North Scott, Cedar Rapids Washington advanced five of its six players to state, including both of its doubles teams. The top-seeded duo of Kathryn Zylstra and Katelynn Kock was dominant from start to finish, dropping just one game in their three matches. The lone game dropped was in the final where they defeated Warrior teammates Liberty Wickham and Chloe Palmer, 6-0, 6-1.
Washington's Mya Messenger also advanced by finishing second to Iowa City Liberty's Ella Gilbert in singles. Gilbert, the top seed, downed Messenger, 6-1, 6-2, in the singles final.
At Clinton, Cedar Rapids Prairie's Sasha Postnikov took the singles title with a 6-0, 6-1 win over Dubuque Hempstead's Sydney Thoms. Prairie's doubles team of Grace Hobson and Lidia Welch took runner-up honors, falling to Clinton's Abby Struble and Anna Current, 6-2, 6-0 in the final.
The Cedar Rapids Kennedy doubles team of Kailey Novak and Morgan White also will play at state. They fell in the final at Marshalltown to Cedar Falls' Syria Kalala and Ella Seger, 6-2, 6-1.
In Class 1A play at Waverly, the Decorah team of Annalise Skrade and Mara Holland won the title and will play at state, as will their teammate Allison Pavlovec, who was the singles runner-up.