Home / Sports / Iowa Prep Sports
Washington's Lance Sobaski scraps the strategy, wins North Linn Invitational title
Marion boys, Solon girls run away with team championships at North Linn's Lynx Invitational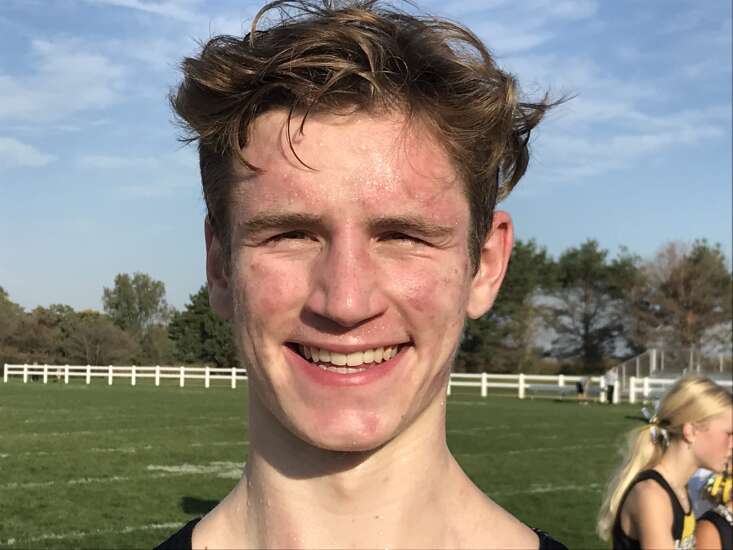 TROY MILLS — Lance Sobaski isn't a strategical racer. He runs more on feel.
"I just run my race," said the senior from Washington (Iowa). "I improvise a little bit, see what I can do.
"I don't set targets on other guys. I run my race and let the other guys worry about me."
When you're running against Sobaski, there's plenty to be concerned about.
Sobaski ran with Marion's duo of Jedidiah Osgood and Shane Erb for the majority of the race, then turned on the gas with 400 meters to go to claim boys' individual honors at the Lynx Invitational cross country meet Saturday morning on the North Linn Community School campus.
"This course is amazing," said Sobaski, whose time of 16:05 paced the field by 4 seconds. "I'd been here once before for a tie-breaker football game in sixth grade. We tied the tie-breaker."
Six years later, Sobaski returned. And this was no tie.
"In seventh grade, I had to make the decision between football and cross country," he said. "A couple of family friends talked me into this. My dad has instilled a lot of values into me — expect nothing more than your best, accept nothing less."
Marion's boys and Solon's girls were clear-cut winners.
Led by Osgood and Erb, Class 3A second-ranked Marion had all five scorers in the top 20 and posted a 47-point tally. Tipton edged Solon for second, 90-94.
"We've been dealing with some setbacks, some injuries and some sickness," Osgood said. "But we're looking stronger than ever. We want to win a state championship, and I think it's doable if we all run in the 16s and if Shane and I run in the 15s. We'll have to have a really good race."
Erb was third; Blake Roling ran seventh.
Solon's girls lived up to their No. 1 ranking in 3A. Kayla Young, Gracie Federspiel and Emma Bock ran 3-5-6, three others were in the top 20 and the Spartans scored 40 points. Tipton was second with 89, followed by Marion (105).
"In practice, we're all together. We're competitive with each other," Young said. "We've been working hard all season, we want to win at state and I think we can do it."
Hudson's Addison Grady held a slight lead throughout the race and held off challenges by Young and North Linn's Meghan Wheatley.
Grady won it in 19:37, Wheatley finished in 19:39 and Young followed in 19:42.
"It was a really good race; we all pushed each other," Young said. "I love running in the morning."
LYNX INVITATIONAL
At Troy Mills
GIRLS RESULTS
Teams — 1. Solon 40, 2. Tipton 89, 3. Marion 105, 4., Williamsburg 143, 5. Washington (Iowa) 158, 6. Hudson 186, 7. Clear Lake 205, 8. Iowa City Regina 207, 9. North Linn 210, 10. Benton Community 228, 11. Starmont 243, 12. Grundy Center GCGR 295, 13. Independence 366.
Individuals — 1. Addison Grady (Hudson), 19:37; 2. Meghan Wheatley (NL), 19:39; 3. Kayla Young (Solon), 19:42; 4. Addison Doughan (CL), 19:51; 5. Gracie Federspiel (Solon), 20:05; 6. Emma Bock (Solon), 20:17; 7. Alivia Edens (Tipton), 20:19; 8. Peyton Steffen (Marion), 20:19; 9. Madison Prier (Marion), 20:29; 10. Mya Whitaker (ICR), 20:29.
BOYS RESULTS
Teams — 1. Marion 47, 2. Tipton 90, 3. Solon 94, 4. Williamsburg 129, 5. Maquoketa Valley 159, 6. Grundy Center GCGR 165, 7. Washington (Iowa) 180, 8. Iowa City Regina 217, 9. Starmont 234, 10. Benton Community 272, 11. Hudson 278, 12. North Linn 329, 13. Clayton Ridge 330, 14. Clear Lake 376, 15. Alburnett 386, 16. Edgewood-Colesburg 470, 17. Independence 501, 18. Midland 519.
Individuals — 1. Lance Sobaski (Washington), 16:05; 2. Jedidah Osgood (Marion), 16:09; 3. Shane Erb (Marion), 16:27; 4. Brick Kabela (Solon), 16:37; 5. Cy Huber (MaqV), 16:46; 6. Gabe Hinman (Solon), 16:46; 7. Blake Roling (Marion), 16:48; 8. Charlie Sieck (Starmont), 16:53; 9. Aidan O'Neil (ICR), 16:55; 10. Micah Rees (Washington), 16:56.
Comments: jeff.linder@thegazette.com