Home / Sports / Iowa Prep Sports
Washington swimming alumni gathering for Jim Voss Invitational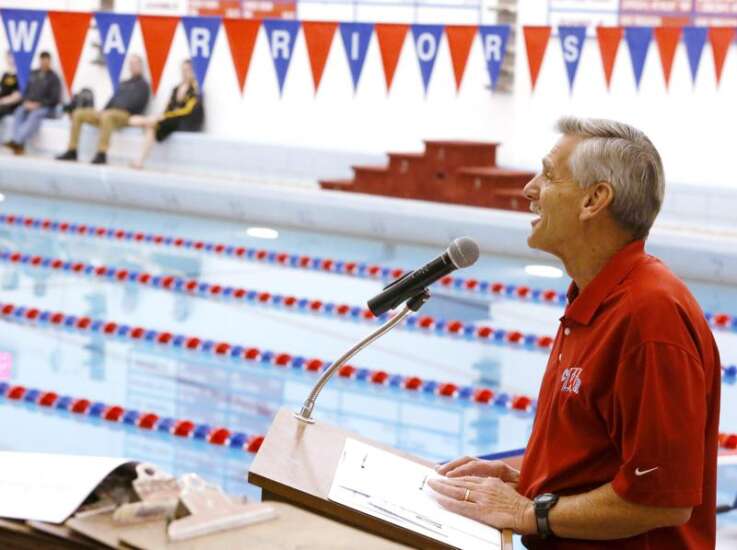 CEDAR RAPIDS — No high school boys' swimming program in Iowa has a more storied history than Cedar Rapids Washington.
The program won 27 state championships between 1961 and 2008 under legendary coaches Hal Krizan and Jim Voss and current coach Chris Cruise.
A good chunk of that history is expected to be in attendance Saturday at the Jim Voss Invitational for the inaugural Alumni Day. The meet begins at 12:30 p.m. in the Hal Krizan-Jim Voss Pool.
It was an idea spawned by Voss and a few former Warrior swimmers, headed up by Andy McIntosh.
'I suggested we attempt to put together an Alumni Day meet,' said Voss, who has been retired for 20 years and was inducted into the Iowa High School Swim Coaches Association Hall of Fame in 2003. 'Everyone thought it would be neat to do, so Andy and I took the task on.'
McIntosh compiled a list of former members of the Washington program living in the Metro area, including former swimmers, divers, support team members, managers and administrators and sent out the invitations.
'We decided to limit our initial list of invitees to include just the Metro area for the first year,' Voss said, adding a few from beyond the Metro also will be in attendance.
Voss said about 40 former Warriors are expected to be at the meet and former Washington standout Rich Mitvalski will speak at the event. Voss said if any former program members were missed when the lists were compiled, they are welcome to attend.
'We apologize if we have missed anyone and we encourage them to come to the event as our guests,' Voss said.
STATE RANKINGS
Iowa City High sophomore Forrest Frazier has the best time statewide in the 100-yard breaststroke as of Tuesday.
Frazier's time of 58.03 tops that event, according to Quik Stats Iowa. He also ranks second in the 200 butterfly (51.91) and 200 individual medley (1:54.37). Frazier is fourth in 100 backstroke (53.47).
In the team power rankings, Ames is No. 1 followed by Ankeny and West Des Moines Valley. Iowa City West is the top Gazette-area team, checking in at No. 9. City High is 10th, Linn-Mar 11th and Cedar Rapids Washington is 14th.
Here is a listing of all other Gazette-area performers and relays ranked in the Top 10 as of Tuesday:
100 freestyle: 10. Matt Peng, sr, Linn-Mar, 48.81.
200 freestyle: 9. Mick Cavanah, so, Linn-Mar, 1:47.62.
500 freestyle: 8. Matt Griffis, sr, I.C. West 4:53.04; 9. Isaac Weigel, I.C. High, 4:53.19.
100 breaststroke: 4. Noah Faldet, sr. Decorah 59.67; 7. Louis Stephan, so, I.C. High, 1:01.18, 9. Lane Griffis, Sr. I.C. West 1:01.32.
100 butterfly: 4. Izaak Hajek, so, I.C. West 52.39; 7. Matt Peng, sr, Linn-Mar 52.72.
200 individual medley: 9. Louis Stephan, so, I.C. High, 2:00.43.
200 freestyle relay: 7. Linn-Mar (Matt Peng, Nick Cavanah, Austin Cochrane, Brycen Snell) 1:30.86.
200 medley relay: 6. I.C. High (Forrest Frazier, Louis Stephan, Eric Thomas, Mickale Sadecky) 1:39.90; 7. I.C. West (Izaak Hajek, Ben Berhow, Valeri Trussov, Brennon Keen) 1:39.98; 9. C.R. Washington (Kaleb Donels, George Durin, Zach Kolker, Ethan Ford) 1:41.81.
400 freestyle relay: 9. Linn-Mar (Matt Peng, Nick Cavanah, Austin Cochrane, Brycen Snell) 3:20.72), 10. I.C. High (Isaac Weiger, Mickale Sadecky, Forrest Frazier, Louis Stephan) 3:21.36).