Home / Sports / Iowa Prep Sports
Top-ranked Marion girls' basketball rallies past Cedar Rapids Prairie, 58-53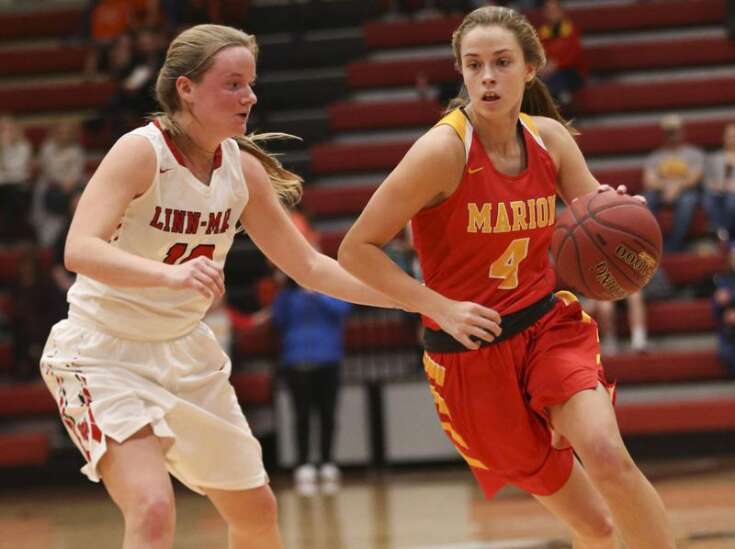 CEDAR RAPIDS - The Class 4A No. 1 Marion girls' basketball team did not encounter much resistance through the first three games of the season.
Faced with a four-quarter tussle Saturday at Cedar Rapids Prairie, the Indians leaned on one invaluable trait.
'We have experience in these games," Marion Coach Corby Laube said after the Indians (4-0) scored the first 13 points of the fourth quarter and rallied past 5A No. 13 Cedar Rapids Prairie, 58-53. 'Just go in and grind and we should be able to reach back to those experiences. Know that panicking doesn't work. Grinding things out does work."
Prairie (3-1) closed the third quarter with nine of 11 points and had the defending 4A runner-up in a hole at 47-40.
Midway through the final frame, a steal and assist by senior guard Chloe Rice to teammate Sophie Willette pulled the Indians within a point at 47-46. On the next possession, a Rice bucket gave Marion the lead for good.
'I think we just got more confident in ourselves," said Rice, a St. Louis University recruit. 'We weren't playing our best for the first three quarters. We just needed to settle down a little bit."
A 3-pointer by senior Mia Laube and two free throws from freshman Riley Wright capped a 13-0 burst that extended the Indians' advantage to 53-47 with 1:15 to go.
Marion sophomore guard Kayba Laube kept the Hawks at bay with five free throws in the final minute. The UNI commit led the Indians with 15 points, Rice finished with 14 and junior forward Randi Wright posted 11 with four rebounds.
'We are all really tight as a team and we're really confident in each other," Randi Wright said.
Sophomores Mallory McDermott and Sidney McCrea led Prairie with 15 points apiece, while Nebraska-Omaha commit Sarah Schmitt added 12 points, six rebounds and five assists.
'They're competitive," Prairie Coach Josh Bentley said. 'They show up to compete every day in practice and tonight they weren't intimidated. They came out ready to play, they took it as a challenge. They're eager to learn."
Prairie hosts third-ranked Iowa City High on Tuesday, while Marion entertains Williamsburg on Friday.
AT C.R. PRAIRIE
Class 4A No. 1 Marion 58, 5A No. 13 Cedar Rapids Prairie 53
MARION (58):
Chloe Rice 4 4-4 14, Caitlyn Smith 0 2-2 2, Randi Wright 5 0-0 11, Riley Wright 0 2-4 2, Mia Laube 3 1-5 9, Kayba Laube 4 7-8 15, Ella Van Weelden 1 0-0 3, Totals 17 16-23 58.
C.R. PRAIRIE (53):
Sarah Schmitt 6 0-1 12, Sidney McCrea 5 4-4 15, Makenna Moenk 0 0-1 0, Mallory McDermott 6 0-1 15, Rachael Kilpatrick 3 0-0 6, Halle Person 1 0-0 2, Quinn Deahl 1 1-2 3, Totals 22 5-9 53.
Marion 16 15 9 18-58
C.R. Prairie 19 14 14 6-53
Halftime - Prairie, 33-31. Three-point goals - Marion 6 (Rice 2, M. Laube 2, Ra. Wright 1, Van Weelden 1); Prairie 4 (McDermott 3, McCrea 1). Rebounds - Marion 25 (Smith 6, Ri. Wright 6); Prairie 30 (Person 10). Assists - Marion 8 (Rice 4), Prairie 10 (Schmitt 5). Total fouls - Marion 16, Prairie 17. Fouled out -
None.
l Comments: douglas.miles@thegazette.com