Home / Sports / Iowa Prep Sports
Solon Strong: Spartans have double the TDs defensively than they've given up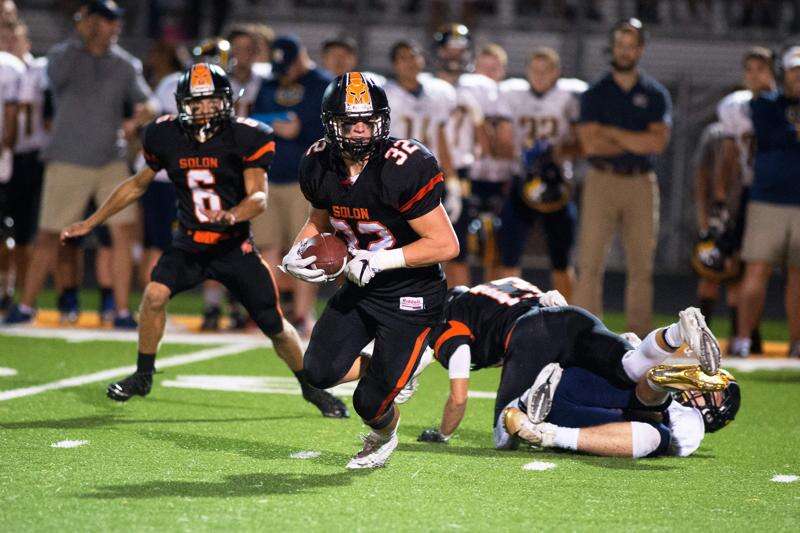 SOLON - The numbers just pop at you and provide a snapshot of the ferocity and effectiveness of this Solon defense.
But discount the rushing and passing yards allowed for a minute. The points given up.
They aren't many, by the way.
This one single statistic is basically incredible and sums things up perfectly. The Spartans have scored twice as many touchdowns on defense this prep football season as they've allowed.
Yes, that is true.
Solon goes into its Class 3A playoff opener Friday night against Decorah having given up three TDs and 21 total points. Its defense has scored six touchdowns: five on interception returns and one on a fumble return.
Adam Bock has one of each. Yowza.
'We hear about the numbers all the time, but that is not our main focus," Bock said. 'We focus on getting better every week. The numbers are a nice little thing to show us that we're doing a good job, but we don't really care about that. We just try to be better than we were the week before."
You'd think that's virtually impossible at this point. How do you improve upon near perfection?
Solon (9-0) shutout Mount Vernon and Iowa City Regina in its first two games, not a small feat. It has alllowed one touchdown each in three games, with Solon Coach Kevin Miller saying two of those came because of an offensive turnover and short field.
'They understand and trust each other. They understand each other's roles," Miller said. 'Because in our system, you have to be disciplined. You have to do your job, you have to be able to perform your job and know that the guy next to you is going to do his job. All 11 guys really have to work in unison."
Solon allowed 122.3 yards per game in the regular season. It did not allow an opponent to rush for more than 95 yards and held two into single digits and one in minus digits.
Mount Vernon and its spread offense had 248 yards in the season opener. No one else had more than 178.
'We're not an odd-front team where we do a lot of stunting or anything," Miller said. 'We play pretty base. That's the crazy thing. We don't run a lot of fronts. We're very much like Iowa in that we don't run a lot of different fronts. We just stay pretty true to who we are. So it takes discipline to run our system."
'We really enjoy defense," said Solon senior tackle Tyler Linderbaum. 'We work hard on it in practice and everything ... We've just got 11 guys running to the ball."
Miller admits it helps a lot to have a 270-pound major college recruit like Linderbaum up front to lean on. He has committed to the Iowa Hawkeyes and Monday was named to play in the US Army All-American Bowl in San Antonio, Texas, in early January.
'It starts with Tyler," Miller said.
But there is more than him. Bock leads the team in tackles, followed closely by Coal Flansburg. Flansburg leads in interceptions with three and has returned two for touchdowns.
Spencer Wegmann leads the team with seven tackles for loss.
'We are really physical," Bock said. 'We're playing physical and all doing our jobs. Those are two good traits to have."
'We pride ourselves on turning people over," Miller said. 'What we try and tell our kids is that we want to play so fast and so physical that it's hard for teams to replicate. That's what we're really trying to do. We've performed against great teams: Xavier, Regina. We've seen great teams, great defensive teams. And we've had great defensive teams. That's really the key ingredient. Playing fast and physical.
'That's something we always preach to our kids. If you want to be a championship-level defense, you've got to play fast and physical."
Miller was asked if this is one of Solon's best-ever defenses.
'I can say that with a great deal of confidence, yes," he said. 'You look at some of the statistics defensively, whether it be points allowed, rushing yards, total yards. Whatever you look at, statistically this group certainly ranks up there."
'It starts with Tyler. Not too many teams have a Division I tackle that weighs 270 pounds. But we've got two great edge players, two great linebackers. I could be any more pleased with our defense. They have done a great job."
l Comments: (319) 398-8259; jeff.johnson@thegazette.com