Home / Sports / Iowa Prep Sports
Sister Act: Cedar Rapids Xavier's Mehar and Meera Julka take top honors, lead Saints to regional golf title
Regional golf roundup: Mehar and Meera Julka push each other to be their best; Linn-Mar and C.R. Washington advance; C.R. Prairie's Addie Berg, Western Dubuque win at Thunder Hills
CEDAR RAPIDS — Meera and Mehar Julka were encouraged to golf by their father.
His friend's daughter started and he suggested for them to try it. A good-natured sibling rivalry was born from that very first lesson with Elmcrest Country Club Certified Teaching Pro Brian Johnson.
"We bounce off each other and are so competitive with each other," Meera said. "It's a friendly competition. Sometimes when she does better, I am happy for her and when I do better, she's happy for me.
"(Golf) is something we've always done together."
The sister duo powered Xavier to the team title and a state berth at a Class 3A regional final meet Wednesday at Twin Pines Golf Course. Mehar fired a 71 for medalist honors, while Meera shot 76 as runner-up medalist, helping the Saints post a team total of 320.
"It's just fun," Mehar said. "I'm glad we did it (qualify for state) with the team this year."
Meera, a junior, has been a consistent leader the last two seasons, earning Mississippi Valley Conference divisional player of the year honors and was the regional medalist last season. This marks three state appearances in as many years, but now she has company. A goal from the end of last year's state meet.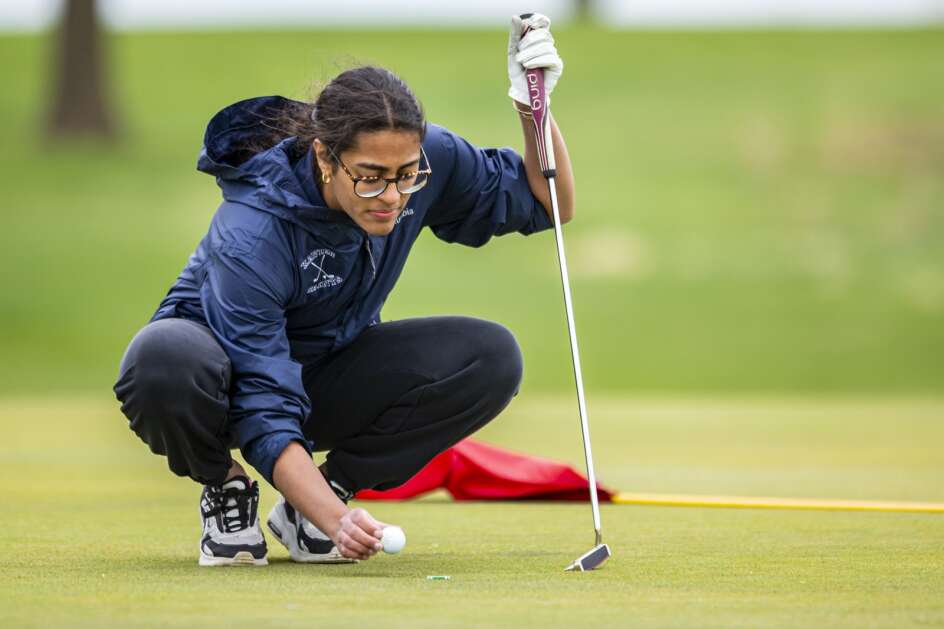 "I'm excited," Meera said. "Last year, my coach told me, and I didn't realize it, that I wanted to go with my team, because it's just so much more fun when you're with everybody together."
Mehar, a freshman, has made a huge impact in her first season, matching her sister's first-team all-MVC Mississippi performance. She entered the postseason with a 41.79 combined adjusted average, which is just decimal points back of her sister. The younger Julka kept the regional title in the family.
"I feel like we push each other to do better," Mehar said. "We want each other to do well."
Meera and Mehar crossed paths late in the round when groups got backed up by slow play. They exchanged updates, mentioning their successes and miscues to help each other.
Both carded 36 on the front nine. Mehar improved on the back with a 35. Meera shot 40. They met with their dad briefly. Mehar had the advantage in putting on the back nine, which allowed her to separate from the field.
"Usually, it's the other way around," Mehar said. "She consistently beats me but I think I made a couple more putts."
Will she hold it over her sister's head for bragging rights?
"Probably not," Mehar said with a laugh.
The Saints were dominant on their home course, beating runner-up and qualifier Dubuque Wahlert by 14 strokes. Xavier claimed three of the top four spots, receiving an 80 from fourth-place Jenna Kramer. Kyla Johnson recorded a 93 to round out the scoring.
Xavier earned a team berth for the first time since getting third in 2019.
"I think we'll do well," Meera said. "We're all really competitive in a good way. I think we can stay focused and get done what we want."
Williamsburg's Jaisel Bott posted an 81 to place fifth and qualified individually. The Raiders junior is a three-time state qualifier after placing fifth at 2A state in 2022.
The 3A state meet will be held May 25-26 at Pheasant Ridge Golf Course in Cedar Falls.
Linn-Mar, Cedar Rapids Washington take top spots
Linn-Mar and Cedar Rapids Washington earned state berths, taking the top-two spots in the team standings at the 4A regional at Irv Warren Golf Course in Waterloo. The Lions recorded a winning total of 334, while the runner-up Warriors shot 353.
They shared four of the top-five individual scorers. Linn-Mar sophomore Morgan Rupp was the medalist with 74. She returns to the state meet, tying for fifth there in 2022. Teammate Quinn Dunkle was fifth at 83.
Sophomore Jane Petersen, who was 12th at state a year ago, led the way for Washington, scoring 78 and matching Marshalltown's Natalie Henson with the second-best round. The Warriors' Mya Messenger was fourth with 79.
Ava Kline had an 88, while teammate Nina Mercure came in at 89 to help Linn-Mar return to the state tournament.
Lily Belle Barker added 93 and Mackenzie Parks and Lydia Nichols each shot 103 to round out Washington's total.
Prairie's Berg, Western Dubuque advance
Cedar Rapids Prairie's Addie Berg won medalist honors and Western Dubuque claimed the team title at the Class 4A regional Wednesday at Thunder Hills Country Club in Peosta.
Berg fired a 1-under 70 and return to the state meet May 25-26 at Otter Creek Golf Course in Ankeny. She tied for eighth last season. Western Dubuque totaled 320 and beat runner-up Cedar Falls by 19.
The Bobcats' McKenna Stackis finished as runner-up with 74. Addison Jones and Natalie Fangmann shot 81 apiece to tie for fourth and Cece Ball was sixth with an 84 for Western Dubuque.