Home / Sports / Iowa Prep Sports
Sigourney's six enough to win Class 1A state track championship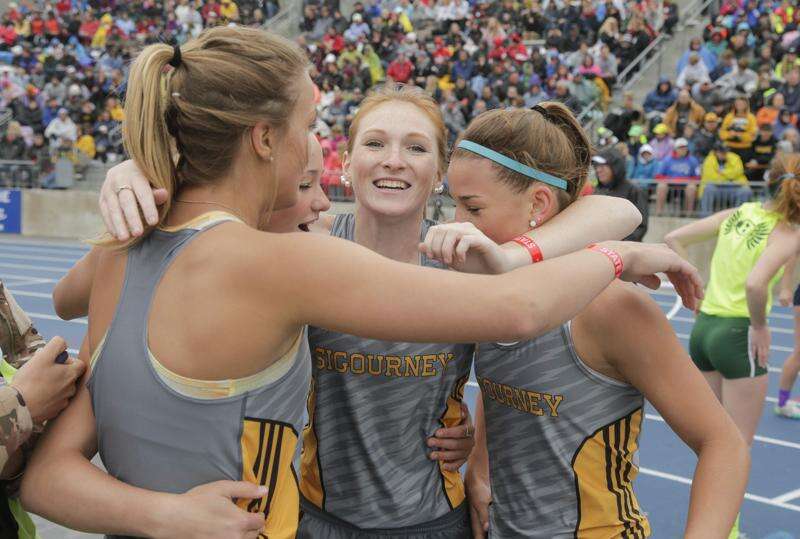 DES MOINES - It took only six girls for Sigourney to end its 25-year team-title drought.
The possibility of a team championship didn't even enter their minds until they were well into the weekend.
'I had no clue this was going to happen until we saw some images that someone posted on Twitter of us possibly getting first place," said sophomore Summer Barthelman. 'Last year we won the (Oskaloosa) meet and we were like, 'Oh my gosh, we won a meet.'
'And now we've won state, so it's incredible."
Barthelman and her sister Autum, a junior, did most of the damage for the Savages.
After Summer's victory in the Class 1A 400-meter hurdles Friday, Autum won the 100-meter hurdles, was second in the 100-meter dash and both were on the winning shuttle hurdle relay squad - alongside junior Leah Carter and sophomore Sloane Magill.
'It's really special," Autum said. 'All of us are really close-knit friends and we just push each other super hard because we know our potential.
'We know even with six girls, we're mighty enough to pull out a championship."
Sigourney's team title is the school's first since it won three straight from 1990 through 1992. The Barthelmans' aunt, Rhonda Eiben, and their mother, Heather, were on those squads that helped secure the titles. It's only natural that Summer and Autum carry on the tradition.
'(My mom has) been working with me since seventh grade, and she was a great hurdler," Autum said. 'She wanted me and my sister to carry it on. She's been behind us the entire ride and it's just been awesome to come home with a state championship."
Clayton Ridge's Haley Heitman won the 200-meter dash in 26.46, edging Danville's Kathryn Luers by nine hundredths of a second. Meskwaki Settlement's Grace Tahahwah was third in the 200 (26.08) and fifth in 100 (13.04) to become the school's first ever state place winner.
'From the start I was like, 'You have to get this. You have to get this,'" Heitman said. 'The girls who ran with me did an awesome job at pushing me. They're really, really athletic and competitive so that helped a lot."
STATE TRACK & FIELD MEET: CLASS 1A GIRLS
Teams (top 10) - 1. Sigourney, 48; 2. Maple Valley-A-O, 46; 3. Danville, 45.50; 4. East Mills, 36; 5. Pekin, 34; 6. Logan-Magnolia, 32; 7. Clayton Ridge, 24; 8. Sioux Central, 23; 9. AGWSR, 21.50; 10. HM-Sanborn, 20.50
Results (top 3, plus area)
Sprint medley relay - 1. Danville (Grothe, Bauer, Luers, Pfadenhauer), 1:51.50; 2. Maple Valley-A-O, 1:52.23; 3. Sioux Central, 1:53.00; 4. Alburnett, 1:53.45; 5. Montezuma, 1:53.73; 8. Springville, 1:54.69
800 - 1. Janette Schraft (East Mills), 2:19.84; 2. Morgan Todd (Maple Valley-A-O), 2:22.31; 3. Emma Harper (East Union), 2:22.40; 6. Hanna Hess (Edgewood-Colesburg), 2:23.42
Shuttle hurdle relay - 1. Sigourney (Barthelman, Carter, Magill, Barthelman), 1:08.40; 2. Gehlen Catholic, 1:08.99; 3. Fremont-Mills, 1:09.15; 4. BGM, 1:10.37; DQ, Belle Plaine
100 - 1. Kaylee Linder (Pekin), 12.71; 2. Autum Barthelman (Sigourney), 12.77; 3. Haley Heitman (Clayton Ridge), 12.94; 5. Grace Tahahwah (Meskwaki Settlement), 13.04; 6. Haley Coats (HLV), 13.04; 8. Madison Osborn (Alburnett), 13.30
100 hurdles - 1. Autum Barthelman (Sigourney), 15.26; 2. Charissa Mogler (Bedford), 15.84; 3. Lexi Groe (Lake Mills), 15.90; 8. Marian Coover (BGM), 19.76
200 - 1. Haley Heitman (Clayton Ridge), 26.46; 2. Kathryn Luers (Danville), 26.55; 3. Grace Tahahwah (Meskwaki Settlement), 26.08; 5. Haley Coats (HLV), 26.77; 6. Rylee Menster (Springville), 26.83
1,500 - 1. Janette Schraft (East Mills), 4:54.36; 2. Aubrie Fisher (AGWSR), 4:55.77; 3. Hailey Pullman (West Sioux Hawarden), 4:57.03; 7. Kassandra Rosenbum (Clayton Ridge), 4:59.66
400-relay - 1. Pekin (Wright, Linder, Roth, Linder), 50.83; 2. HM-Sanborn, 50.86; 3. Danville, 51.27; 4. Sigourney, 51.44; 5. Alburnett, 51.50
1,600-relay - 1. Maple Valley-A-O, 4:04.00; 2. Maquoketa Valley, 4:08.63; 3. Central Lyon, 4:11.15; 5. Montezuma, 4:12.87
l Comments: montzdylan@gmail.com