Home / Sports / Iowa Prep Sports
Quinn Schulte's phenomenal performance lifts Xavier to phenomenal 1st half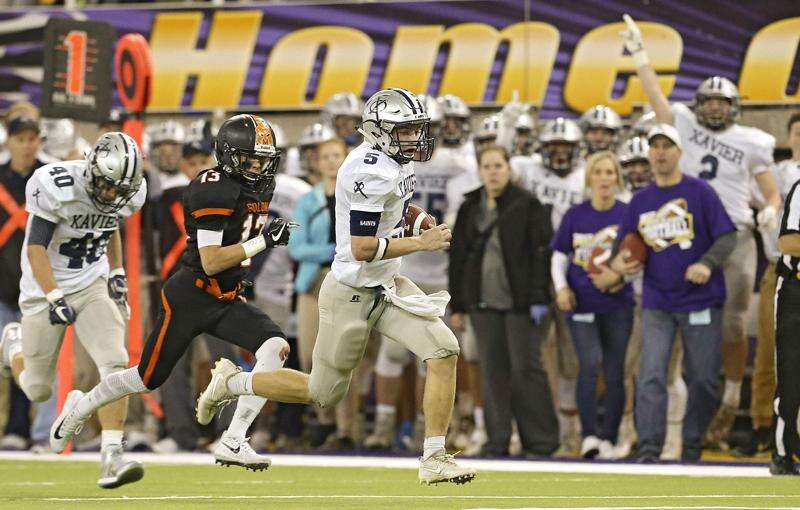 CEDAR FALLS — And the thing is he has to run over to the sideline to receive every play call from his dad.
Jeez, you'd think Cedar Rapids Xavier football coach Duane Schulte would have some signal system concocted to give his son, Quinn, a break from having to do that. At least once in awhile.
The kid deserved a little rest after a first half for the ages (that's for himself and his team) Thursday night in a Class 3A state football playoff semifinal at the UNI-Dome. The junior quarterback had 244 yards rushing and passing and three touchdowns, guiding his team to four TDs on four offensive possessions en route to a 35-0 halftime lead and eventual 35-7 victory over Solon.
'To try and stay humble about it ...,' Duane Schulte said. 'I think it goes to show he is one of the best football players in the state, if not one of the best athletes in the state. You saw what he did in basketball last year, winning a state championship, guarding the toughest perimeter players on the other team.
'But I think he'd also be the first one to tell you he had a lot of help. Give a lot of credit to his teammates. This is not a one-man show.'
It just seemed like it at times here. Actually a two-man show would be more accurate, considering fellow junior Braden Stovie also was great.
He ran a punt back for the third time in the last two games and added a 7-yard touchdown run. Schulte had TD runs of 2, 5 and 16 yards, rushing for 107 first-half yards and throwing for another 137.
Oh, and playing safety on defense, he also intercepted a Cam Miller pass late in the second quarter. Solon came into this game having allowed five TDs and 37 points total in 11 previous games this season, and Xavier met that first number and nearly the second in a sublime first-half performance.
'Our offensive line was getting a good surge going on,' Quinn Schulte said. 'That helped a ton ... We just try and take what the defense is giving and try to go where they're not. It just turned out that sometimes they weren't in (certain) spots. Then, like I said, our O-line was doing a really good job getting a good surge.'
Schulte joins oldest brother Reggie as QBs who have led Xavier to state championship games. Reggie Schulte is a senior at Northern Iowa.
Middle brother, Bryce, also quarterbacked Xavier. He is red-shirting as a freshman tight end this season at the University of Iowa.
Both Bryce and Reggie were on the Xavier sideline watching this one.
'They always come into (the locker room) before games to see how I'm doing,' Quinn said. 'They said to just go out there and do your job.'
'I remember growing up and wanting to play in the Dome,' Duane Schulte said. 'My senior year (at Cedar Rapids LaSalle), we were the ninth team in an eight-man field. Then when my brother, Darrel, quarterbacked LaSalle to a state championship in 1983, I was just so happy for him and all those guys.
'To have all three of my sons play in UNI-Dome with their friends, make sure you get that in there, is a very, very special feeling. I can't even put it into words.'
l Comments: (319) 398-8259; jeff.johnson@thegazette.com