Home / Sports / Iowa Prep Sports
Out of a coaching job after his school closes, Waukon's Chad Beermann lands on his feet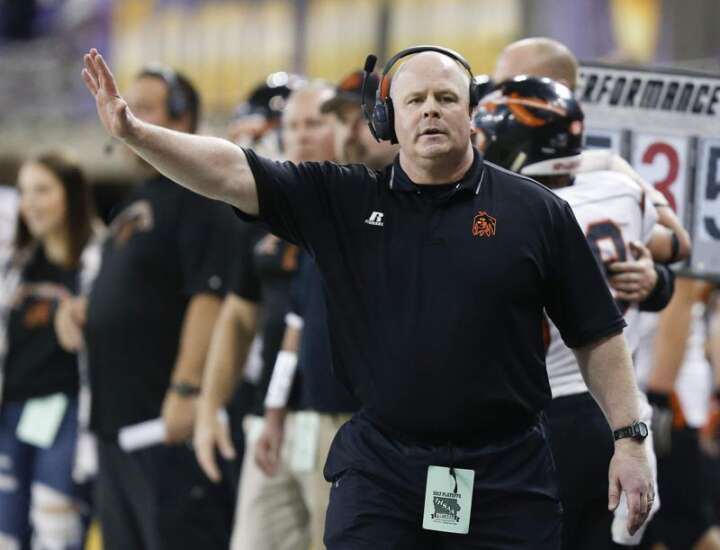 CEDAR RAPIDS — He's not necessarily one of those people who believes everything happens for a reason.
Chad Beermann still wonders, for instance, why his Waukon football team lost the 2013 Class 2A state championship football game. Especially on a final-play field goal that hit off the crossbar before going over.
What was the reason for that torture? Guy's kind of got a point there.
But when it comes to his coaching career, Beermann might actually have to agree with the above premise.
'It worked out for me, and I think it's worked out for Waukon all right,' he said.
No doubt about that. Beermann, 46, has been at Waukon five seasons, with this the second time he has led the Indians to a title game.
Waukon (11-1) plays Williamsburg (10-2) for the 2A championship Friday afternoon at 2 at the UNI-Dome in Cedar Falls.
'It's a little different this time,' he said. 'I don't know that it's totally unexpected because we knew we had good kids. But that group five years ago, we had D-I college coaches roaming the halls at Waukon (for kids like Iowa's Parker Hesse and UNI's Marcus Weymiller), and this group doesn't have that. Five years ago, I think we started out No. 1. This year, we kind of climbed our way up. We had that loss to Cascade (in Week 4) and dropped back down, but have been winning since.'
Beermann is a North Fayette graduate who spent 17 years as head coach at nearby Valley (Elgin). He took the Tigers to the playoffs five times.
But the school closed after the 2012-13 school year, merging with NF to create North Fayette Valley.
'That's why we went to 8-Man for (that last) season,' Beermann said. 'I was one of the first ones to really look at our numbers and say, 'Hey, we're really dropping here.' I think that sort of prompted the momentum to maybe look at merging. I was on a couple of the committees that were exploring it and helping the students with the transition.'
Bob Lape was the head coach at North Fayette and got the head coaching job of the newly created NFV. Beermann was out of luck.
'I think the way they did it, what we were told anyway, and I have no reason to believe that wasn't the case with it, was that the high school was going to be at North Fayette (West Union), they had all the coaching contracts, so they had to honor them. That's what we were told,' Beermann said. 'I'd been at Valley for 20 years, 17 years as the head coach. I don't know if I had any parents and then their kids, but, obviously, at 17 to 20 years, that's pretty close. So it was tough.'
But back to things happening for a reason.
Ted Snitker decided to step down as head coach at Waukon in order to follow his daughter's athletics career at the school. Snitker had been an assistant at Valley for Beermann at one time and tipped him off about the new opening.
'A couple of other schools had called me, too, but Waukon is a school I'd looked at years ago,' Beermann said. 'So when it came open, I applied and managed to get hired. It's been a great move for me.'
This is Beermann's third playoff team at Waukon. Quarterback Abe Schwartz has thrown for over 2,000 yards for the Indians, and running back Mitchell Snitker (Ted's son) has rushed for 1,864.
Ted Snitker is on Beermann's coaching staff. As mentioned earlier, Cascade handed Waukon a 25-20 loss early in the district season, but it has been nothing but wins since.
'Our defense has continued to improve throughout the season,' Beermann said. 'Our offensive line, we kind of reshuffled after the Cascade loss. And the kids have been playing with more of a sense of urgency. We've been in playoff mode from that loss on. Another loss, and we might have potentially not made the playoffs at all. We've played with that sense of urgency, and that's gotten us where we're at.'
l Comments: (319) 398-8259; jeff.johnson@thegazette.com