Home / Sports / Iowa Prep Sports
Multi-sport approach good for body and mind
HS journalism: Specialization can lead to stress on young athletes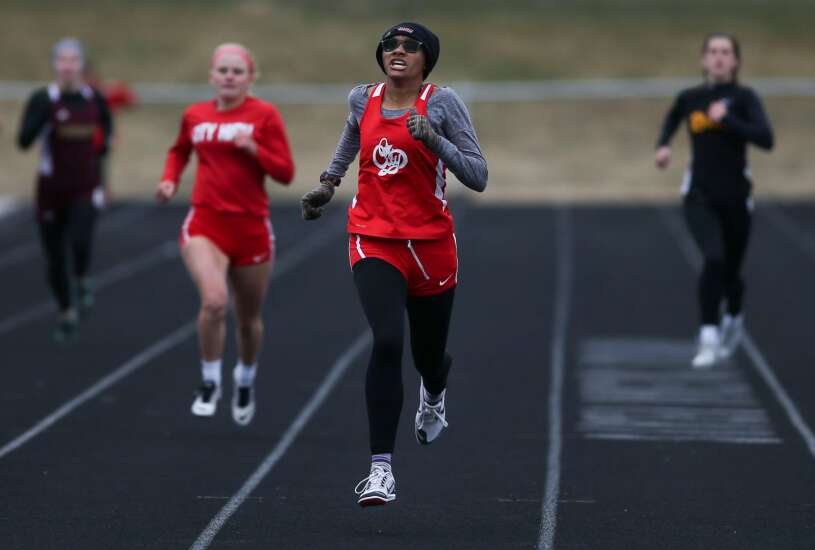 Many athletes train to get better.
They put so much time and effort into their sport because they want to improve, to drop another second or increase their hitting record.
They feel pressure from themselves and those around them. This drive, while effective in some cases, also can become unhealthy.
Sports specialization, which is when an athlete only participates in one sport year-round, can be the result of goals to get a college scholarship or make it professionally. According to the American Academy of Pediatrics (AAP), sports specialization has increased over the past few years in the United States, with athletes starting to specialize at even younger ages than before.
One of the driving factors of this is club and travel teams.
"I think for parents, they do that to their kids because they're expecting them to get to the next level," said Mitch Moore, Iowa City High's new football coach. "They're putting so much time and pressure on them to be a single sport athlete."
The AAP affirms sports specialization in youth athletes can cause detrimental effects both physically and psychologically. In fact, AAP clinical reports state the effects of sports specialization in child athletes can contribute to "overuse injuries, overtraining, and burnout in child and adolescent athletes."
"[Sports specialization] should be discouraged for as long as possible," City High athletic trainer Jennifer McHenry said. "It puts a lot of pressure on parts of your body, like your arm in baseball. If you do too much throwing too soon, it wears your arm down faster. Those kinds of things aren't good for young developing bodies.
"You'd be better off doing more sports and varied sports with varied activities where your body doesn't get into a repetitive motion."
The AAP recommends young athletes focus on enjoying various activities and play versus early specialization programs made to produce elite-level athletes.
"It is extremely beneficial for kids to do multiple sports, especially at young ages, whether it's in elementary school, junior high or high school," Cory Connell, City High's head wrestling coach, said. "They learn how to compete and as a
Connell has been actively posting on Instagram and Twitter, encouraging football players to also go out for wrestling. However, he supports athletes from all sports willing to give wrestling a try.
"I think athletes who do multiple sports are more confident. They compete harder. If they are faced with some adversity, they can change gears quicker in the sense that they've probably faced some adversity similar [in a different sport] and they can relate back to that and move on quicker versus a person who's only done one sport," Connell said.
City High senior CeCe Kelly-Harvey has been a tri-sport varsity athlete in cross country, basketball and track throughout most of her high school career. Her endurance and continuous fitness helping her in all her sports.
"From cross country, when I go right into basketball, I would not be as tired as the (other) girls during the drills and practices," she said. "I would just be running up and down the court and everybody was struggling and I would have to sprint, and pass people who couldn't make it."
While she encourages athletes to do multiple sports, McHenry also warns athletes to be extra careful when doing multiple sports at the same time, since this can also increase the risk of injuries.
"It would be great if while you're out for basketball you're focusing on basketball and you're not doing volleyball. It would be great, but I don't think it's probably a realistic option (for most athletes)," McHenry said. "(When doing two sports), it has to be up to the athlete to communicate. They have to say, 'Listen, this was a really hard day in basketball practice. We lifted and so, if I'm going to come to soccer tonight, then I can only do this much. I need rest more than I need to practice.'
"It (requires) a lot of communication that can be done but it really has to be worked out between the three parties: the two coaches and the kid."
City High senior Carey Koenig has been a two-time varsity athlete in softball and basketball. She does year-round softball, participating in the high school and club levels, as well as high school basketball. Over the years, she has struggled to maintain a high level of commitment to both sports.
"It was just a lot harder for me to balance everything because I had to take into consideration weight lifting for softball and then having basketball practice everyday. I was really tired all the time," Koenig said.
For her senior year, Koenig has decided to not participate in basketball and instead focus her efforts on softball, which she plans to continue in college.
"All those people that play different sports know that they need to put the time in to be good for softball (because) we always have these expectations that you need to focus on softball to get better," Koenig said.
How many sports athletes decide to do is ultimately up to them and their parents. But it is important for them to make informed decisions.
"You just have to pay attention to your body and listen to what it's telling you," McHenry said.