Home / Sports / Iowa Prep Sports
Meet The Gazette's 2017 Female Athlete of the Year finalists
The 2017 Gazette Female Athlete of the Year Finalists:
Kennedy Dighton, Cedar Rapids Jefferson
Sarah Lehman, Iowa City Regina
Libby Ryan, Mount Vernon
Lisa Tucker, Cascade
Valerie Welch, Iowa City West.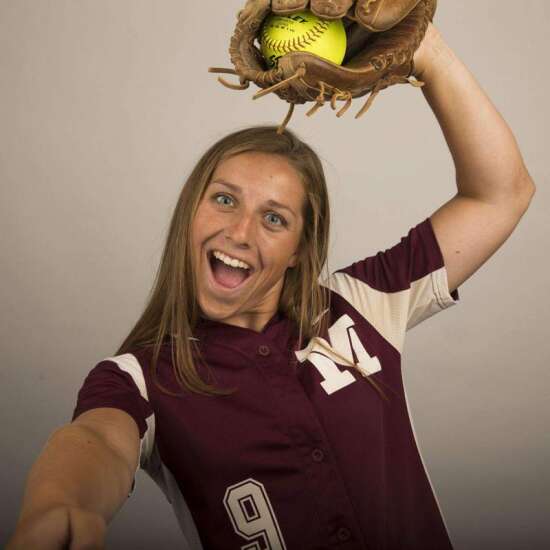 Today, The Gazette reveals its 2017 finalists for its high school Athlete of the Year awards.
The awards were inspired by the longtime sportswriting career of Jack Ogden.
Athletes of the Year are chosen based on exception athletic and academic achievement. This is the 35th year of the awards, which began in 1983.
Read on to learn more about this year's female finalists.
Winners will be announced next Sunday.
All-time leading rebounder at Jefferson, which has a storied tradition of excellent posts.
She finished with 1,172 career points and 637 rebounds and averaged 15.7 points and 7.8 rebounds per game as a senior.
A four-year varsity starter, she was a second-team all-stater as a senior.
First baseman for the powerhouse softball program, she hit .480 as a junior with eight home runs, 40 runs and 38 RBIs.
Will play basketball at the University of Sioux Falls.
Pitcher for the softball team that reached the Class 2A state final each of the last two years — winning a title in 2015 — and a two-time first-team all-stater.
Entered the season with 562 career strikeouts.
A second-team all-state pick in basketball last winter as the Regals (26-1) reached the 2A state semifinals.
Concluded her basketball career with 894 points and 388 rebounds as her team racked up a 90-12 record with three state appearances.
1,135 career kills in volleyball, leading the team in that category each of the past three years. Volleyball team reached state when Lehman was a freshman.
Will play volleyball at Coe College.
Will finish with 17 varsity letters, and her fingerprints are all over some very successful programs at Mount Vernon.
She has competed in state competition 12 times — four each in volleyball and track, twice each in basketball and softball.
A two-time first-team all-state libero in volleyball, and is likely to become a three-time first-teamer in softball.
An 11-time state placewinner in track, including a shuttle hurdle relay title in 2014 and a 1,600-meter relay crown in 2015.
Will play softball at Drake University.
Starred for four years in four sports — volleyball, basketball, track and softball.
A key member of a track program that won Class 2A state championships in 2014, 2016 and 2017, and was a state runner-up in the 100-meter hurdles and shuttle hurdle relay as a senior.
School record-holder in the high jump (5-4) and the all-time Cascade single-season leader in points (333.25).
Five-year starter in softball, she was part of a state runner-up team in 2015. Basketball team was a state semifinalist in March.
Will not participate in college athletics, but will attend the University of Northern Iowa.
Won three Class 4A championships at the state track and field meet in May.
The only girl in the state to win in a running event (distance medley relay), a field event (long jump, on her final attempt) and a hurdling event (the 100-meter hurdles).
Owns five school records and is ranked in the top 10 all-time in four events — fourth in the long jump, sixth in the 100 hurdles, seventh in the shuttle hurdle relay, ninth in the distance medley. Participated in cross country.
Will compete in track and field at the University of Colorado.