Home / Sports / Iowa Prep Sports
Marion is changing its 'Indians' nickname. Will other Iowa high schools follow?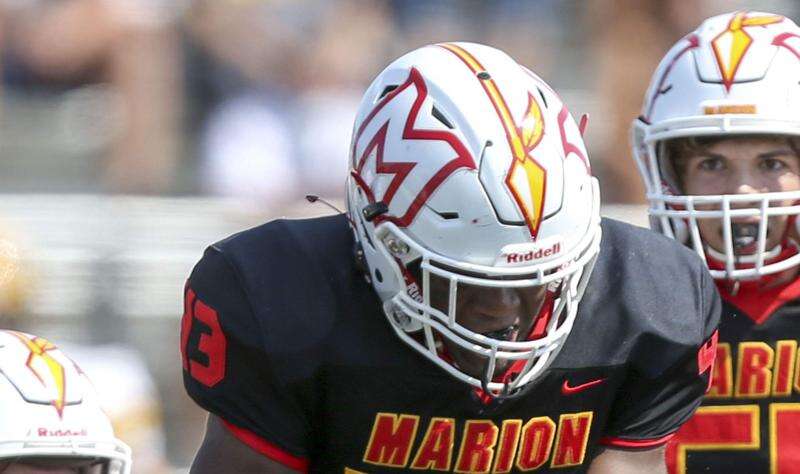 The wheels are in motion. A survey was sent Thursday throughout the Marion Independent School District, seeking suggestions for a new mascot for its school's athletics teams.
In March - 'sometime around spring break," according to superintendent Janelle Brouwer - that mascot, that nickname, will be identified.
And on July 31, after summer sports are completed and the 2020-21 school year concludes, the term 'Indians" will be laid to rest. A new era will begin.
A committee, chaired by Marion High School athletics director Mike Manderscheid and consisting of about a dozen members, met for the first time Monday.
'The committee includes some community members, staff and administrators that will be reviewing ideas, working with VIP Branding and seeking some community input," Brouwer said.
Marion's board of education voted 5-2 on Oct. 12 to change the school's nickname. The change was motivated by a letter received by Brouwer from the Sac & Fox Tribe of the Mississippi in Iowa - also known as Meskwaki Nation - dated Sept. 24.
'Native American people or Indians should not be viewed as 'mascots' for the pleasure of branding sports teams, schools or any other organization," the letter stated.
'Educational institutions choosing to use race-based Indian logos, mascots and names harm children, exposing graduating class after graduating class to these stereotypes, and indoctrinating them that it is acceptable to stereotype an entire race of people.
'We would prefer the Marion Independent School District consider changing their mascot from Indians to something that isn't offensive to Native Americans. There are many other options that would be more acceptable."
And now, the committee is weighing those options.
'I've heard some ideas floating around, but there certainly aren't any leaders out there at this time," Brouwer said.
According to the Iowa High School Athletic Association directory, Marion is one of 11 Iowa high schools with a nickname of Indians; the others are Camanche, Clarke, Clarksville, Forest City, Indianola, Oskaloosa, Pocahontas Area, Spirit Lake, Wapello and Waukon.
Other nicknames that could be perceived as Native American-related include Big Reds (Centerville, Missouri Valley), Braves (Cherokee, Montezuma), Chiefs (Keokuk), Chickasaws (New Hampton), Mohawks (Bellevue Marquette, Mason City, Moravia) and Savages (Sigourney).
Most, if not all, schools with a nickname of 'Warriors" - and there are a lot of them - have gone away from a Native American theme, using more of a medieval soldier appearance.
Jay Mathis is a 1982 graduate of Waukon High School, and became the superintendent of Allamakee Community Schools (headquartered in Waukon) in 2018.
Mathis said the school board looked into the possibility of a nickname change in 2017, before he took office. He also said the district received a letter from the Iowa Commission on Native American Affairs, on Jan. 11.
As a result, he said, 'It might be time again to rethink this."
The city of Waukon (population 3,600) is named after Chief Waukon Decorah (1780–1868), also known as Wakahaga, prominent Ho-Chunk (Winnebago) warrior and orator during the Winnebago War of 1827 and the Black Hawk War of 1832.
'The district has used the term Indians as a source of pride and respect in this area," Mathis said. 'That's part of the reason we have kept the mascot and the name.
'We have worked with people of the tribes that this area represents. If tribal leaders wish that we would consider changing, I think the board would consider it."
Would Mathis be open to a change?
'Absolutely."
Like Marion, Waukon no longer uses the presence of an Indian likeness on its logo. The current figure is a slanted 'W" with a spear, going from the bottom left to the upper right.
Sigourney and Montezuma also use a block letter and a spear in their logos.
David Harper, superintendent of the Sigourney Community School District, said his school intends to retain its nickname.
'We're staying with status quo," he said. 'Since the late 1980s or early 1990s, when the (Iowa) Department of Education got involved, we haven't associated the term 'Savage' with Native Americans.
'We use the term 'Savage' as a fierce competitor, a fighter that won't give up. Fierce and ferocious."
Montezuma superintendent Nathan Wood did not respond to multiple attempts to contact him.
One American professional sports franchise, formerly known as the NFL's Washington Redskins, shed its nickname after the 2019 season. On Dec. 13, 2020, pro baseball's Cleveland Indians announced they were doing the same.
Comments: (319) 368-8857; jeff.linder@thegazette.com