Home / Sports / Iowa Prep Sports
Lisbon's Carter Happel one win from fourth Iowa state wrestling title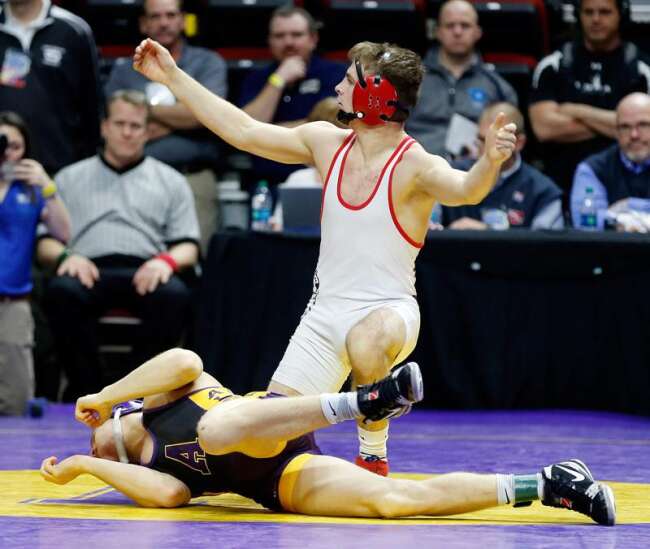 DES MOINES — Tough ol' Carter Happel still listens to his mother.
Of course, she offered some solid advice to the Lisbon senior in search of his fourth state title.
Happel hinted at achieving his goal of winning each match by technical fall, when she suggested something different and quicker.
'I was talking to my mom earlier and I was like I have two techs and got two more to go so I can get the job done for four techs,' Happel said. 'She was like how about you just get the pin and we can get out of there right away. Keep it easy on Mom and get an extra half point for the team.'
What Mom wants she gets. Happel pinned Alburnett's Tanner Hoyer in 1:02 of the 145-pound semifinal Friday at the Iowa High School Athletic Association Class 1A state wrestling tournament at Wells Fargo Arena. Happel will attempt to become the 25th four-time state champion in state history.
The only thing that might have been quicker was his rush to the same mat that 132-pounder Chase McLaughlin became the first of three Lisbon finalists.
'I ran down there so fast,' Happel said. 'I was down there before they even raised his hand. I was pumped up for him. It got me fired up.'
Happel added, 'Once Chase won, I was pumped up. I just wanted to get on the mat (and) off the mat as quick as possible, and come back to celebrate with my team.'
Happel won his 168th straight match, tying Des Moines Roosevelt four-time state champ Johnny Meeks for fifth all-time. He also improved to 51-0 this season and 208-1 for his career, which is tied for third in Iowa history.
Being one step away from the elite list hasn't sunk in yet, but he is anxious for his shot to join.
'I'm just kind of ready to get it over with,' Happel said. 'It's been a long year, a long four years. This year has been dragging on to this point, but I got one more match to get it out of the way. I feel pretty good.'
Happel took the mat after a congratulatory pat to McLaughlin, while teammate Nick Williams was claiming a 138-pound finals berth on an adjacent mat.
Sixth-ranked McLaughlin had just finished a thrilling 5-3 sudden victory win over Alburnett's No. 3 Drake Halblom. McLaughlin used an escape and takedown in the third to force overtime and then scored a takedown with 28 seconds left.
McLaughlin had lost twice before to Halblom, including the first match by fall. He made gains between each bout and was confident that the third time was the charm.
'It came down to who had the better gas tank,' McLaughlin said. 'The kid is really good. It just came down to who had that little bit extra and I trained for that little bit extra.'
Near the end of regulation, McLaughlin led 3-2 but was called for locked hands, awarding Halblom a penalty point. McLaughlin was aware of the situation and tried to do what was best.
'I knew I had that one point to give,' McLaughlin said. 'I locked up to keep him from getting the one to get away for him to possibly get the extra two. I went into the overtime, knowing I have to get this takedown.'
McLaughlin said he knew what those wins meant in the team race. Alburnett owns a slim, 88 ½-87, lead over Lisbon for first. The Lions swept both head-to-head semifinals and have three in the consolation rounds.
'I knew what we had to do up there for the team and I knew what I needed to do to get to the finals,' McLaughlin said. 'It just happened to mesh with each other. I went all out. I went for the team. I went for myself.'
Williams returned to the finals after a year hiatus. He was third last year after winning the 120-pound title in 2014. Williams beat Truro I-35's Austin Pontier, 7-2. Williams will face Iowa Valley's second-ranked Jacob Krakow, who advanced with a 7-6 victory over Underwood's No. 7 Tom Jennings.
'We've got three guys from Lisbon in the finals,' Happel said. 'Hopefully, we can get this team title while we're down here, too.'
Alburnett advanced two to the championship matches. Senior 152-pounder Conner Shulista earned his fourth state medal and return to the finals after a runner-up finish last year. Shulista pinned Pleasantville's Sawyer Phillips in 1:43.
'It's wonderful,' Shulista said. 'I'm looking forward to everyone watching. I want to go out and get the job done.'
Shulista posted a second straight fall, knowing the Pirates needed the boost in the team race.
'We always look for bonus points,' Shulista said. 'I got it done.'
The Pirates' top-ranked 170-pounder Tanner Sloan joined Shulista in the finals. He topped Martensdale-St. Mary's second-ranked Logan Schumacher, 10-4. He is looking forward for his chance for gold.
'I've been working for it all season,' Sloan said. 'I'm ready to go.'
North Linn's Brock Henderson made his third straight semifinal appearance, but this one turned out differently. Top-ranked Henderson dominated Don Bosco's No. 9 Logan Lutgen, 16-1, racking up 12 nearfall points, to reach the 133 championship.
'It feels good just to get another win,' Henderson said. 'Three down. One to go.'
Henderson has already improved his previous two third-place finishes. He sacrificed time in the off-season, even forgoing the baseball season, to achieve a state wrestling title.
'The sacrifice you make throughout the summer may seem long,' Henderson said, 'but it pays off now.'
English Valleys' Zach Axmear was in the same position as Henderson. The top-ranked junior had reached the semifinals in his first two seasons, but had to settle for third and fifth the last two seasons.
Axmear advanced to the final against No. 2 Shulista with a 9-3 victory over Sumner-Fredericksburg's Karsen Seehase.
Iowa City Regina's top-ranked heavyweight Jared Brinkman made his way to the final, edging North Scott's Kyler Schott, 5-4. Brinkman led, 3-2, but granted an automatic release to start the third, causing a tie. He wanted to wrestle in the position he liked best.
'I'm best on my feet,' Brinkman said. 'That's where I want to win it.'
He is attempting to become the Regals' first state champion since Daniel Gaffey won the 220-pound crown in 2013. Brinkman could claim Regina's fourth state wrestling title.
'My coaches have been helping me the whole way,' Brinkman said. 'I try to push myself every day because I know I can do this. I'm happy to be here.'
Highland twin brothers, Drew and Bryce West, reached the finals in the same season for the first time. Bryce West, the defending 120-pound champion, posted a technical fall over Westwood's Kody Berg. Drew West, who won the 106 title in 2014, pinned Dike-New Hartford's Kody Kugel in 2:52 in the 126-pound semifinal.
South Winneshiek's top-ranked Landers Kuboushek improved to 48-3 with a 9-0 major decision over South Central Calhoun's Ty Riley, advancing to the 195-pound championship.
l Comments: (319) 368-8679; kj.pilcher@thegazette.com