Home / Sports / Iowa Prep Sports
Linn-Mar's Tatum DePuydt and Liberty's Neely Maurus share CRANDIC girls' golf title
Senior duo shoots 76; Cedar Rapids Washington wins team crown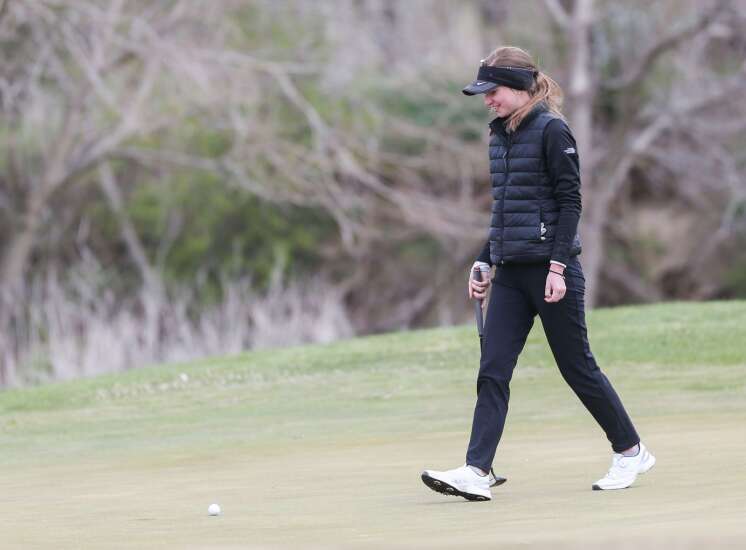 CEDAR RAPIDS — Sometimes who you golf with can impact how well you play.
The right grouping could be a catalyst for a successful round with similarly-talented competitors pushing each other.
Linn-Mar's Tatum DePuydt and Iowa City Liberty's Neely Maurus provided that for each other Wednesday at Hunters Ridge Golf Course.
On a cold, overcast and windy day that made low scores a rarity, both seniors shot 4-over 76 to share medalist honors at the CRANDIC golf meet. Cedar Rapids Washington's Blythe Heying rounded out the trio, helping the Warriors claim the team title with 382.
"I really enjoyed playing with Neely and Blythe, especially Neely, because every other hole it was a birdie, bogey or par," DePuydt said. "It keeps your momentum up.
"It keeps you grinding for your scores. It makes it a lot of fun."
Maurus said she knew DePuydt would be one of the top contenders. They traded shots most of the day.
"Having her in my group and knowing we were close was fun, because I could see how I was doing and how she was doing at the same time," Maurus said. "I pushed myself to play against her and play well."
DePuydt carded two birdies in the last five holes, including one on the 306-yard par-4 No. 7 hole to close the round with a tie. Maurus carded an eagle on the par-5 12th hole early and added another birdie.
Two of their birdies came on consecutive holes. DePuydt placed her approach on the par-4 No. 3 within a foot or two of the pin, making the putt. She was able to overcome an unusual lie and judged the conditions correctly.
"I was on a side hill and kind of in a divot but I was resting up enough on the grass where it didn't impact it enough," DePuydt said. "It was into the wind and cold, so I clubbed up. I told myself to put a good swing on it and hope for the best. Luckily, the wind pushed it in my favor. It was great."
On the par-3 fourth, Maurus almost hit her first career ace, getting a favorable bounce off a mound that nearly rolled into the hole.
"Honestly, the shot was not very well struck but it turned out really well," Maurus said. "I was glad it took the big kick because that was exciting. I did end up making the putt, which was good because I needed the birdie after a couple bogeys."
Maurus was Liberty's first CRANDIC champion, winning the event at Brown Deer Golf Club as a sophomore. The Lightning did not compete in it her freshman year and last season was canceled. She has at least shared in the individual championship each time she has played.
"It's awesome," Maurus said. "It's cool to say both times I got to play in the CRANDIC I did have No. 1 in front of my name for my finish spot, even if it's a tie."
Emma Sorg paced Washington with an 86 to finish fifth. Mya Messenger shot 94, Heying finished with 100 and Lucci O'Donnell's 102 rounded out the Warriors' team score.
Cedar Rapids Xavier's Kaitlin Hotchkiss was third with 77 and Cedar Rapids Prairie's Addie Berg's 78 was good for fourth.
CRANDIC MEET
At Hunters Ridge Golf Course
(Par 72)
Teams – 1. C.R. Washington 382, 2. Iowa City Liberty 394, 3. Linn-Mar 396, 4. C.R. Prairie 403, 5. Iowa City West 407, 6. C.R. Kennedy 421, 7. C.R. Xavier 433, 8. C.R. Jefferson 444, 9. Marion 448, 10. Iowa City High 455.
Individuals – 1. (tie) Tatum DePuydt (LM) and Neely Maurus (ICL), 76, 3. Kaitlin Hotchkiss (CRX), 77, 4. Addie Berg (CRP), 78, 5. Emma Sorg (CRW), 86.
WASHINGTON (382): Sorg 86, Mya Messenger 94, Blythe Heying 100, Lucci O'Donnell 102
I.C. LIBERTY (394): Maurus 76, Bella Pettersen 86, Brianna Butterfield 111, Alison Colony 121, Ashley Nadeau 121
LINN-MAR (396): DePuydt 76, Abby Hoefle 98, Avery Carlson 110, Ava Kline 112
PRAIRIE (403): Berg 78, Yuewan Jennissen 104, Julianne Hodges 106, Jillian Thies 115
I.C. WEST (407): Rylee Goodfellow 93, Lucy Schmid 103, Leigha Pacha 105, Marit McCaffery 106
KENNEDY (421): Leyla Grawe 101, Cora Johansen 104, Alleah Hilgendorf 104, Sidney Swartzendruber 112
XAVIER (433): Hotchkiss 77, Meera Julka 102, Rachel Burke 126, Anna Esker 128
JEFFERSON (444): Kierra Thomas 97, Anna Warkel 112, Kylee Thomas 116, Addy Loomer 119
MARION (448): Jordyn Lang 95, Hayden May 115, Hanzo Renfer 118, Morgan Brendt 120
CITY HIGH (455): Allison Ribble 109, Anna Knoche 112, Annika Rutt 114, Dani Moen 120