Home / Sports / Iowa Prep Sports
Linn-Mar set to swing for a boys' team tennis state championship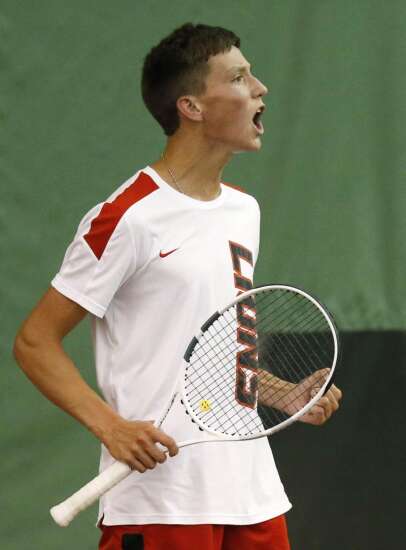 ANKENY — In five years, only one team not named Iowa City West has won the boys' team tennis state championship in Class 2A.
The Trojans' daunting tennis legacy only makes the latest opportunity more enticing for Linn-Mar.
'We're thrilled to be there,' said Linn-Mar Coach Wundram, who leads the second-seeded Lions into a team tennis semifinal against Pleasant Valley Tuesday at 8:30 a.m. at Prairie Ridge Sports Complex. 'But getting there is just part of it. We feel like we can contend. We feel like we're tested and that we're capable of winning the whole thing. … My guys are excited to play, but we're also not going to back down from anybody. They're hungry and they want to prove that we'll be more than capable of winning two matches out in Ankeny.'
Linn-Mar (15-2) — winners of the 2015 state title — defeated Pleasant Valley, 7-2, April 15 at the Muscatine Invitational. Should they get past the Spartans a second time, the Lions would face the winner of No. 1 Iowa City West (17-0) and West Des Moines Valley (12-3) for the title later Tuesday.
'We've had a great tennis year and we'll see what we can do,' Linn-Mar freshman Luke VanDonslear said. 'I think we're good, we've practiced a lot, we've played a lot of matches this whole year. … Hope to get in that championship to play West.'
West defeated Valley and Linn-Mar earlier this season, both by 8-1 scores. If Linn-Mar and West do meet for the title, it will be the third time in four years.
VanDonslear is a big reason why Linn-Mar is in the 2A team tennis semifinals for the fourth time in six years. VanDonslear won 11 of 13 matches at No. 2 singles this season, was 2-0 in the top spot and placed sixth overall at the 2A singles state championships on Saturday.
'It's been a lot of pressure, but it's been really good,' VanDonslear said. 'I've been really excited to help my team out.'
Juniors Lucas Huffman and Jack Gertsen were big contributors to the state-title team two years ago. The rest of the lineup, including Zach Glanz, freshman Jackson Eells and No. 1 singles player Ben Hediger — who placed fifth in 2A state doubles with Huffman on Saturday — will be semifinal rookies.
'Some of these boys were at that meet,' Wundram said. 'Iowa City West has a great history and we're not denying that whatsoever. We showed that year that we're a great program, too. We're right up there with them.'
In the Class 1A team tennis state championships at Waveland Tennis Courts in Des Moines, Cedar Rapids Xavier (12-4) is seeded second and will open against Pella (11-2), while top-seed LeMars (13-0) faces Carroll Kuemper.
l Comments: douglas.miles@thegazette.com