Home / Sports / Iowa Prep Sports
JoJo Frost, Tristan Wirfs pick up their 2nd state titles of the weekend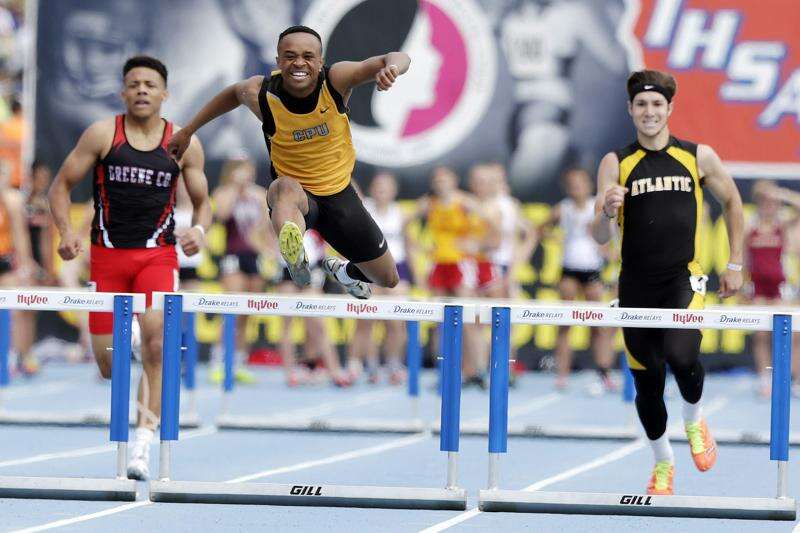 DES MOINES — His birth name is Johannan Josiah Frost. But for as long as he can remember, he's always been known as JoJo.
That name is becoming a familiar one at Drake Stadium.
Frost claimed his second championship at the state track and field meet, capturing the Class 3A boys' 400-meter hurdles title in 53.06 seconds Friday afternoon.
'Right now, I'm just really excited,' said the junior from Center Point-Urbana. 'I knew the time (out of the second heat) was really fast, but stuff like that happens all the time at the blue oval. You've just got to dig really deep.'
After Zach Renken put up a quick time of 53.47 seconds in Heat 2, Frost went out and beat it. That's two titles (he won the 400 on Thursday) with two races remaining.
Pella moved into the lead in the 3A boys' team race with 41 points. Mount Vernon is second with 39, followed by Vinton-Shellsburg (34).
The final eight events are Saturday.
Mount Vernon's Tristan Wirfs concluded a sweep in the throwing events, winning the shot put handily. His best throw (also his last throw) traveled 60 feet, 1 1/4 inches, almost eight feet further than his nearest competitor.
'It was kind of frustrating, to be honest. I didn't throw that well,' Wirfs said. 'I'm glad I got to 60 feet. All in all, it was a pretty good weekend.'
He expects a better one next year.
'There's a lot of room to improve,' he said. 'I want to throw 65 feet in the shot and 200 in the discus if I can get it.'
• State track and field live stream, updates
Vinton-Shellsburg moved up the ladder in the team race behind Tyler Bartz, who finished second in the long jump (21-10 1/4) and anchored the Vikings' 800-meter relay to runner-up status.
Nick Hyland, Jordan Womochil, Joel Barnes and Bartz ran 1:28.98, behind the record effort of Sergeant Bluff-Luton (1:27.87).
'We just have a chemistry with this team,' Bartz said, 'We've really pushed through practice. And when you have a guy who gets out of the blocks like Nick, it helps a lot.'
STATE TRACK & FIELD: CLASS 3A BOYS
Teams (top 10) — 1. Pella 41, 2. Mount Vernon 39, 3. Vinton-Shellsburg 34, 4. Estherville ELC 24, 5. Center Point-Urbana 22. 6. North Polk 17, 7. Marion 15, 8. Dallas Center-Grimes 14, 9. Algona 13, 10. Fairfield 12.
Results (top 3, plus area)
Long jump — 1. Chase Van Sant (Pella), 22-0 1/2; 2. Tyler Bartz (Vinton-Shellsburg), 21-10 1/4; 3. Shane Feller (Charles City), 21-8 3/4; 8. Nick Stark (Cedar Rapids Xavier), 21-8 3/4.
Shot put — 1. Tristan Wirfs (Mount Vernon), 60-1 1/4; 2. Austin Hill (Pella), 52-5 1/2; 3. Ben Mawdsley (Algona), 52-4; Blake Patterson (Vinton-Shellsburg), 50-7 3/4; 7. Tyler Linderbaum (Solon), 50-1 1/2.
800 relay — 1. Sergeant Bluff-Luton (George, McGregor, Girres, Wall), 1:27.87*; 2. Vinton-Shellsburg, 1:28.98; 3. Estherville ELC, 1:29.67; 4. Benton Community, 1:30.69; 6. Williamsburg, 1:30.89.
400 hurdles — 1. JoJo Frost (Center Point-Urbana, 53.06; 2. Zach Renken (Spirit Lake), 53.47; 3. Brendan Holmes (Atlantic), 53.83; 4. Noah Heitshusen (Williamsburg), 53.86.
1,600 medley relay — Estherville ELC (Miller, Christensen, DeVary, Peters), 3:32.71; 2. Fairfield, 3:33.38; 3. Dubuque Wahlert, 3:36.43; 5. Mount Vernon, 3:39.39; 7. Center Point-Urbana, 3:40.06; 8. Cedar Rapids Xavier, 3:40.08.
l Comments: (319) 368-8857; jeff.linder@thegazette.com