Home / Sports / Iowa Prep Sports
Iowa State signing day: Cyclones 'bridging the gap' in offensive, defensive line rebuilds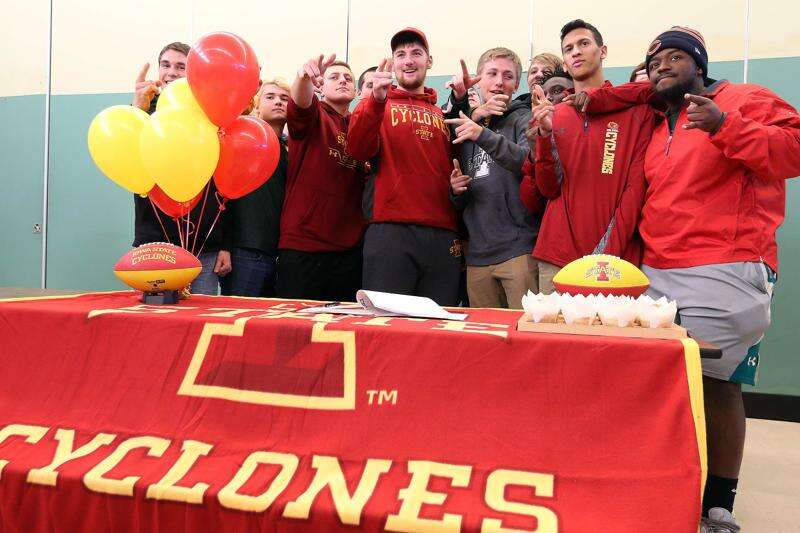 AMES — In lieu of getting caught up in the moment, Matt Campbell opted to take the long view.
The second-year Iowa State football coach knew what areas had to be addressed on the recruiting trail, but wasn't going for a quick fix. The staff wanted to bridge some gaps in the trenches.
Campbell knows what he got in the short term, on paper and on video, but the true analysis of the 2017 class comes much later.
'We won't know about this class for three years,' Campbell said. 'I'm not crazy. I get recruiting. To say we won the Super Bowl today is wrong. To sit here and say we made a great step moving forward is true.'
The determination of the success of the class is still years away, but on National Signing Day, Iowa State secured one of its best classes in program history.
The Cyclones were No. 40 nationally according to Rivals, the highest mark since 2004, and No. 53 on 247Sports. Iowa State received a 0.8427 composition rating on 247Sports, the highest composite ranking — taken from the four major recruiting sites — since 2007 while checking in No. 7 among Big 12 teams.
Iowa State's 26-member class included six signees from Iowa — all are top-15 state prospects by Rivals — with Cedar Rapids Washington's O'Rien Vance listed as the top high school prospect in the class. Iowa City West's Alex Kleinow, West Delaware's John Nagel and Waterloo West's Devon Moore also signed with the Cyclones.
'I think (Vance's) own vision for how good he wanted to be (has helped him grow),' Campbell said. 'I think he thought he was (good) and then the realistic piece of it, he really is. He's really talented, he's really gifted and maybe as gifted as anybody in this class.'
O'Rien Vance has signed his NLI to officially become a Cyclone! February 1, 2017
O'Rien Vance has signed his NLI to officially become a Cyclone! #CyningDay17pic.twitter.com/3T3jGMGVbg
— Cyclone Football (@CycloneFB)
Check out the Cedar Rapids Washington's prep highlight film:
An area that had to be given attention in this class was the offensive and defensive lines. Of the 26 signees, 15 were designate for either line — eight for the defensive side. The Cyclones got three 247Sports top-50 JUCOs on the defensive line with top signee Kamilo Tongamoa (No. 28), Ray Lima (No. 41) and Matt Leo (No. 50).
They also signed freshmen Nagel, Cordarrius Bailey, Angel Dominguez, Tucker Robertson and Dan Sichterman with the intention that the junior college players would bridge the gap and give the younger guys times to mature a bit more.
All three JUCO linemen were pursued heavily in the weeks and days leading up to when they signed. Tight end signee Charlie Kolar, offensive lineman Jacob Bolton and safety Keontae Jones were also drawing interest for other schools, leaving Iowa State to put on a full-court press defense down the stretch.
'It doesn't just stop once they say yes to you,' Campbell said. 'It doesn't stop once they commit and we know that today unfortunately recruiting starts so fast that sometimes that relationship piece can get missed.
'We really try to do a great job in terms of developing those relationships and sustaining those relationships and getting young men to buy into where we're going and what we're doing.'
On the offensive line, two of the biggest additions were via graduate transfers. Michigan's David Dawson and USC's Khaliel Rodgers were both announced in the class and give a bridge into rebuilding that unit.
Check out Michigan graduate transfer Dave Dawson's (February 1, 2017
Check out Michigan graduate transfer Dave Dawson's (@DaveDawson_) highlight tape here:#CyningDay17 pic.twitter.com/3jvQDnhMOO
— Cyclone Football (@CycloneFB)
Iowa State graduated four of its five starters on the offensive line from last year, but adds experienced players in Dawson (6-foot-3, 330 pounds) and Rodgers (6-foot-3, 315 pounds) and get redshirt senior Jake Campos back — he missed last year with a broken leg.
Kleinow, Bolton, Robert Hudson, Ames' Colin Newll and Jeff Nogaj were the freshmen offensive linemen added in the class.
'I think we did a good job helping ourselves out,' Campbell said. 'What we really created was competition. I really believe in some of the young guys in our program that are getting better and I'm excited about that.
'It doesn't mean these guys walk in here and start, but I think what it does is continue to create great competition so by the time May, June and July get here it's going to be a really interesting fall camp with that position group.'
l Comments: montzdylan@gmail.com