Home / Sports / Iowa Prep Sports
Iowa high school boys' basketball rankings: A new No. 1 in Class 3A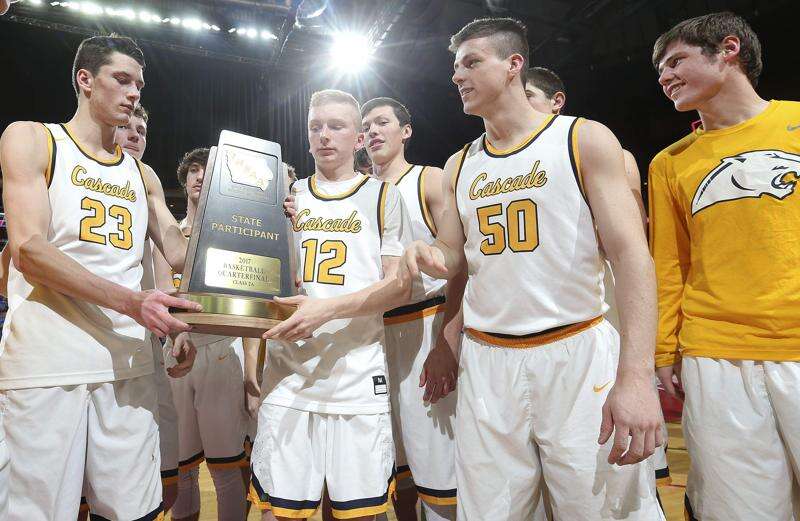 CEDAR RAPIDS — Finally there's a little bit of movement in The Gazette's boys' basketball poll.
Glenwood has assumed the top spot in Class 3A in this week's rankings. The Rams are 9-0, their closest victory coming last week over Carroll Kuemper, 57-55.
They climb from third, after the top two teams from last week lost. Previous No. 1 Sioux City Heelan was blasted by 30 points by Omaha Central, one of the top team in Nebraska, while No. 2 Norwalk was blasted by Oskaloosa.
The Indians, who feature 6-foot-11 Xavier Foster, one of the top sophomores in the country, jumped from fifth to second after an impressive 87-52 win last Friday over Norwalk. Heelan goes from first to third this week, with Cedar Rapids Xavier fourth and Norwalk fifth.
The other No. 1s remain the same: Iowa City West in 4A, Western Christian in 2A and Grand View Christian in 1A. West (8-0) can set a state record Tuesday night for most consecutive home wins if it beats Linn-Mar. The Trojans have won 79 straight on their home floor, the last loss coming Dec. 21, 2010, to Cedar Falls, 65-46.
The rest of the top five in 4A remains unchanged: Des Moines North, Waukee, Johnston and Des Moines Hoover, from second to fifth, in that order. Dubuque Hempstead (7-1) jumps into the poll at seventh, after a win last Friday night over 10th-ranked Dubuque Senior.
There's a bit of a shakeup in Class 2A, though Western Christian (8-0), Cascade (11-0) and Van Meter (10-0) remain the top three. Fourth-ranked Forest City (10-1) suffered its first loss last week (a two-pointer to Algona Garrigan) and fell to eighth.
The top seven teams in 2A remain unbeaten.
In 1A, Grand View Christian (9-0), North Linn (12-0) and Remsen St. Mary's (10-0) remain a solid top three. Garrigan (10-1) moved up from sixth to fourth after that win over Forest City.
Below are the entire rankings, with last week's rating in parentheses:
CLASS 4A
1. Iowa City West 8-0 (1)
2. Des Moines North 8-1 (2)
3. Waukee 8-1 (3)
4. Johnston 8-1 (4)
5. Des Moines Hoover 8-1 (5)
6. Sioux City East 6-1 (7)
7. Dubuque Hempstead 7-1 (NR)
8. North Scott 8-1 (8)
9. Pleasant Valley 8-1 (9)
10. Dubuque Senior 7-2 (6)
CLASS 3A
1. Glenwood 9-0 (3)
2. Oskaloosa 10-0 (5)
3. Sioux City Heelan 7-1 (1)
4. Cedar Rapids Xavier 5-3 (4)
5. Norwalk 8-1 (2)
6. Mount Pleasant 8-2 (6)
7. Charles City 8-1 (NR)
8. Harlan 7-1 (7)
9. Winterset 7-1 (NR)
10. Spirit Lake 7-3 (10)
CLASS 2A
1. Western Christian 8-0 (1)
2. Cascade 11-0 (2)
3. Van Meter 10-0 (3)
4. East Marshall 9-0 (5)
5. Sioux Center 9-0 (6)
6. Aplington-Parkersburg 10-0 (7)
7. South Hamilton 11-0 (8)
8. Forest City 10-1 (4)
9. Sheldon 9-1 (NR)
10. Prairie City-Monroe 8-1 (NR)
CLASS 1A
1. Grand View Christian 9-0 (1)
2. North Linn 12-0 (2)
3. Remsen St. Mary's 10-0 (3)
4. Algona Garrigan 10-1 (6)
5. Lynnville-Sully 8-1 (4)
6. Council Bluffs St. Albert 5-4 (6)
7. Don Bosco 8-0 (7)
8. Dunkerton 9-0 (8)
9. Ankeny Christian 8-1 (9)
10. Wapsie Valley 8-2 (10)
l Comments: (319) 398-8259; jeff.johnson@thegazette.com