Home / Sports / Iowa Prep Sports
IHSAA postseason baseball assignments (Class 1A, 2A)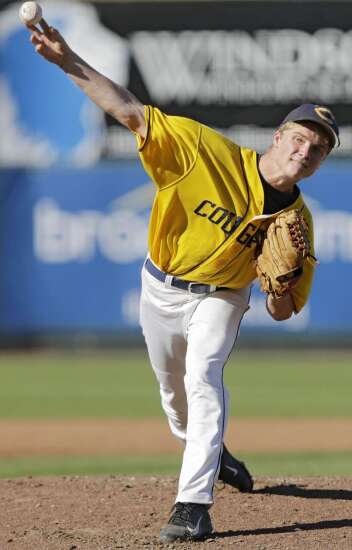 The Iowa High School Athletic Association released postseason assignments for the two smallest classes last week. The two larger classes should be released in the near future. We are less than three weeks from the start of the postseason, beginning with Class 1A and 2A district competition on July 9.
CLASS 2A
District 1 — Hinton, Sheldon, Sioux Center, Unity Christian, West Lyon, Western Christian.
District 2 — Alta/Aurelia, Cherokee, Marcus MMC/Remsen-Union, Okoboji, Pocahontas Area, Sibley-Ocheyedan.
District 3 — Clarion-Goldfield-Dows, Clear Lake, Eagle Grove, Emmetsburg, Forest City, Garner-Hayfield-Ventura.
District 4 — Aplington-Parkersburg, Central Springs, Hampton-Dumont, Lake Mills, Osage, Saint Ansgar.
District 5 — Denver, Dike-New Hartford, East Marshall, South Hardin, Union Community, Waterloo Columbus.
District 6 — MFL MarMac, New Hampton, North Fayette Valley, South Winneshiek, Sumner-Fredericksburg, Waukon.
District 7 — Anamosa, Clayton Ridge, Dyersville Beckman, Maquoketa Valley, Monticello, North Cedar.
District 8 — Camanche, Cascade, Durant, Northeast, Tipton, West Branch.
District 9 — Columbus Community, Iowa City Regina, Louisa-Muscatine, Mid-Prairie, West Liberty, Wilton.
District 10 — Central Lee, Mediapolis, Pekin, Van Buren, Wapello, West Burlington.
District 11 — Albia, Centerville, Davis County, Eddyville-Blakesburg-Fremont, Pella Christian, Pleasantville.
District 12 — Clarke (Osceola), Earlham, Truro I-35, Panorama, Van Meter, West Central Valley.
District 13 — CMB, Des Moines Christian, PCM, Roland-Story, South Hamilton, West Marshall.
District 14 — Madrid, Ogden, South Central Calhoun, Southeast Valley, Woodward Academy, Woodward-Granger.
District 15 — Clarinda, Red Oak, Shenandoah, Southwest Valley, Treynor, Underwood.
District 16 — AHSTW, Carroll Kuemper, East Sac County, Maple Valley-AO, Missouri Valley, OA-BCIG.
CLASS 1A
District 1 — Ar-We-Va, Boyer Valley, Lawton-Bronson, Logan-Magnolia, West Harrison, West Monona, Westwood Sloan, Whiting, Woodbine.
District 2 — Akron-Westfield, Kingsley-Pierson, Le Mars Gehlen, Remsen St. Mary's, Ridge View, River Valley, South O'Brien, Woodbury Central.
District 3 — Central Lyon, Clay Central-Everly, George-Little Rock, Graettinger-Terril/Ruthven-Ayrshire, Harris-Lake Park, Hartley-Melvin-Sanborn, Trinity Christian, West Sioux.
District 4 — Algona Garrigan, Fort Dodge St. Edmond, Manson-NW Webster, Newell-Fonda, North Union, Sioux Central, Storm Lake St. Mary's, West Bend-Mallard.
District 5 — Belmond-Klemme, CAL, Mason City Newman, North Iowa, Northwood-Kensett, Riceville, Rockford, West Hancock.
District 6 — AGWSR, BCLUW, Clarksville, Colo-Nesco, Gladbrook-Reinbeck, Grundy Center, North Butler, West Fork.
District 7 — East Buchanan, Edgewood-Colesburg, Jesup, Lansing Kee, Postville, Starmont, Turkey Valley, Wapsie Valley.
District 8 — Alburnett, Bellevue, Bellevue Marquette, Calamus-Wheatland, Central City, Easton Valley, Midland, Prince of Peace Prep.
District 9 — Belle Plaine, Cedar Valley Christian, English Valleys, HLV, Iowa Mennonite, Iowa Valley, Lisbon, North-Linn, Springville.
District 10 — Burlington Notre Dame, Danville, Highland, Fort Madison Holy Trinity, Keota, Lone Tree, New London, Winfield-Mt. Union.
District 11 — Don Bosco, Dunkerton, GMG, Hudson, Janesville, Nashua-Plainfield, North Tama, Tripoli.
District 12 — BGM, Eldon Cardinal, Montezuma, Moravia, Moulton-Udell, North Mahaska, Sigourney, Tri-County, Twin Cedars.
District 13 — Central Decatur, Colfax-Mingo, Corydon Wayne, Iowa Christian Academy, Lynnville-Sully, Martensdale-St. Marys, Melcher-Dallas, Mormon Trail, Southeast Warren.
District 14 — Bedford, Clarinda Academy, East Union, Lamoni, Lenox, Mount Ayr, Murray, Nodaway Valley, Orient-Macksburg.
District 15 — Adair-Casey, Audubon, CAM Anita, Coon Rapids-Bayard, EHK-Exira, Glidden-Ralston, Guthrie Center, IKM-Manning, Oakland Riverside.
District 16 — Council Bluffs St. Albert, East Mills, Essex, Fremont Mills, Griswold, Nishnabotna, Sidney, Stanton, Tri-Center.
l Comments: (319) 368-8679; kj.pilcher@thegazette.com