Home / Sports / Iowa Prep Sports
Cedar Rapids Xavier girls' tennis team chasing its own 'triple crown'
Saints take aim and state team title Wednesday, wanting to match what the boys' team accomplished Tuesday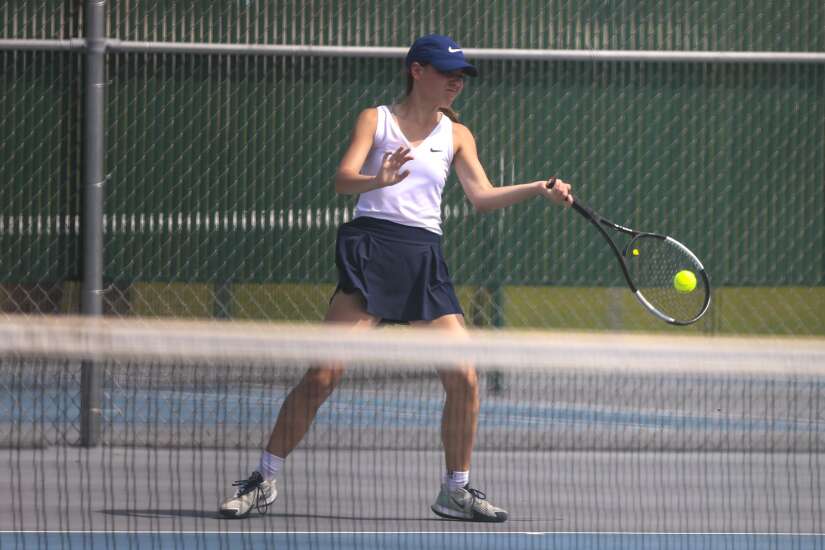 Cedar Rapids Xavier's Matt Foxhoven pulled his team together for a quick meeting on Saturday.
The Saints girls' tennis coach grabbed his group just moments after watching Ella Tallett become the school's first state singles champion and seeing the doubles team of Ally Burger and Courtney Carstensen repeat as champions.
His message was quick and simple. Foxhoven wanted his girls to enjoy what they had accomplished, but also reminded them of what was still ahead.
A date with history awaits the top-ranked Saints at the Class 1A state team semifinals and finals on Wednesday. Xavier could become the 13th girls' team in state history to complete the triple crown of winning singles, doubles and the team title in the same year.
On top of that, the Xavier boys completed the same feat on Tuesday, marking the first time in state history a school has held all three titles in boys' and girls' tennis.
"It would say a lot about Xavier tennis if that were to happen," Tallett said. "As a group during the offseason all the boys and girls practice together so we are all pretty close. It would be quite an accomplishment."
Xavier (17-1), the two-time defending state champion and top seed, will meet No. 4-seed Davenport Assumption (17-2) while No. 2 Waterloo Columbus (9-1) will meet No. 3 Spirit Lake-Okoboji (10-5) at the Waveland Tennis Courts in Des Moines.
Class 2A play will be at the Waukee Northwest Tennis Complex. Cedar Rapids Washington (16-1) is seeded fourth and will play No. 1 West Des Moines Dowling (10-0). The other final semifinal pits No. 2 West Des Moines Valley (12-1) against No. 3 Cedar Falls (16-1).
Semifinal action begins in both classes at 8 a.m. with consolation and championship matches to start approximately an hour after completion of the first two duals.
Foxhoven said his team did not sit back and become complacent after last year's title.
"We know the competition at state is always going to be tough," he said. "Our thing all year has been to trust your game. I tell them they probably hit over 10,000 balls in the offseason. They believe in themselves."
Washington will be an underdog against Dowling, but Coach Brandon Hornback has two of the state's best in junior Kathryn Zylstra and sophomore Katelynn Kock, who captured the 2A doubles title last weekend.
"We're going to get back to working a little bit on singles," Kock said. "We put in a lot of time on doubles. I think we have a really good chance against them. We just have to be ready to win the tough matches."
Hornback has touted the depth of his team throughout the season. The Warriors will need that depth to pay off if they want to upset the Maroons.
"It's really hard to tell how strong Dowling is," he said. "We'll see how deep they are. I think we have one of the deepest teams in the state. It will be a battle at the top and we'll have to see how the rest of it fills in."