Home / Sports / Iowa Prep Sports
Cedar Rapids Jefferson's Logan Miller wins MVC Valley golf divisional
J-Hawk shot 3-under on final 3 holes to earn medalist honor; Kennedy claims team race; Washington and Petersen sweep Mississippi Division honors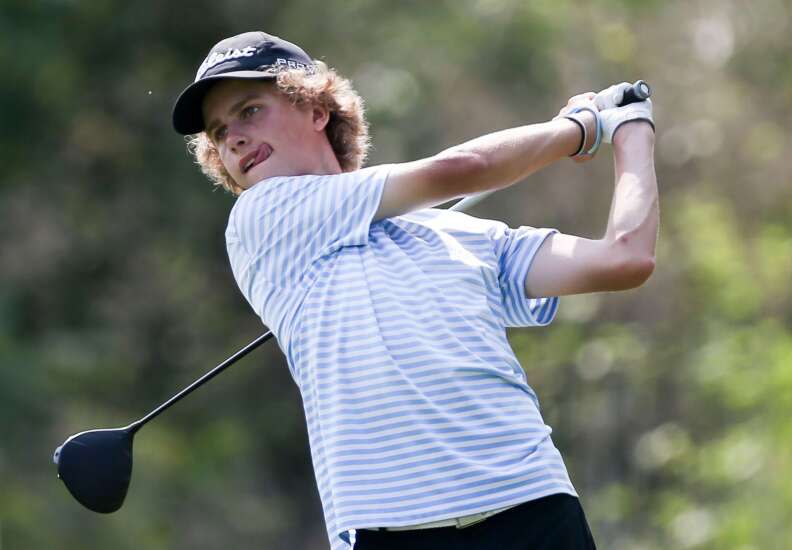 CEDAR RAPIDS — New routine and a strong finish.
Junior Logan Miller accomplished a first for Cedar Rapids Jefferson.
Miller shot 3-under par on the final two holes to card a 1-over 71 at the Mississippi Valley Conference Valley Division golf meet at St. Andrews Golf Course. Cedar Rapids Kennedy won the team race with 292, topping host Cedar Rapids Xavier by 22.
Miller became the first J-Hawk to earn medalist honors for a conference divisional.
"It's nice to put Jefferson on the map," Miller said. "We have helped build the program up.
"I've been on varsity since I was a freshman. It's been nice to see my progression."
Jefferson Coach B.J. McGrew said he witnessed a more relaxed and loose Miller. The demeanor resulted in a better golfer and his lowest 18-hole score of the season.
"I think he was very comfortable," McGrew said. "It's unusual for him to be this easygoing, so it helped him a lot. He wasn't wound too tight. He just let it rip and did a real good job."
Miller has worked on a different approach with his dad, Aaron, ridding his mind of all outside factors and concentrating on each shot. The goal is to keep it simple.
"I take a deep breath before every shot so I can focus on everything," Miller said. "I've implemented that recently and have played a lot better since then.
"I stand behind the ball and try not to over-complicate things."
The duo has also tried new putting grips. It has led to improvement there as well. Miller enjoys sharing golf with his dad.
"It's really cool," Miller said.
Miller tallied six birdies and his first eagle in a varsity meet, recording a 3 on the par-5 16th hole by reaching the green in two and making the putt. He followed it with a birdie on No. 17.
The all-conference honorable mention performer last season also had three straight birdies from No. 8 to the 10th, propelling him to 2-under overall on the back nine. The round was nine strokes better than his 18-hole average.
"Above all, he's striking the ball real clean," McGrew said. "He keeps the ball in play. He's not getting into trouble. He's getting up and down real easy. It is helping a lot."
The J-Hawks have a strong junior class that has led to improvement within the program. McGrew said he was proud of Miller and the entire team, finishing third and two strokes back of the Saints on their home course.
"They put in the time and the effort," McGrew said of the juniors. "They are golf rats, right now. They can't get enough."
The Cougars dominated the field with four of the top five finishers. Brothers Gannon and Reid Hall tied for second with 2-over 72. Carter Vander Zee was fourth with 73, while Brody Gilkison added 75 for fifth.
Actually, A.J. Corkery came in with Kennedy's fifth score and was eighth overall. The Cougars own a 22-stroke lead over the Saints, entering the final divisional Sept. 27.
"Everybody played pretty well," Green said. "It's nice to have a nice lead going into the final round,."
Cedar Rapids Washington sweeps Mississippi honors
Cedar Rapids Washington swept individual and team honors at the MVC Mississippi Division meet Monday at Brown Deer Golf Club in Coralville. The Warriors fired 295, three strokes better than Cedar Falls.
Washington's Nile Petersen earned individual honors, shooting 67 and topping Cedar Falls' Max Tjoa by one. Petersen leads the Tigers' Owen Sawyer, 132-134, heading into the third and final round for Player of the Year honors.
The Warriors' Ben Blockinger was fifth with 72. Zack Brown and Luke Toms tied for 14th with 78 apiece.
Prairie matched Cedar Falls with 298, but the Tigers had a better fifth score for a tiebreaker. Payton Burns, Tanner Wachtl and Ashton Carmer placed sixth, seventh and eighth, respectively. Burns and Wachtl each shot 72 and Carmer came in at 74. Jace Rickertsen added an 80 for Prairie.
Cedar Falls leads Washington by 16 for the overall division title. The Hawks are two shots back of the Warriors.
MISSISSIPPI VALLEY CONFERENCE
VALLEY DIVISION
At St. Andrews Golf Club
(Par 70)
Teams – 1. C.R. Kennedy 292, 2. C.R. Xavier 312, 3. C.R. Jefferson 314, 4. Iowa City West 336, 5. Dubuque Hempstead 346, 6. Dubuque Senior 352, 7. Waterloo West 365, 8. Waterloo East 391.
Individuals – 1. Logan Miller (CRJ), 71, 2. (tie) Gannon Hall (CRK), Reid Hall (CRK), 72, 4. Carter Vander Zee (CRK), 73, 5. Brody Gilkison (CRK), 75.
KENNEDY (292): G. Hall 72, R. Hall 72, Vander Zee 73, Gilkison 75.
XAVIER (312): Garrett Nurre 76, Quincey Johnson 76, Charlie Allen 78, Ryan Schmit 82.
JEFFERSON (314): Miller 71, Logan Augustine 78, Landon Augustine 82, Jacob Strain 83.
I.C. WEST (336): Landon Peoples 79, Cole Eberly 84, Dillon Croco 86, Cole Collier 87.
SECOND ROUND STANDINGS
Teams – 1. C.R. Kennedy 297-292—589, 2. C.R. Xavier 299-312—611, 3. C.R. Jefferson 326-314—640, 4. I.C. West 322-336—658, 5. Dubuque Senior 339-352—691, 6. Dubuque Hempstead 351-346—697, 7. Waterloo West 351-365—716, 8. Waterloo East 407-391—798.
Individuals – 1. G. Hall (CRK), 73-72—145, 2. R. Hall (CRK), 75-72—147, 3. Vander Zee (CRK), 76-73—149, 4. A.J. Corkery (CRK), 73-77—150, 5. (tie) Garrett Nurre (CRX), 75-76—151 and Quincey Johnson (CRX), 75-76—151.
MISSISSIPPI VALLEY CONFERENCE
MISSISSIPPI DIVISIONAL
At Coralville
(Brown Deer Golf Club, par 71)
Teams – 1. C.R. Washington 295, 2. Cedar Falls 298*, 3. C.R. Prairie 298, 4. Iowa City Liberty 308, 5. Western Dubuque 310, 6. Dubuque Wahlert 316, 7. Linn-Mar 319, 8. Iowa City High 390.
Individuals – 1. Nile Petersen (CRW), 67, 2. Max Tjoa (CF), 68, 3. (tie) Owen Sawyer (CF) and Brock Wilson (WDub), 70, 5. (tie) Ben Blockinger (CRW), Payton Burns (CRP) and Tanner Wachtl (CRP), 72.
*-Won tiebreaker with better fifth score.
WASHINGTON (295): Petersen 67, Blockinger 72, Zack Brown 78, Luke Toms 78.
PRAIRIE (298): Burns 72, Wachtl 72, Ashton Carmer 74, Jace Rickertsen 80.
I.C. LIBERTY (308): J.J. Grimm 75, Ryan Schmierer 75, Tate Brunk 78, Vaughn Tyler 80.
LINN-MAR (319): Schrey Kapoor 77, Matthew Buse 80, Alex Johnson 80, Syon Kapoor 82.
CITY HIGH (390): Ethan Nace 90, Arthur Hall 94, Zachary Meredith 101, Nicholas Meredith 105.
SECOND ROUND STANDINGS
Teams – 1. Cedar Falls 277-298—575, 2. C.R. Washington 296-295—591, 3. C.R. Prairie 295-298—593, 4. Dubuque Wahlert 304-316—620, 5. I.C. Liberty 323-308—631, 6. Western Dubuque 328-310—638, 7. Linn-Mar 325-319—644, 8. Iowa City High 405-390—795.
Individuals – 1. Petersen (CRW), 65-67—132, 2. Sawyer 64-70—134, 3. Tjoa 70-68—138, 4. Ben Blockinger 71-72—143, 5. Tanner Wachtl 72-72—144.