Home / Sports / Iowa Prep Sports
Cedar Falls turns Cedar Rapids Prairie turnovers into 28-7 win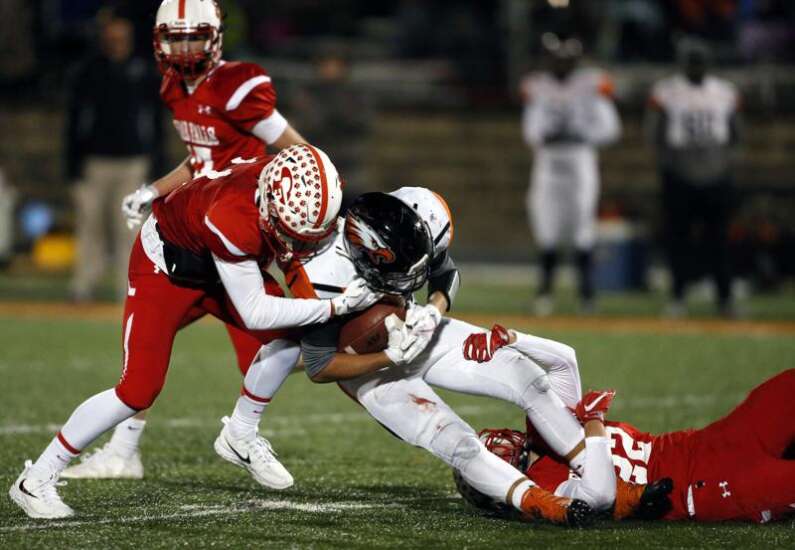 WAVERLY — This was not the comforts of the UNI-Dome. Not at all.
But Cedar Falls didn't need perfect conditions to subdue Cedar Rapids Prairie in a Class 4A state football playoff first rounder Friday night. Just an opportunistic defense.
The Tigers scored on an interception return, a fumble return and overcame by far the worst weather of the season to post a 28-7 win. This game was played at Wartburg College's Zimmerman Field due to the Dome, CF's home, being unavailable because of a youth wrestling event.
'The biggest disappointment was the kids earned a home game,' said Cedar Falls Coach Brad Remmert. 'I feel bad for them. But they handled it great. Wartburg did an awesome job of setting this thing up. They were great to work with, easy to work with ... and our kids handled it great. They took something and made the best out of it. Now we get a chance to move on to the next round.'
The seventh-ranked Tigers (9-1) get a rematch with No. 1 Iowa City West (10-0) in next week's quarterfinals, and if it's half the game the regular-season encounter was, oh, baby. West won that one in overtime, 32-31.
It is expected Round 2 of this prize fight will be at West. The weather has got to be better than it was here.
Temperatures in the 30s, a brutal cross wind and a bit of snow made it virtually impossible for either team to pass. Prairie (8-2) turned the football over five times, leading to 21 of CF's 28 points.
There's your difference.
'It's one of those things. We couldn't get out of our own way tonight,' said Prairie Coach Mark Bliss. 'That's just reality. Every time we set something up, we'd have a bad snap, or we'd jump offsides. I don't know what it was.'
Midway through the second quarter, Cedar Falls had run all of six offensive plays to Prairie's 32, yet the score was 7-7.
CF defensive back Logan Wolf picked off an errant Dalton Rayner pass on Prairie's second possession, weaved his way crossfield and ran 42 yards for a touchdown.
'He overthrew it a little bit, and I was there,' Wolf said. 'We practiced against their offense all week and did a really good job preparing for them. The opportunity came, I took it and made a play there. I had some great blocks all the way to the end zone.'
Prairie tied things early in the second quarter on a Keegan Simmons 1-yard TD run. That capped a 16-play, eight-minute, 80-yard drive.
But a muffed punt late in the quarter gave Cedar Falls the ball at the Prairie 35, with Sam Gary eventually scoring from 12 yards out for a 14-7 Tigers lead. Gary finished with 157 yards rushing on 26 carries before coming out of the game late with a shoulder injury.
Prairie recovered a Gary fumble deep inside its territory to stop a CF drive that opened the second half, but turnover disaster struck again for the Hawks. Running back Braxton Zimmerman fumbled a handoff, picked it up, then fumbled again upon contact, with CF's Daequan Thomas scooping it up at the 2 and running it in for a TD and a 21-7 lead.
'That was really big,' Wolf said. 'The offense, we could run the ball, that's what we're good at. But without the passing game tonight, we needed some of those scores.'
Prairie was limited to just 12 second-half yards, with Cedar Falls winning the battle at the line of scrimmage on both sides of the ball. Backup running back Jackson Gilbert scored on a 2-yard run late for the final margin.
Keegan Simmons, a 1,600-yard rusher in the regular season, led Prairie with 124 yards on 26 carries. Rayner was 1 of 13 passing for 39 yards and three interceptions.
CF counterpart Luke Gillett was 3 of 10 for 25 yards and was picked twice.
'It is what it is,' Bliss said. 'I'm proud of our kids and what we got accomplished. But the thing is when you're at this point in the season, in the playoffs, you can't afford to make mistakes. Unfortunately, that caught up to us and bit us in the rear a little bit.'
l Comments: (319) 398-8259; jeff.johnson@thegazette.com