Home / Sports / Iowa Prep Sports
C.R. Xavier point guard Matt Mims will play college basketball at South Dakota State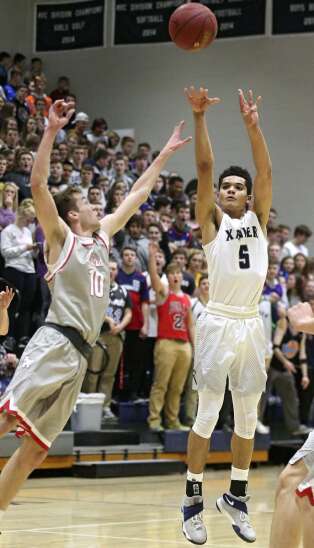 CEDAR RAPIDS — He could have played the waiting game.
Matt Mims could have let the rest of the summer AAU season expire, then gone into his senior year at Cedar Rapids Xavier looking for bigger and better things. But the point guard feels he has found a college basketball home, so he's pulling the trigger now.
The winner is South Dakota State.
'I did think about (waiting),' Mims said Tuesday, after announcing his commitment to the Jackrabbits. 'But after talking to my family, I just felt like this was the best place for me. I feel like their style of play fits my game very well. We complement each other. It's just a good opportunity, I'll be put into a good position. When I get up there, there is going to be a need for a point guard, and that's what I am. I just knew that's where I wanted to go.'
Mims had a fellow Division I offer from North Dakota and a couple of offers from D-II schools as well. He has helped Xavier to back-to-back Class 3A state championships with exquisite play at the lead guard position.
He averaged a team-best 15.3 points per game this past season and posted an exquisite assist-to-turnover ratio of 135 to 41. He has quickness, savvy and the ability to make the important play for his team.
'A true point guard,' Xavier Coach Ryan Luehrsmann said.
'I was there last summer at an elite camp, got to stay in the dorms and stuff,' Mims said. 'That's kind of like when I started a relationship with the coaches. So it's been about a year now that I've been talking to them, and then they offered me last Thursday. I had some days to think about it, and I just knew that's where I wanted to go.
'They have a winning culture, and I want to be a part of that. We established it at Xavier, so I want to continue it in college as well.'
South Dakota State has been to the NCAA tournament four of the past six seasons. Its head coach is T.J. Otzelberger, a former top assistant for Fred Hoiberg at Iowa State.
Mims said he has become good friends with 6-foot-9 junior-to-be Owen Coburn of Spirit Lake, who has has committed to SDSU. They have talked about getting to the Big Dance.
'It's every kid's dream to play in that tournament,' he said. 'So, hopefully, I can.'
l Comments: (319) 398-8259; jeff.johnson@thegazette.com