Home / Sports / Iowa Prep Sports
Bryce West claims third state wrestling title, Solon edges New Hampton in 2A team race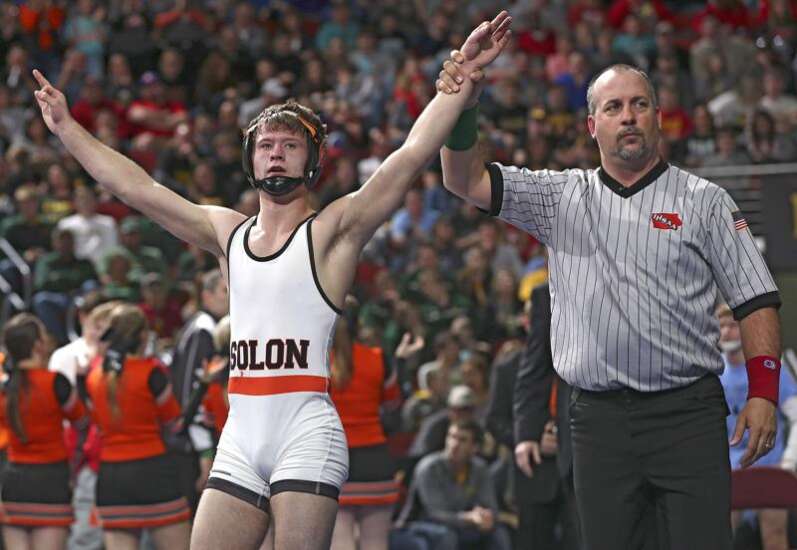 DES MOINES — Solon's Bryce West rose to his feet and calmly held three fingers in the air.
The gesture signified the select group he joined with his third state title. He doesn't have enough digits to show a more elite accomplishment.
Top-ranked West handled Denver-Tripoli's No. 7 Blake Steege, 15-5, for the 120-pound title at the Iowa high school Class 2A state wrestling tournament Saturday at Wells Fargo Arena. The victory hit the trifecta for West and the Spartans. Not only did he become Iowa's 84th three-time state champion, but he tied the state's career wins record and helped the Spartans claim their first state wrestling team title, edging runner-up New Hampton by a half-point.
'It's all the same,' West said about the third title. 'The same feeling. It's more satisfying getting my 210th win and tying the career win record.'
West (57-0) tied Union's four-time state champion Max Thomsen in all-time victories. West improved to 210-3 in his career, adding a 2A title to the two 1A crowns and third-place finish he had at Highland.
'It's been a good journey,' West said. 'It's been good with the coaches and family that have helped me get this far.'
West's aggressive style produced points early. Three first-period takedowns set the tone and gave him a 6-2 lead. He didn't look back with four points in the second and five in the final frame.
'My goal was to go out there as good as I can,' West said. 'Score as many points every period as possible. Just building on my lead from the beginning.
'It was big, knowing New Hampton was right behind us. Getting bonus points put us further ahead.'
West's major decision proved valuable when Davenport Assumption's Julien Broderson beat New Hampton's Ryan Gorman, 4-2, in the 160 final. The result created a celebration in the warmup area where the Spartans cheered, hugged, shed a few tears and exchanged handshakes with some from Assumption.
Solon Coach Blake Williams retreated to a media area to quietly watch the match that secured the championship that has been a season-long goal.
'I think a couple of the reporters figured it out, but I was trying to be quiet,' Williams said. 'As that third period was getting going, I started to make some noise.
'A state championship is awesome. It's awesome for the community and the school. I'm so happy for these guys. They worked so hard. They bust their butt.'
The Spartans finished with five state medalists. Ben Carr placed third, getting a pin in his final match at 138. Trevor Nelson was sixth at 160 and heavyweight Tyler Linderbaum was fifth. Each qualifier contributed in the closest finish, barring ties, since Dallas Center-Grimes edged North Tama 61-60 1/2 for the 1A crown in 1984.
'Every one of the eight guys scored points,' Williams said. 'It was a total team effort.'
The Spartans were close to clinching the team title at 126 when Solon's Drew West and New Hampton's Michael Millage clashed in a battle of former state champions.
Unfortunately for Drew West and the Spartans, Millage made a first-period takedown last for a 3-2 decision. It was the second straight runner-up finish for West, who was third in 2015 and a titlist as a freshman.
'They have nothing to be ashamed of, leaving a legacy in Iowa high school wrestling with their total number of wins and championships' Williams said. 'They really brought a lot to Solon, too, and kind of got excitement going as far as wrestling goes.'
Similar to Solon, West Liberty used a finals victory to finish a half-point ahead of another team. Bryce Esmoil helped the Comets climb into fifth place with 66 1/2 points, edging Ballard in the team standings.
Esmoil (42-2) made quick work of Woodward-Granger's Cody Fisher, 15-0, in just 3:45. He became the seventh West Liberty state champion and first since Keith Pearl won the 145-pound title in 2000.
'This is way sweeter,' said Esmoil, who was third last year and seventh as a freshman. 'Every second of that finals match was amazing.'
Esmoil wasted little time, getting a takedown and two nearfall in the first. He broke it open in the second with a reversal and a barrage of turns for nine nearfall.
'Score points as fast as I can,' Esmoil said. 'Make him tired. Just keep going (and) start turning on top.'
Esmoil praised his coaches for working with him and the support of his family. He gave a hug afterward to his mother.
'That's special,' Esmoil said. 'She's my mom. I couldn't ask for anyone better.'
For the third straight weekend, the path to gold for Williamsburg's Grayson Kesterson went through Columbus Community's Jarod Kadel. Just like the two previous times, top-ranked Kesterson was victorious.
Kesterson (49-1) claimed the Raiders' first state title since J.C. Vercande in 2012, beating Kadel, 4-0, at 106. He outscored his four state opponents, 42-0.
'It's been hard work all year,' Kesterson said. 'I've had trouble with my weight but got it under control at the end of the year and I think that is what helped me through a lot of these tough matches.'
Kesterson tallied 10 points in the last two meetings, winning each by major. This time, Kadel was stingier to prevent Kesterson from being offensive. He scored a takedown in the opening period and then added a reversal in the third.
'First off, he stayed way away from me,' Kesterson said. 'The last few times he has been coming up and tying up with me a little bit, but this time he stayed as far away as he could, because apparently, I have heavy hands or something.'
The pair have trained together since they were young, attending a wrestling club in Iowa City. Familiarity with the opponent and past success balanced the anxiety caused by the sold-out crowd.
'Confidence was pretty high going into the match,' Kesterson said. 'Not too high. I was still nervous because I'm out in front of everyone, but it did help a lot.'
South Tama's Isaac Judge became the 12th wrestling champion in school history and first since Eric Lux in 2012. Judge (46-4) dominated his final bout, beating Brent Van Weelden, of Washington (Iowa) 7-0. He matched the feat of head coach Nathan Van Dyke, who won the 152 title in 2003.
North Fayette Valley's Jordan Baumler reached the state final, following his brother, Nick, who was a runner-up in 2015 and 2016. This Baumler came away with gold.
Baumler (29-4) defeated Creston/O-M's second-ranked Kaden Hulett, 6-5, for the 220-pound title.
'It is unbelievable,' Baumler said as tears streamed down his face. 'I worked so hard. An injury last year crushed his dreams, broke my heart. He had worked so hard so I knew I just had to do for him and I did it.'
Mount Vernon heavyweight Tristan Wirfs closed his wrestling career with gold. Wirfs (17-3) defeated Atlantic-CAM's No. 3 John McConkey, 3-2. He is the first Mustang to win a heavyweight crown since Matt Kroul in 2004.