Home / Sports / Iowa Prep Sports
Bill Calloway, architect of Cedar Rapids Jefferson's sprint-relay power, retires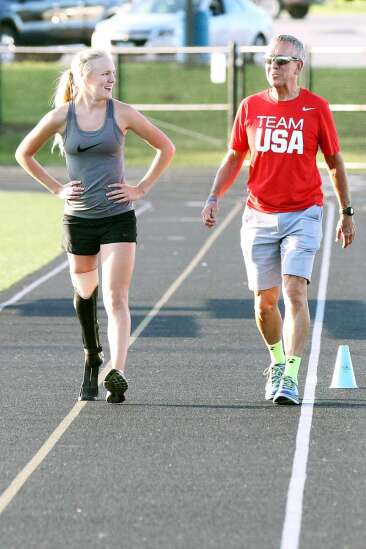 CEDAR RAPIDS — For a glorious six-year stretch, Cedar Rapids Jefferson was Sprint Relay High.
Strong, speedy girls like Rachel Broghammer, Lucy Schneekloth and Jasmine Blue made the blue oval at Drake Stadium their own personal playground.
Wednesday night, their mentor stepped down.
Bill Calloway announced at Jefferson's season-ending girls' track and field banquet that he has decided to retire after 31 seasons. He informed The Gazette of his decision Tuesday.
'Energy isn't a problem,' Calloway said. 'I thought about this last year, but I wasn't going to bail out just because we were riding high.'
In all, Calloway spent 42 years in coaching, 35 years as a head track and field coach. He led Cedar Rapids Washington's boys to a state championship in 1977, then left in 1979 to join the real estate business.
'It was the worst time in the market,' he said. 'It was probably the best thing that happened to me.'
In 1982, Calloway was hired as driver's education teacher and football coach at Jefferson. He stayed with the football program for nine seasons, and served as girls' track coach from 1987 through Wednesday.
'When I retired from teaching (in 2004), I planned to coach two more years,' said Calloway, 70. 'Two years became 13.'
With unconventional high handoffs and girls committed to the weight room, Jefferson became synonymous with sprint relays.
'Calloway knows how to turn girls into 200 runners,' Abbie Ranschau said in 2016.
In 2013, the J-Hawks broke a 38-year-old all-time Iowa best in the 800-meter relay, running 1:40.94. They lowered it even further, to 1:39.24, in 2015.
'We knew that if we could get the kinds stronger, we could get them faster,' Calloway said. 'The thing I'll remember most is that kids really learned to work hard. They were able to see the important need for working hard.'
Jefferson won five Class 4A state championships in a six-year period (2011, 2013-16) in the 800 relay. The J-Hawks also won the 400-meter relay in 2015, the sprint medley relay in 2014 and 2016.
The J-Hawks' 47.55-second effort in 2015 matched the all-time Iowa best in the 400 relay.
Iowa City West girls' coach Mike Parker called Calloway 'a legendary sprint coach, but the first thing that comes to mind with him is that he is a kind, nice guy.
'Every time you saw him, you knew you were going to have a good conversation with him, and it wasn't just a superficial conversation. He always went out of his way to be kind, and that's important.'
Said Jefferson sprinter Morgan Meese, in 2014: 'He might make us angry sometimes, but you've got to love him.'
Last summer, Calloway took on a new challenge, training Cedar Rapids Prairie's Jessica Heims in the offseason. Heims went on to qualify for the Paralympic Games in Rio de Janeiro.
'That was one of my highlights of my career,' Calloway said. 'What an amazing kid and competitor.'
Calloway said he is open to serving as an assistant coach somewhere next season.
l Comments: (319) 368-8857; jeff.linder@thegazette.com