Home / Sports / Iowa Prep Sports / Prep Football
4 Downs: Gazette staff react to Eddie Burgess stats, Linn-Mar's start and more Iowa high school football topics
Burgess continues to show out, is 7 wins high or low for the Lions, what 0-3 team gets a victory and favorite venues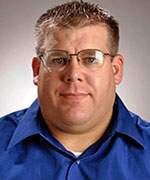 K.J. Pilcher
Jeff Johnson
Jeff Linder
Nathan Ford
Sep. 14, 2021 4:48 pm, Updated: Sep. 14, 2021 5:33 pm
The Gazette's Iowa high school football staff chose to answer questions about football, instead of marine life. Maybe next week, aquarists. See how much Jeff Linder, Jeff Johnson, K.J. Pilcher and Nathan Ford can gain for 4 Downs:
1st & 10: Montezuma's Eddie Burgess had 647 total offensive yards, 10 TDs and more against BGM. Have these kind of stats just expected? Is he the state's top playmaker?
Linder: Who can expect anything like that from week to week? Those numbers are insane. So is this (even though Montezuma has played one more game than most schools): Burgess leads the state in passing touchdowns (15) and is tied for fourth in rushing TDs (11). Enjoy the show, for as long as the Braves take it.
Johnson: Athletes in the 8-Player game do damage. Eddie Burgess is an athlete. And a great kid ...
Pilcher: I don't know if I've seen a player do so many things for a team. Passing, rushing, tackling and forcing turnovers, he does it all. The numbers seem so consistently crazy. He has a feel for the game and an instinct to make anything a big play. You're going to realize you have taken him for granted when it's all said and done. And, don't even come at me with the "it's 8-Player." I'm confident he would make a lot of 11-player teams look silly.
Ford: I'm sorry, what? He had how many yards? Ten touchdowns? In one game!? No matter how familiar I am with seeing some crazy 8-Player stats in the state every week I still haven't wrapped my head around what Burgess is doing. Sometimes when we're comparing players we say we'd like to see what the small-school guys could do at a higher level, but I say just enjoy this. If you've seen him in person, you know he's a high-caliber athlete who just happens to attend a school that plays 8-Player football — and utterly dominating. His numbers and overall play still wow me.
2nd & long: Linn-Mar is 3-0 for the first time since 2014. How far can the Lions go this season?
Linder: Looking at their remaining schedule, I think they have three close-to-sure wins and one likely loss. Split the other two, and they're looking at 7-2, which might put them in position to host a first-round playoff game. That would be quite the turnaround after a one-win 2020.
Johnson: I predict the Lions will play at least nine games. In all seriousness, I'm saying seven wins. That's a pretty good debut for first-year head coach Tim Lovell.
Pilcher: I watched Linn-Mar's victory over Iowa City Liberty. I liked the Lions' defense and run game. If you have those two aspects you can go a long way. Seven regular-season wins is possible. I hate predictions but I'm going to break the rule and say the Lions reach the state quarterfinals.
Ford: The defense looks outstanding, giving up an average of just 12 points in its first three games and scoring off two turnovers against Pleasant Valley, and that's a great foundation. I'd say 8-1 looks doable, with the only loss against No. 1 Southeast Polk, but that Week 9 game against Cedar Rapids Prairie looks like a toss-up. From there, it all depends on how the playoff draw shakes out in the new Class 5A.
3rd & short: What 0-3 team is likely to get its first win this week?
Linder: Williamsburg will not only get its first win this week, but will win its last five games and claim a district title.
Johnson: Williamsburg. Book it.
Pilcher: Williamsburg is the likely answer. Three losses have been to Iowa City Regina, Van Meter and Solon. All three title contenders. I'm going to go on a limb and say Anamosa gets its first win over Northeast. No reason. Just a feeling. In the words of John Blutarski, "Why not?"
Ford: Everyone who follows Iowa prep football knows Williamsburg's 0-3 start is nothing to be concerned about. The Raiders test themselves every year and it's been no different this season, with losses to Iowa City Regina, Van Meter and Solon, all unbeaten teams ranked in the top five in their respective classes. Williamsburg gets a W this week against Central Lee.
4th & goal: What is your favorite high school football stadium and why?
Linder: That's a toughie, like picking a favorite child. I like different stadiums for different reasons, but anywhere that has a place to sit in the press box and working WiFi/cell service is A-OK with me.
Johnson: Kingston Stadium. I can remember going as a little kid to games with my uncle and cousin in the 1970s. It seemed like such a magical place. Still feels that way to me.
Pilcher: Kingston Stadium. Newer high school stadiums have more bells and whistles and have more of a college feel, like Linn-Mar and Iowa City Liberty. Kingston has so much history and has that old charm from its two-level press box to the newer turf, open end and the locker rooms under the visiting section. Plus, I played three years of high school football on that field. Many are still vivid.
Ford: I made my first trip to Mount Vernon's 1st Street Field the other week and fell in love. The pristine grass field, the bleachers built into the hill, the lack of a track and the old school overlooking it all are enough to make this my favorite setting. Factor in its location in the middle of town and you have a perfect high school football stadium.