Iowa cities ponder the future of their public transit
Making it easier to use is key, officials say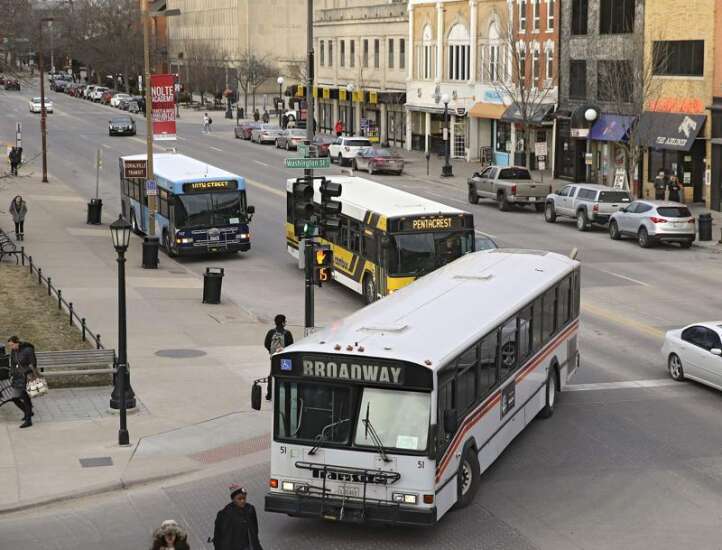 Imagine there's a gate across your driveway, blocking your ability to come and go as you please.
If that gate only opens once an hour, tasks like going to work or getting groceries become an inconvenience. But if the gate opens every 30 minutes or even every 15, it becomes much more manageable.
A bus, explains Cedar Rapids Transit Manager Brad DeBrower, is like that hypothetical gate. The more often it arrives, the easier it becomes to use. And the easier it becomes, the more people will take advantage of it.
"Frequency is key to transit," DeBrower said. "The more options they have to ride, the more likely they are to use it. … The more that gate opens, the more attractive it is to a passenger."
In recent years, cities across Iowa have changed their transit systems — more frequent stops, consolidated routes and electric buses, for example — to make public transportation a more attractive option for commuters, said Iowa City Transportation Services Director Darian Nagle-Gamm.
As transportation is the largest contributor to climate change in the United States, Iowa City's climate action plan specifically calls for shifting 55 percent of vehicle trips to more sustainable modes of transportation by 2030, Nagle-Gamm said.
Frequency comes at a cost, DeBrower said.
"You have both the vehicle and the driver," he said. "There was a trade off there."
To that end, Cedar Rapids Transit in 2018 consolidated routes to concentrate its resources where buses are used the most. Infrequently used bus stops were eliminated or combined, and buses on the most heavily used route came every 15 minutes instead of every 30.
The result was a 6.2 percent increase in ridership from July 1, 2019, to March 15, 2020, before the coronavirus pandemic began.
"We thought we had things moving in the right direction until COVID hit," DeBrower said.
Iowa City relaunch
This summer, the city of Iowa City will relaunch its overhauled transit system.
Beginning in 2019, Iowa City, the city of Coralville and the University of Iowa underwent a $225,000 comprehensive analysis of their interconnected transit systems. The charges to Iowa City's transit network — scheduled to begin in August — are designed to make the transit system simpler and more accessible.
"I think first and foremost, we just want to create a system that enables people to get around town — quite frankly — more easily," Nagle-Gamm said. "The goal is to reduce travel times to the extent possible for the public and get them where they're going."
The Iowa City metro area in recent years has boasted the 17th highest bus ridership per capita in the country, Nagle-Gamm said.
"It really shows the strength of our system," she said. "The proclivity toward transit here. We're starting from a really good place."
But the city's transportation system hasn't undergone a comprehensive evaluation since the 1980s. The result has been a transit system with 26 routes, more than 600 stops and varying schedules depending on the time of day. Even consultants with the firm that conducted the study found it confusing.
The transit system study was launched in summer 2019, and residents were urged to share their input in an online survey. The study was completed by San Francisco-based Nelson Nygaard Consulting Associates, with Iowa City covering 65 percent of the costs, the university 25 percent and Coralville 10 percent.
The new system has 13 consolidated routes that are to remain the same regardless of the day or time. Seven of the routes will have 15- to 30-minute service during the midday hours. All of the routes are out and back, rather than circuitous or circular.
"We're trying to make the system easier to understand and make it easier for people to choose it," Nagle-Gamm said.
The fare structure also was overhauled. All Iowa City and Coralville bus passes will be interchangeable, seniors will ride for free and youth fares will have a 50-cent discount.
"We heard loud and clear from the public — anything that we could do to make it easier to travel across the metro area would be ideal," Nagle-Gamm said.
Beginning this fall, four electric buses that will replace four of Iowa City's aging diesel buses.
Late this year or early next year, Nagle-Gamm said, the city will embark on a two-year pilot project offering Sunday service, which is high on the list of public demands.
While cities such as Ames and Des Moines offer Sunday service, Dubuque, Cedar Rapids and Waterloo do not, Nagle-Gamm said.
"That's going to be a big item," she said. "I think the community will be very excited about that."
Des Moines' electric buses
Des Moines added seven electric buses to its fleet in December 2020, according to Erin Hockman of the Des Moines Area Regional Transit Authority, or DART.
"Overall, I think we have been very pleased," Hockman said of the electric buses. "Certainly, there is a huge environmental benefit to switching to electric."
Electric buses cost about twice as much as a diesel bus — $863,000 compared to $494,000, according to Hockman — but they run without fuel and have lower maintenance costs. But, he said, the buses don't get as many miles on a charge in "really cold months."
Hockman said DART is constantly looking at "the future of transportation," with technology and mobility options always changing.
For example, Hockman said DART introduced Flex Connect in 2019. That pilot program replaced an underused route with a partnership with Uber and Yellow Cab Co. to offer residents on those routes a free ride to one of three bus transfer points.
"It's what we would call a first-mile/last-mile solution," Hockman said. "We believe it's a better service at a lower cost because it's on demand."
It's an example of what DART sees at the future of public transportation — a combination of various modes of transportation.
Efficiency of bicycles
Buses are just one part of the public transportation equation. Cities also are putting resources into bicycle infrastructure.
Brandon Whyte, multimodal transportation planner for the Corridor Metropolitan Planning Organization — which serves the Cedar Rapids metro area — the city of Cedar Rapids is committed to have more on-street facilities for cyclists.
As streets are improved across the city, bikeways are also implemented. And a network of trails will be completed in the next few years that will better connect cyclists to their destinations.
"Cycling is the most efficient way to travel because you're burning your own fat," Whyte said. "There's efficiency from a dollar perspective and efficiency from simply energy in and energy out. It's good for the planet from a pollution perspective. It's good for the road itself in that cyclists don't create any damage to the road."
The city of Iowa City also has beefed up its cycling infrastructure in recent years, with more improvements to come.
But Sarah Walz, assistant transportation planner for the Metropolitan Planning Organization of Johnson County, said creating a cycling culture is important, too.
That's why when the League of American Cyclists annually rates how "friendly" a city is to bikes, support of cycling organizations is part of the rubric, Walz said.
"There's a perception about the safety of riding bicycles," she said. "I think the more people get out on fun rides or slow rolls around town, the comfort level increases. Those things are almost as important as infrastructure itself. Getting people out and groups and realizing, 'I can do this.' "