Home / Sports / Hawkeye Sports
Quick Slants - Operations facility, personnel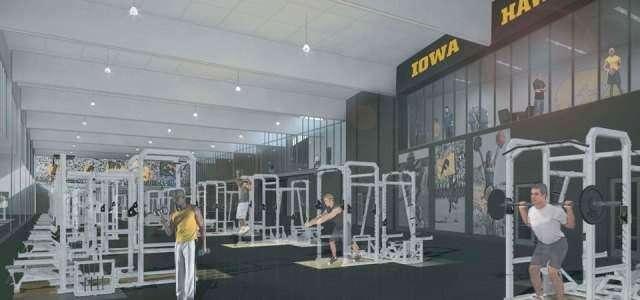 IOWA CITY -- Construction fences have gone up around Iowa's indoor practice facility in preparation for the groundbreaking of the program's new operations facility.
The operations facility will include new locker, equipment and meeting rooms, strength and conditioning center, medical facility, coaches' offices and a public entryway. It will be located south of the new indoor facility.
The targeted completion date is before the 2014 football season begins.
"Right now the target date is next July, I believe a year-from-now July," Iowa coach Kirk Ferentz said Wednesday. "We're certainly looking forward to that. That's something everybody involved in the program is really thrilled about and very, very excited about and appreciative of."
This is phase II part of football/athletics construction. Phase I was the new indoor facility that opened last August. The total cost of the facility updates is $55 million.
Des Moines practice update
Iowa is still working to finalize the details of a spring practice April 20 in Des Moines. There are logistics and NCAA rules to iron out, but the Hawkeyes have targeted Valley Stadium at West Des Moines Valley High School for an open practice.
"It's a little bit of an outreach effort," Ferentz said. "In the springtime, it's hard for people on the western side of the state, who do a great job of getting over here during the fall. We really appreciate that. That's a sacrifice. Maybe we can reciprocate a little bit here and cut the drive down for people in the far west and give them a little bit of access.
"And certainly the Des Moines population basis is important to us as well. So, maybe our way to say thank you."
Spring injuries
Defensive tackle Louis Trinca-Pasat (shoulder) and offensive tackle Nolan MacMillan (undisclosed surgery) are out this spring. Running back Michael Malloy suffered a serious ankle injury a few weeks ago and is still in a boot. He is doubtful for any action this spring.
Safety Ruben Lile (ACL) and running back Barkley Hill (ACL) probably won't go through any contract drills this spring.
Position changes
Ferentz confirmed a handful of position changes reported here earlier this month.
-- LB Nate Meier has moved to defensive end. "Certainly Nate Meier is a guy down the road a little bit, a little bit younger player. We're thinking about fooling around with him a little bit at the defensive end position."
– WR Greg Mabin has moved to safety. "That is something we considered when we recruited him. We liked him on both sides of the ball. I think he might be a fit there and we're eager to see what he does this spring."
– TE Steve Ferentz has moved to center, where brothers Brian and James started for Iowa. "It's a genetic thing, I think."
– LB Macon Plewa has switched to fullback. "Macon is guy who's been with us couple of years, great attitude, really a tough hard-nosed guy. I think he might be able to give us a supplement at that position, give us a little more flexibility with Mark Weisman."
Special teams staff
Yes, Chris White is Iowa's running backs coach, but he's also the special teams coordinator. Ferentz hired him after a four-year stint as a special teams assistant for the Minnesota Vikings.
White will work with linebackers coach LeVar Woods and graduate assistant Kelvin Bell on special teams. Ferentz said the early stages for White and his crew will be getting a feel for personnel.
"The biggest thing, especially for Chris, is he's new and really getting to learn the players and who the guys are," Ferentz said. "The good thing is he comes in with a fresh eye. He doesn't have any preconceived notions about anybody. Anybody is going to have a chance to get on that punt team right now, the kickoff team.
". . . A lot of it is just mindset and doing a better job. That's what we need to do."