Home / Sports / Iowa Hawkeyes
NCAA Wrestling Championships 2021: Saturday's finals results and full-match replays
The Gazette
Mar. 20, 2021 7:00 am, Updated: Mar. 21, 2021 1:06 am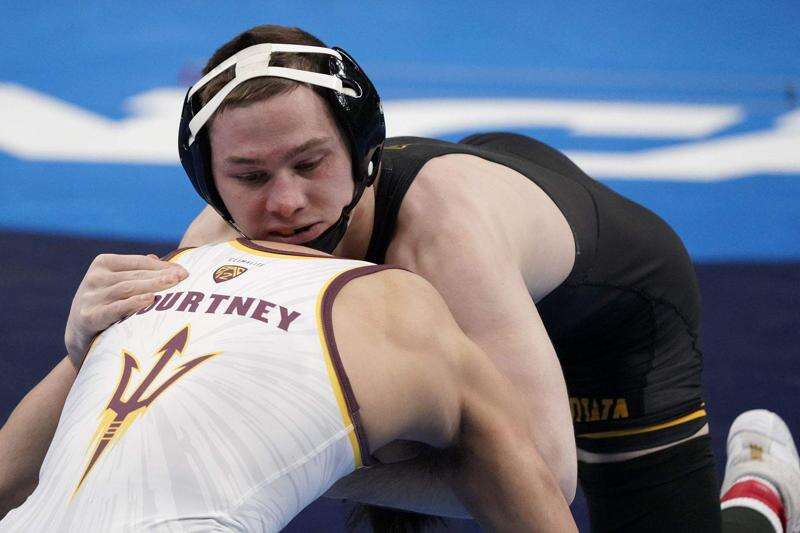 A year after the NCAA Wrestling Championships were canceled due to the pandemic, the 2021 college wrestling season 'gets to the end' Saturday night at Enterprise Center in St. Louis.
Top-ranked Iowa wrapped up the team title Saturday afternoon during the medal rounds, its 24th national championship and first since 2010. 
The Hawkeyes' Spencer Lee claimed his third national title at 125 pounds, while Iowa State's David Carr claimed gold at 157.
Find all the championship results, final team scores and more coverage from here.
NCAA wrestling coverage
» Iowa reclaims NCAA crown, Spencer Lee overcomes torn ACL to win 3rd title
» NCAA wrestling notes: UNI All-American Parker Keckeisen finishes 3rd
NCAA wrestling finals
125: No. 1 Spencer Lee (Iowa) (11-0) vs. No. 3 Brandon Courtney (Arizona State)
133: No. 2 Roman Bravo-Young (Penn State) won in SV-1 over No. 1 Daton Fix (Oklahoma State), 4-2
141: No. 2 Nick Lee (Penn State) won in SV-1 over No. 1 Jaydin Eierman (Iowa), 4-2
149: No. 2 Austin O'Connor (North Carolina) dec. No. 1 Sammy Sasso (Ohio State), 3-2
157: No. 3 David Carr (Iowa State) dec. No. 4 Jesse Dellavecchia (Rider), 4-0
165: No. 8 Shane Griffith (Stanford) dec. No. 3 Jake Wentzel (Pittsburgh), 7-2
174: No. 3 Carter Starocci (Penn State) won in SV-1 over No. 1 Michael Kemerer (Iowa), 3-1
184: No. 1 Aaron Brooks (Penn State) dec. No. 2 Trent Hidlay (North Carolina State), 3-2
197: No. 4 AJ Ferrari (Oklahoma State) dec. No. 6 Nino Bonaccorsi (Pittsburgh), 4-2
Hwt.: No. 1 Gable Steveson (Minnesota) dec. No. 2 Mason Parris (Michigan), 8-4
NCAA wrestling team scores
1. Iowa 129
2. Penn State 113.5
3. Oklahoma State 99.5
4. Arizona State 74
5. Michigan 69
6. North Carolina State 68
T-7. Minnesota 64
T-7. Missouri 64
9. Ohio State 46.5
10. Northwestern 45
T-13. Iowa State 37.5
19. Northern Iowa 24.5
Iowa clinches in consolations
Iowa claimed its 24th NCAA team title and first since 2010 hours before its three finalists even took the mat. The Hawkeyes posted a 6-1 mark in consolation matches to clinch the championship by Saturday afternoon.
'Our team came out and we faced some adversity,' Iowa's third-place heavyweight Tony Cassioppi said, 'but to still pull it out and scoring as many points as we are, wrestling as hard as we are, that's awesome.'
Austin DeSanto (133), Jacob Warner (197) and Cassioppi opened the round with consolation semifinal victories. DeSanto added a technical fall and Cassioppi recorded a major decisions for bonus points.
'For me, team race-wise, it was just scoring points for our team,' DeSanto said. 'If we need the major, get the major. If we need the tech, get the tech, a pin get the pin, but wrestling tough.'
DeSanto won his third-place bout, Kaleb Young was seventh at 157. When Penn State failed to earn pins in its last two medal matches and Cassioppi toppled Arizona State's No. 3 Cohlton Schultz for third, the team race was settled.
'I feel good,' Cassioppi said. 'It's the next best thing I could get. It's not what I want to be. I don't want to be third place. I want to be first place.
'After that loss in the semis, I had to just refocus on getting the next best thing and climbing that podium.'
— K.J. Pilcher
NCAA wrestling consolations (Iowa, ISU, UNI)
Consolation semifinals
133: No. 4 Austin DeSanto (Iowa) tech. No. 9 Michael McGee (Arizona State), 7:00 (19-4)
184: No. 4 Parker Keckeisen (Northern Iowa) dec. No. 7 Brit Wilson (Northern Illinois), 6-2
197: No. 5 Jacob Warner (Iowa) dec. No. 26 Jake Woodley (Oklahoma), 2-1
Hwt.: No. 4 Cohlton Schultz (Arizona State) won in SV-1 over No. 6 Gannon Gremmel (Iowa State), 3-1
Hwt.: No. 5 Tony Cassioppi (Iowa) major dec. No. 14 Trent Hillger (Wisconsin), 8-0
3rd place
133: No. 4 Austin DeSanto (Iowa) dec. No. 3 Korbin Myers (Virginia Tech), 10-6
184: No. 4 Parker Keckeisen (Northern Iowa) dec. No. 6 John Poznanski (Rutgers), 5-4
197: No. 1 Myles Amine (Michigan) dec. No. 5 Jacob Warner (Iowa), 5-3
Hwt.: No. 5 Tony Cassioppi (Iowa) dec.  No. 4 Cohlton Schultz (Arizona State), 5-3
5th place
Hwt.: No. 6 Gannon Gremmel (Iowa State) dec. No. 14 Trent Hillger (Wisconsin), 4-0
7th place
157: No. 5 Kaleb Young (Iowa) dec. No. 33 Wyatt Sheets (Oklahoma State), 3-2
Live updates