Home / Sports / Hawkeye Sports
Zach Johnson, Carson Schaake prepare for U.S. Open together
Representing Drake and Iowa this weekend at Torry Pines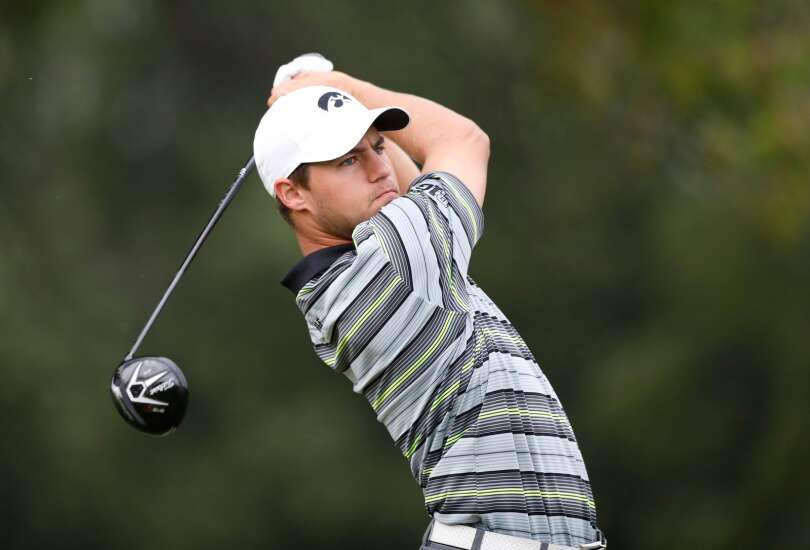 LA JOLLA, Calf. — Carson Schaake tees off in his first U.S. Open on Thursday at Torrey Pines just outside of San Diego.
The setting is unforgettable with the course perched on the dramatic cliffs above Torrey Pines State Beach. Not all U.S. Open venues are created equal, and with the weather expected to average 80 degrees and sunny, we're in for some gorgeous views.
Schaake took in some of those majestic views during a nine-hole practice round with veterans Zach Johnson and Stewart Cink.
Johnson, a former Drake Bulldog from Cedar Rapids, liked what he saw from the former Iowa Hawkeye from Omaha, Neb.
"He's a good golfer, and he's a solid young player," Johnson said. "He qualified for the U.S. Open and that's a great feat. I know the last name from his brother (Alex). If Carson wasn't an All-American at Iowa I would assume he was at least an honorable mention. Obviously he comes from a talent-rich golf family."
Johnson also appreciates the way Schaake carries himself on the golf course.
"It seems like he's got a good temperament and he's got his brother on the bag this week, which is great," Johnson said.
Nine holes isn't a ton of golf for Johnson to give a full report; after all he's working diligently on his own game as well. The two-time major champ does appreciate the approach he sees in the 26-year-old.
"He just keeps it pretty simple with his game and he doesn't try to overdue it," Johnson said.
It was 17 years ago when Johnson played in his first U.S. Open, just a little bit older than Schaake at age 28, and Johnson remembers the feelings pretty clearly.
"I was already on the PGA Tour when I played my first U.S. Open that year at Shinnecock," Johnson said. "I never got to play at the Open prior to that, and it was an awesome feeling. Just playing in your nation's open for the first time, it was very special. And I had some awesome practice rounds out there too."
Johnson and Cink are two of the nicest players on the Tour, just ask the fans. So you can only assume that Schaake had an awesome practice round with him them as well.
The 2015 Big Ten champion plays in the very last group off the first hole Thursday with Rick Lamb and Michael Johnson at 4:42 pm (CT). So get ready for some prime-time watching.
Garrett Johnston is the host of the "Beyond the Clubhouse" podcast. Follow him on Twitter @JohnstonGarrett