Home / Sports / Iowa Hawkeyes
Iowa track and field eyes trophy at NCAA Indoor Championships
Hawkeyes bring record-high 11 qualifiers to NCAA Championships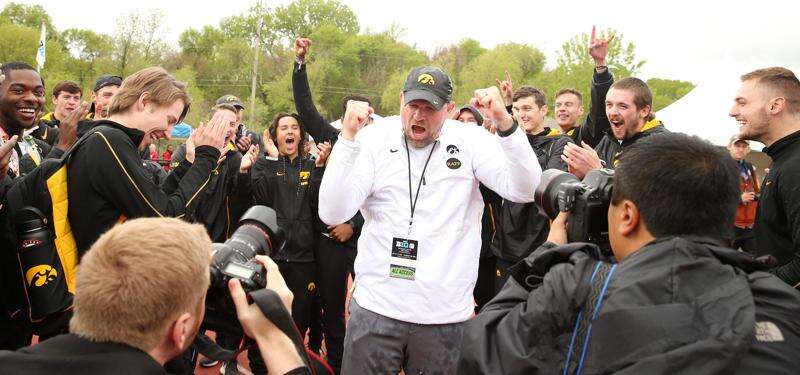 IOWA CITY — As Iowa track and field competes in the NCAA Indoor Championships Friday and Saturday in Birmingham, Ala., it'll have a bit of a different look.
More specifically, Iowa will have a bigger look.
The Hawkeyes will have a record 11 entries in the two-day NCAA meet.
The 10 qualifiers on the men's side position Iowa well to potentially bring home a trophy — a team goal since the beginning of the indoor season.
"You've got to have more bullets to be able to fire when you get to the championship," said Joey Woody, Iowa's director of track and field/cross country. "So the more athletes you have there, the better chances you have to make finals, score points and try and help our team win a trophy."
The only school to have more entries this week on the men's side is Texas Tech with 11.
Both the men's and women's 1,600 relay teams, which have broken school records in 2022, earned spots at the NCAA Championships.
"Right now, it's more than a mentality; it's an expectation," Woody said on The Gazette's Hawk Off the Press podcast last week. "I expect all of our relays to compete to make the national meet."
Woody attributed some of the improvement this year to scheduling. After having a Big Ten-only schedule in 2021 because of COVID-19, Iowa has participated in several non-conference meets that often have tougher competition.
"This is the first time that a lot of these guys got a chance to travel outside of the conference," Woody said. "I think that made a world of difference with just being able to compete at a higher level."
As for expectations, Woody is expecting Iowa to bring back a trophy on the men's side and score points on the women's side.
"We just have the relay (from the women's team), but it'd be great to score some points out of that relay," Woody said. "I think we can definitely be one of those top five or six teams."
Comments: (319) 398-8394; john.steppe@thegazette.com