Home / Sports / Iowa Hawkeyes
Iowa softball has 'nothing to lose and everything to prove' in 2023 after rough 2022
Hawkeyes have more freshmen than upperclassmen, deeper pitching staff as they try to rebound from last year's 3-20 Big Ten record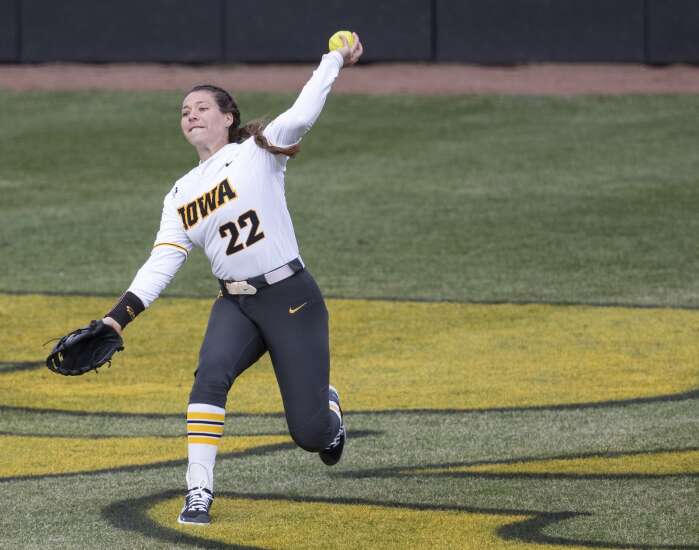 IOWA CITY — As Iowa's softball coaches finished taking a picture at media day Thursday, head coach Renee Gillispie looked at the screen on the photographer's camera to see if they looked like a conference-championship-winning staff.
That's because her goal — even after a 21-31 overall record and 3-20 Big Ten record in 2022 — remains to win a Big Ten championship.
"That's got to be a goal every single day," Gillispie told reporters Thursday. "If not, we shouldn't be playing ball."
Accomplishing that feat in 2023 would be a major surprise to others in the softball world, though.
The Big Ten does not have a preseason softball coaches poll, but D1Softball.com picked the Hawkeyes to finish 12th in the 14-team conference.
"We kind of have nothing to lose and everything to prove," Iowa outfielder Nia Carter said. "People aren't going to be worried about us, but we'll show them once we get to play them."
The Hawkeyes are coming off a historically bad season. Their 3-20 Big Ten record is tied for the worst in program history. Only two of their 18 nonconference wins were against Power Five opponents.
"I didn't prove myself to my full potential, and I know the team didn't as well," Iowa outfielder Brylee Klosterman said. "We have a very talented group of girls here."
It's an especially young group in 2023.
The roster has more freshmen (10) than juniors (six) and seniors (three) combined. Gillispie anticipates freshmen taking spots at second base, shortstop and possibly catcher this year.
Iowa also added Maren Judisch and Tatianna Roman via the transfer portal from Baylor and Alabama A&M, respectively.
"The newcomers are really filling in a lot of holes," Gillispie said.
Carter will be a key player returning in 2023 after hitting .405 as a junior. Iowa will have the benefit of a deeper pitching staff as well, with nine pitchers in 2023 instead of five.
The young Hawkeyes will face an increasingly competitive Big Ten. The conference placed seven teams in the NCAA Tournament last year, which matched an all-time high set in 2003.
"Maryland, Rutgers and Penn State — they're all stepping up," Gillispie said. "You know the Big Ten is going to challenge people this year, and we're excited to see that."
Iowa has no shortage of confidence, though.
Should Iowa change its fortunes in 2023 and achieve Gillispie's goal, there would be an added bonus for Klosterman, who is from nearby North Liberty and has been a Hawkeye fan for her "whole life."
"It makes it even more special — being able to represent my hometown and show them what we're made of," Klosterman said.
Comments: john.steppe@thegazette.com