Home / Sports / Iowa Hawkeyes
Iowa narrowly beats Iowa State in Cy-Hawk wrestling thriller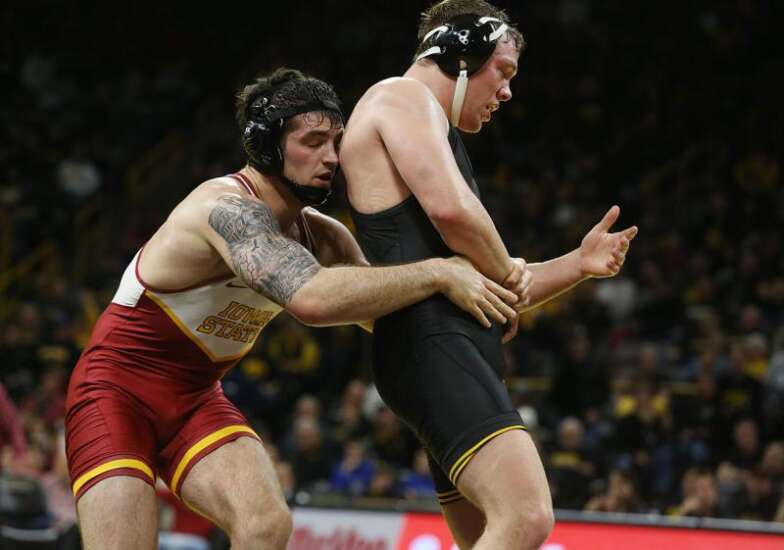 IOWA CITY - Sam Stoll couldn't take sitting back and being idle as his Iowa wrestling teammates were fighting to fend off rival Iowa State's upset bid.
The All-American and top-ranked heavyweight decided to take matters into his own hands.
Despite no intentions of wrestling when the afternoon began, Stoll ignited the Carver-Hawkeye Arena crowd of 9,751 when the 'Imperial March" theme from 'Star Wars" began to play and his 6-foot-3, 270-pound frame emerged from the smoke-covered tunnel.
Stoll delivered a key decision in the middle of three straight Hawkeye victories, Austin DeSanto had to avoid a late scare from Austin Gomez and third-ranked Iowa overcame the Cyclones, 19-18, Saturday for its 15th straight win in the Cy-Hawk Series.
Iowa (5-0) trailed with three bouts remaining until Stoll's 5-1 decision over Gannon Gremmel tied the dual, 15-15.
'It's kind of hard to sit back there and do nothing, especially my last State week," Stoll said. 'I ran out there and (Coach) Tom (Brands) met me in the middle. He said 'I don't want this. You're not going.' I said, 'it's my last one. I'm going.'
'He gave me a slap in the face and I went."
Stoll, who has had a history of knee injuries, was stopped at matside by Brands. He stopped Stoll and the two briefly talked before Brands stepped aside.
'He is a senior," said Brands, who improved to 14-0 as Iowa head coach against Iowa State. 'He said it was his last time in the dual meet like this. He made the call and I wasn't going to let him go. He explained it to me that it was his last time and he explained it to me that he wanted to go and I popped him in the mouth and he went."
Brands added, 'This was not about his individual glory. This was about a team effort. So, how we won that dual meet you have to give a lot of credit to Sam Stoll."
Stoll wasted little time with a quick drag and go-behind for the first takedown. He added a penalty point and a second-period escape, amassing 4:07 of riding time.
He made the decision right before exiting the tunnel and without his regular warm-up routine.
'I wrestled fine," Stoll said. 'Obviously, I'd like to score more points, maybe get a fall, but it didn't happen. He didn't sniff me one time. It was a solid match."
Spencer Lee, who did not wrestle last Saturday, followed Stoll. He started strong with an 11-point first period, consisting of a takedown and his signature tilts, and held on for a 13-4 major decision over Alex Mackall at 125 pounds that proved to be the difference.
Stoll was able to continue the momentum started at 197 with the much anticipated debut of Jacob Warner, who made his first appearance since competing at the Junior World Championships before the season.
The 11th-ranked freshman scored a late reversal for a 5-4 victory over fifth-ranked All-American Willie Miklus, pulling Iowa within three.
'I thought I wrestled all right," Warner said. 'I think there is more I could have done, especially later in that match. At the end of the day, I got it done. A little too close for comfort, but now I'm just moving forward.
'Going to go watch film and figure out what I need to fix."
Warner scored the opening takedown and escaped in the second for a 3-1 lead going into the final frame. Miklus escaped and took the lead with a takedown in the final minute. Miklus got out of position with a cradle and Warner cut his hips through for the reversal. An official's review did not overturn the decisive call.
'When I found myself down by one, I needed to get a score," Warner said. 'I did it. Now, it's time to move on."
Unlike other Iowa wrestlers who warm up behind the scenes, Warner was on the CHA floor getting ready and soaking up the atmosphere. Iowa assistant Bobby Telford gave him a word of advice.
'I was warming up by the bench," Warner said. 'Telford came over to me and said, 'Welcome home' and grabbed me and said 'Look at all these fans. These are all for you.'
'I just felt at home. Felt no pressure on me and was able to wrestle my match."
Iowa got on the board with a decision by Kaleb Young at 157 and 165-pounder Alex Marinelli followed with a pin to give Iowa a 9-6 lead. The bonus points were crucial.
'Every single dual I try to get bonus for my team, whether it's a major, tech or pin," Marinelli said. 'I knew this dual meet would be electric and had to have bonus points.
'I'm pretty pumped about it. It paid off I guess."
Warner ended a trend of Iowa State winning matches in the final seconds. The Cyclones opened with two of them for a 6-0 edge early.
Iowa State's Ian Parker scored a takedown with about six seconds left for a 5-4 victory over No. 10 Max Murin at 141 to open the dual. Teammates Jarrett Degen used a late takedown to force overtime and added an escape and takedown in the final tiebreaker period to win 7-4 over Pat Lugo at 149.
The Cyclones' Sam Colbray (184) also used bookend takedowns, including one in the final seconds for a 7-6 win over No. 9 Cash Wilcke.
'They train hard and we're tough," Dresser said. 'When you're tough and you train hard you can win close matches. I don't doubt those two guys. I see how hard they train. They have a chance to show up a little bit at the end."
Iowa State (1-1) still had a shot in final match with Gomez needing bonus points against DeSanto. The pair were deadlocked 8-8 with 1:13 left. After a restart from an official's review, Gomez tossed DeSanto to his back.
DeSanto fought free after about 40 seconds, but Gomez still notched the 14-9 decision.
'I loved the fight of the 10 guys we put out there," Dresser said. 'That's what we coach and what we preach, but we also preach winning. Anytime you step into something you step into win and we didn't win. The part of me that won't sleep very well tonight, but I'm excited to go back to this team tomorrow and these guys are excited about the sport of wrestling. They're excited about where Iowa State is and that's what we're about right now."
AT IOWA CITY
Iowa 19, Iowa State 18
(Individual takedowns in parentheses)
141 pounds – Ian Parker (ISU) dec. Max Murin, 5-4 (1,1); 149 – Jarrett Degen (ISU) dec. Pat Lugo, 7-4 (2,1); 157 – Kaleb Young (I) dec. Chase Straw, 8-3 (3,0); 165 – Alex Marinelli (I) pinned Brent Jennings, 4:45 (3,0); 174 – Marcus Coleman (ISU) won by injury default over Myles Wilson (0,2); 184 – Sam Colbray (ISU) dec. Cash Wilcke, 7-6 (2,2); 197 – Jacob Warner (I) dec. Willie Miklus, 5-4 (1-1); Hwt. – Sam Stoll (I) dec. Gannon Gremmel, 5-1 (1,0); 125 – Spencer Lee (I) major dec. Alex Mackall, 13-4 (1,1); 133 – Austin Gomez (ISU) dec. Austin DeSanto, 14-9 (3,2).
MEET STATISTICS
Takedowns – Iowa 17, Iowa State 10. Reversals – Iowa 3, Iowa State 1. Escapes – Iowa 11, Iowa State 21. Nearfall points – Iowa 14, Iowa State 4. Penalty points (awarded) – Iowa 4, Iowa State 3. Riding-time points – Iowa 3, Iowa State 0. Total match points – Iowa 72, Iowa State 50. Attendance – 9,751. Referees – Angel Rivera, Jason Wedgbury.
l Comments: (319) 368-8679; kj.pilcher@thegazette.com