Home / Sports / Iowa Hawkeyes / Iowa Football
Iowa football summer check-in: Offensive line has new look
Reviewing where the Hawkeye position groups are at going into summer 2021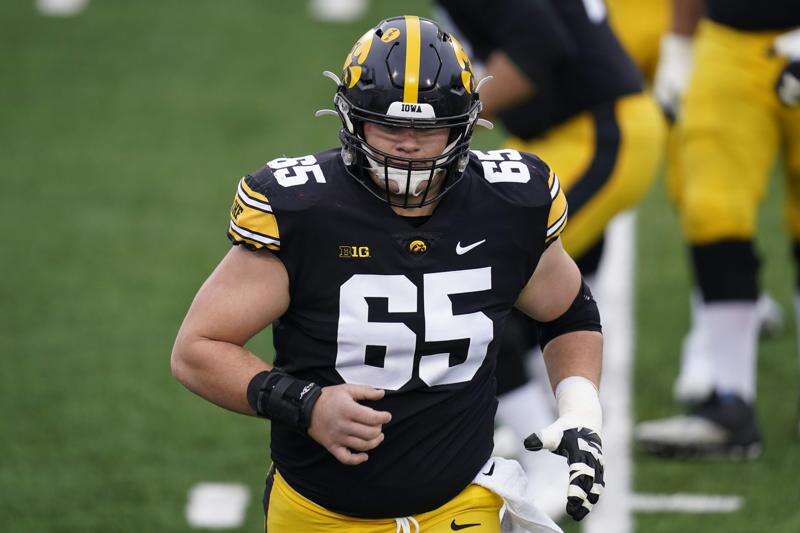 IOWA CITY — Iowa's offensive line got a new look from the top down in the offseason following the departure of four players and the arrival of a new coach.
Former Iowa offensive line coach Tim Polasek left to become offensive coordinator at the Wyoming in February. In stepped George Barnett from Tulane, a former Miami (Ohio) assistant head coach, co-offensive coordinator and offensive line coach.
While the coaching philosophies of both are rooted in the Midwest — Polasek, a Wisconsin native with stints at Iowa, North Dakota State, Northern Illinois and Wisconsin-Stevens Point, and Barnett, an Illinois native with stints at the high school level, Illinois (under Harry Hiestand), Indianapolis, Illinois State, Grand Valley State and Miami (Ohio), each approaches the job with a different demeanor.
"Coach Polasek was an intense, rah-rah guy, and coach Barnett is a little more calmer," Iowa junior offensive tackle Jack Plumb said. "But he's still a really good coach and he'll still get after you when he needs to. We're doing the same exact drills, focusing on the fundamentals."
Iowa lost starting left tackle Alaric Jackson, guard Cole Banwart, right tackle Mark Kallenberger and right tackle Coy Cronk in the offseason.
Iowa returns senior Kyler Schott, who started at right guard last season, junior center Tyler Linderbaum, junior left guard Cody Ince and other lettermen such as Plumb and sophomore Justin Britt.
Schott played the spring season at the left guard position, while Ince was listed as a left tackle on the depth chart, but was injured throughout the spring. Sophomore Nick DeJong got reps at that left tackle position as a result while redshirt freshman left tackle Mason Richmond played more at the guard position.
Britt, who was potentially a starting right guard on the depth chart during the spring, also was out with an injury. Noah Fenske, who was set to back up Linderbaum, transferred to Colorado with four years of eligibility remaining.
"Nick DeJong plays big, he plays square and is very fundamentally sound," Barnett said in April. "Mason Richmond's been playing some guard for us and he's kicked out to the tackle position also. He's very smooth and naturally athletic. I think (what) you'll notice with him is he does a lot of things well for a young kid."
Iowa head coach Kirk Ferentz commended the performances of younger players such as junior offensive lineman Matt Fagan and junior defensive lineman Louie Stec for filling areas where players were out due to injury. He added the injuries hindered the coaches' ability of having a clear picture of the offensive line for fall.
"We've got some guys that have been in the background," Ferentz said. "Nick DeJong, Jack Plumb and Mason Richmond have been here two years, but those guys made a clear step forward, so I think the big challenge for us right now is we still have work to do with all of these guys.
"We don't have much depth for our team, period, anywhere. It's going to be a real race against time."
The offensive line's biggest asset right now is Linderbaum, who Pro Football Focus ranked as the No. 1 interior lineman in the country going into the 2022 NFL Draft.
Twitter
Linderbaum could have left for the draft last year as a high-round pick, but decided he was better off staying another year, not even entertaining any NFL prospects.
Linderbaum said in spring ball he was at about 290 pounds and he currently stands at 6 feet, 3 inches. He was first-team all-Big Ten by the Associated Press and league media, and second-team all-Big Ten by league coaches. He was one of three finalists for the Rimington Trophy.
"There's always room for improvement," Linderbaum said. "I just wasn't ready to leave."
Comments: (319)-398-8387, leah.vann@thegazette.com