Home / Sports / Iowa Hawkeyes
Iowa '13 football schedule not a soft landing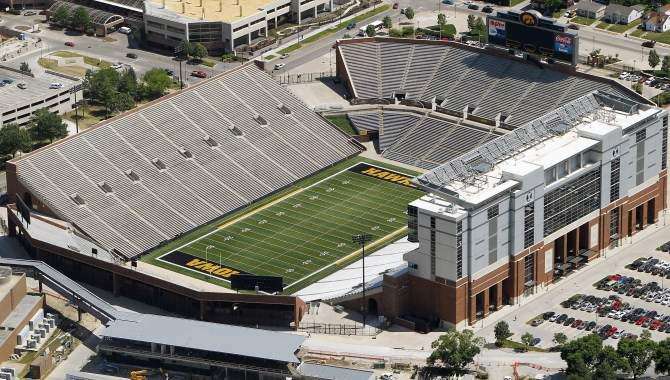 The ESPN.com Big Ten bloggers posted a piece today on the schedules for the Big Ten elite, kind of setting up the 2013 season and some of the factors that might shape the division races.
No, Iowa wasn't listed with the elite. Iowa finished 4-8.
That doesn't mean we can't put the same scope on Iowa's 2013 schedule, which includes nine bowl teams and Ohio State, which finished 12-0 last season. And that game is at Ohio Stadium.
For comparison, the Hawkeyes' 2012 schedule also included nine bowl teams (3-6) and bowl-ineligible Penn State (38-14 loss at Kinnick).
Home games: 7
No neutral site game this year. I expect Iowa to play again at Solider Field sometime in the next five years. That seems to be the cycle.
Non-conference games: Northern Illinois (home), Missouri State (home), Iowa State (Ames), Western Michigan (home)
The Hawkeyes get Orange Bowl participant Northern Illinois off the bat. Quarterback Jordan Lynch worked his way onto Heisman radars last season with 4,733 yards (1,771 rushing, 2962 passing) and 43 TDs (19 rushing, 24 passing). Iowa's 18-17 win over the Huskies at Soldier Field last season turned out to be one of Iowa's prized victories. Expect this game to get a lot of national run. NIU ended the season ranked No. 22 and might have enough returning on offense to break into the preseason top 25.
Iowa will likely be favored by 3.5 or so. Big Ten vs. MAC, Orange Bowl team against a 4-8 fixer-upper, it's going to have "upset alert" written all over it.
Does Northern's rise lift this non-conference schedule above the early Bill Snyder/K-State status? When Snyder was building notoriously awful Kansas State, the schedule was built for soft landings. Western Michigan was 4-8 last season (certainly throw in the Central Michigan caveat). Missouri State, an FCS school, finished 3-8 in the Missouri Valley Conference last season with wins over South Dakota, Illinois State and Western Illinois. Coach Terry Allen, formerly of UNI, has had two winning seasons in seven years.
Iowa State has been a tough out for Kirk Ferentz, who's 6-8 against the Cyclones and just 2-5 at Jack Trice Stadium. ISU has won three of the last four games at home in this season and after last year's victory at Kinnick have won two straight.
Big Ten crossover games: Ohio State (road), Wisconsin (home), Purdue (road)
Iowa has open dates Oct. 12 and Nov. 16. The four weeks between go at Ohio State, Northwestern, Wisconsin and at Purdue.
This will be Iowa's first meeting with Urban Meyer's Ohio State. Ferentz and Meyer faced off in the 2006 Outback Bowl, when Meyer's Florida Gators edged the Hawkeyes 31-24. In his first season at Ohio State, Meyer had the Death Star churn out a 12-0 season, even though it was banned from postseason play. QB Braxton Miller is on the early Heisman radar.
Wisconsin welcomes new coach Gary Andersen, who had a 27-24 record in four years at Utah State, including 11-2 mark and a 41-15 win over Toledo in the Famous Idaho Potato Bowl.
Purdue will bring another new preparation in first-year coach Darrell Hazell, who coached for seven seasons as an assistant head coach/wide receivers coach under Jim Tressel before guiding Kent State to a 16-10 record the last two seasons. Kent finished 11-3 last season and played in the MAC championship and GoDaddy.com Bowl.
Big Ten no plays: Illinois, Indiana, Penn State
Toughest games (let's go with the top four in order): Ohio State (road), Michigan (home), Nebraska (road), Northwestern (home)
Ferentz is 5-7 against Northwestern, which saw Kain Colter and Venric Mark put up 349 yards rushing against the Hawkeyes last fall at Ryan Field. Northwestern led 28-3 before Iowa pulled to 28-17.
The Hawkeyes are 1-7 against Ohio State under Ferentz. That can't be a shock.
The Hawkeyes are 0-for-5 in their last five meetings. Ferentz is 0-4 against the Huskers.
Iowa's November schedule includes Wisconsin (home), Purdue (road), Michigan (home) and Nebraska (road).
Iowa is 4-11 in November over the last four seasons.